Jack Kosto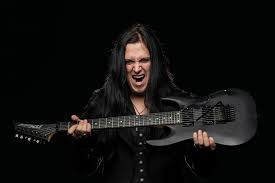 Jack Kosto – Guitars, Mixing and Mastering
Seven Spires – Threads Of Fate
Jack Kosto is more than just a guitar player. He's more than just a guy behind the controls. He is a guitarist extraordinaire, mixing and mastering genius, and an incredible songwriter. He recently took the time to answer a series of questions that gave insight into how this beautiful mind works.
Jack started playing viola and violin in elementary school. By sixth grade, he was playing in the high school orchestra. As a 10-year-old (maybe it was 11), he attended a guitar clinic and saw the inimitable Michael Angelo Batio. The inner-guitarist was awakened at this point. He says this was when he knew he wanted to be a professional musician.
By 15, Jack attended the prestigious Berklee College of Music in Boston. He earned a degree in Guitar Performance in 2016. At Berklee, he studied Jazz and Classical harmony and concepts, shaping and influencing his writing and playing styles. Outside influences include many of the more virtuoso type guitarists like Batio, Joe Stump, Steve Vai, and Jeff Loomis. His musical influences range from Jazz and Pop to some of the more extreme styles of Metal. If you listen to the records he plays on, you will hear progressive and power metal, death metal, and neo-classical shredding.
His first love is being a metal guitarist. This is currently the only instrument he is actively playing, though he has indicated the potential to pick up the viola again. When asked how he writes and plays both the riffs and the lead/solo work for Seven Spires and Threads Of Fate, he denied it is "Voodoo Magic," instead saying the guitars have to serve a purpose within the song. To get them just right, he plays the parts over and over until he settles on what feels and sounds best.
To hear his most excellent guitar work, check out the three albums by Seven Spires:

Solveig
Emerald Seas
Gods Of Debauchery
And don't forget Threads Of Fate:
The Cold Embrace Of The Light (full-length, 2022)
A Funeral For The Virtuous (EP, 2018)
I asked Jack about his songwriting role on the Threads Of Fate record. His response was a bit unexpected, partly because the guitar work on the album is so "signature Jack Kosto." I recognized the tones and rhythms immediately. His full statement, "Not a lot, honestly! Vikram and Jon are both great writers and do the majority of the writing in that band. They both have very specific visions, so I usually am just writing some guitar parts here and there, and of course, I also produced that album, so lots of engineering at the same time. Even a lot of the leads and solos were from the demos those guys sent me or ideas that they wanted me to play specifically. At the end of the day, the sound of that band is heavily focused on keyboards/orchestrations and vocals, so a lot of the guitar stuff is really background elements anyway."
As a fan of his playing style, I spent a lot of time listening to The Cold Embrace Of The Light. He may say the record is more focused on the keys and orchestration, but the guitars are an incredibly vibrant part of the overall texture of the album. His technical precision and dexterity are incredible and add some excellent nuance to each song. I admire the desire to understate his contributions, but I disagree with his assessment that the role he played is "not a lot, honestly!"
When not on tour with Seven Spires, he can often be found working on mixing and mastering single songs or entire albums from other bands. I asked if he learned this while attending Berklee; he stated, "I didn't study audio production in school or anything. I'm entirely self-taught, and it came about through a pretty obsessive dive into guitar tone and recording. The more I learned about how to record guitar sounds, the more I realized that the best guitar tone in the world doesn't really matter if the other instruments don't sound good and the performances aren't great. I started looking more and more into recording and mixing after that and found I really love it, too, in a totally different way than being a guitar player. It's my second love, I suppose, and I really enjoy working in that field when I'm not doing guitar player things."
How is that for dedication? Music is not one person sounding great and outshining the rest. It's a team effort, and when one excels, all excel. As they say, "A rising tide lifts all boats." When asked how many projects he has worked on and even trying to get an idea of his current workload, he found it difficult to gauge an exact number. He works on songs for some bands, albums for others, plays guitar, tours internationally, and makes sure he works on something every day. He balances practicing and touring with mixing and mastering based on what is most needed at the time.
To hear some of his work in the mixing and mastering realm, check out some of the bands listed below (list culled from his Facebook page):

Apeiron Bound
St. October
Mourn The Light
Aveya
Jennings Smith
The FTR Project
Dovas
Christ The Bait
Painting Fences
Minister Of Pain
While this is not a comprehensive list of everything this multi-faceted maestro has done, it will give you a good sense of how dedicated he is to his tradecraft.
When pressed on what he is currently working on, he did mention writing has begun on the new Seven Spires record. He did not state any timeline they are shooting for, but the process is started. Fans of Seven Spires will be thrilled to hear this! There is also some more mixing and mastering to be done, so he will remain busy, and we will wait as patiently as we can for more information.
Like many musicians over the past two years, Jack said the lack of ability to tour was "demoralizing." Having recently been on tour with DragonForce, Firewind, and Visions Of Atlantis, they did get to play some of the new material live. Touring halted within three weeks of the release of their second record, Emerald Seas. They only got to play one show on that entire cycle. Jack and the band were excited to get back on the road, and the show in Massachusetts was phenomenal. The hometown crowd was energized and oh so grateful to see them on stage once again.
I asked the maestro if he was finding it challenging to balance between playing and practicing and writing and recording and all. He is apparently also good at scheduling his time wisely and knowing what is most important at the moment. And even better, he loves all of it, so he has no favorite task. I would love to have him constantly writing and recording new music, then touring in support of that music, so I admire his drive to do and achieve more. I've listened to some of his control panel work, which is also top-notch, as you would expect from someone with his determination and skill. As he says, "it's good to have some changes in life now and then to avoid monotony."
Of course, the questions had to turn more to the guitars he plays and if he has any preferences.
I asked him why he rarely changes guitars on stage, and he says it's because all their songs are written in standard 7-string tuning, so there is no need to switch unless there is a technical issue. This makes life simpler, and he just does not see himself taking more than two or three guitars as long as they remain this consistent. When pressed about using the same guitar in the studio for leads and rhythms, he admitted to using different guitars occasionally. Here's what he had to say about his favorite guitars, "My main guitar is a discontinued MAB7 from Dean, and I really love it. Haven't yet found anything to beat it. I also have a Dean RC7 import that's killer, and that gets used as well. It's more of an arbitrary feeling thing if I record with one guitar or the other, as they sound and play very similar. I guess I'll choose one or the other just to avoid boredom (laughs)." Strangely enough, neither of those has a name. Apparently, he's not one to name his instruments.
We finally got around to the subject of what effect the pandemic had on him both mentally and physically. His response was pretty typical of many people, especially those in the entertainment industry. In his own words, "Well, initially I was pretty depressed after everything shut down and our tour with Insomnium was canceled. I fell into some pretty bad habits of drinking every day and moping around, not the best times. Eventually, we all kind of snapped out of it and decided to use the time to write and record a new album, and I think it came out really amazing. That album probably wouldn't be what it is without that experience, so wouldn't change a thing."
And he is right. Gods Of Debauchery is a magnificent record. I'm sure everyone in his circle, family, friends, and fans, is happy with what he accomplished during the downtime forced on the live music industry. Jack continues to amaze those people around him that admire his work, whether that is in the studio or on the stage, playing or behind the scenes. Jack is a multi-talented person, humble when speaking of his own contributions to the industry, and just a generally nice guy.
Jack Kosto – Guitars, Mixing and Mastering
https://www.jackkosto.com
Facebook
Instagram

Seven Spires
https://sevenspiresband.com
Facebook
Instagram