Astro Zombies/Graviton/Aversed/Pathogenic – Pathogenic at The Stone Church, Brattleboro, VT October 29, 2022
Astro Zombies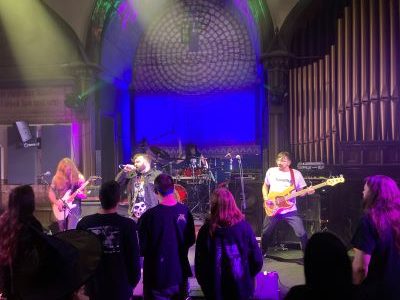 Set List

Attitude
Bullet
Ghouls Night Out
Skulls
I Turned Into A Martian
Angelfuck
138
Halloween
Hybrid Moments
All Hell Breaks Loose
Eagles Dare
Astro Zombies
Last Caress
At this point, Astro Zombies is a tribute band to the legendary punk icons, The Misfits. They did promise new music is coming. While we were waiting, they decided to hit The Stone Church on a chilly Saturday and throw down like they needed to earn some brownie points before Halloween. I was a little disappointed that Tony Thunder didn't even try to pull off the Doyle hairdo, but they made up for that by completely shredding the stage and getting the crowd warmed up from that cold walk into the venue.
The show was full-on chaos. The band thrashed around like they were being electrocuted, jumping around and generally having a great time. Their energy was infectious as the crowd threw up their horns, sang along, and even pulled off a bit of slam dancing. Yes, slam dancing. Moshing is for thrashers, not punk rockers; get it right, Poser. They brought all the attitude of a killer punk rock show, screaming, writhing, and getting the audience whipped into an absolute frenzy.
Astro Zombies managed to cram 13 songs into their set, including the one they chose their name from and the one everyone knows because those dudes in Metallica needed a hit, Last Caress. Two of the band members were on double duty this night, but that did not deter them from giving every bit of effort they could to this show. From start to finish, it was a fully adrenalized show that set the tone for the night. The rest of the bands had to bring their A-Game just to keep up with them!
Graviton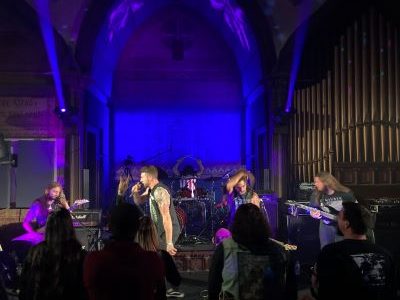 Band Members

Tyler Scott – Vocals
Justin Licht – Guitars
Cam Tidman – Guitars
Yoav Ruiz – Bass
Apollo XVII – Drums
Set List

Servants Of The Basilisk
Tomes Of The Mystics
Shattered Repose
Conundrum Of Mortality
Seventh Plague
My Degeneration
Who would ever have thought that Townsend, MA, had a Blackened Thrash Metal scene? Well, it does, and Graviton is a major part of that scene! After Astro Zombies, these guys knew they would have to bring fire and fury to keep the audience motivated. The good thing is, the drummer was already warmed up from playing with the previous band, so they just fed off his energy to start, then gained momentum as they went!
The songs were heavy and frenetic, played at full speed, sometimes taking on a life of their own. The guitars were heavy, but man, that bass was thundering. Yoav treated those strings like he had a love/hate relationship with them. Apollo played two sets back-to-back and crushed both of them. Justin and Cam stayed in time, making poor Tyler work to keep up. The good thing is, he was up to the task! He growled, screamed, yelled, and thrashed, having good times on stage!
Again, the band fed the crowd, and the crowd fed the band. The energy level was through the vaulted roof. This show was so good I had to pick up the latest CD (and I'm looking forward to their next one!). The other bands were getting in on the action, gathering around the stage to show their support. Turns out, these bands all know each other since they're all from the same area. There is just something cool about bands liking each other and wanting nothing but the best for each other. More on that later, as I think that is a big part of what made this such a killer show.
Aversed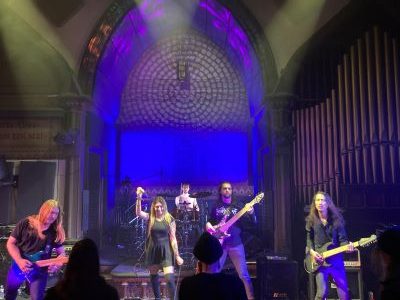 Band Members

Sarah Hartman –Vocals
Sungwoo Jeong –Guitars
Alden Marchand –Guitars
Martin Epstein – Bass
Jeff Saltzman – Drums
Set List

A Bridge To Renewal
Close My Eyes
Natsukashi
Every Hill A Tomb
Impermanent
Death Lullaby
Abandoned
Aversed is one of those bands that hooks you quickly for a few reasons. They are technically precise, really heavy, and have a stage presence. From the two guitarists who have a fantastic connection, shifting from riff to lead and back seamlessly to their solos, which they trade off at times, then harmonize at others, they have a flow that is stunning to watch, and their tones are delicious. They shred equally well on six or seven-string guitars and always bring the fire. Obviously, the fans were feeling this as well since they decided this was the perfect time to start a mosh pit!
Martin's bass is a work of art. With six strings and shifting frets, it looks like something futuristic. He plucks, strums, slaps, and caresses the strings based on the song's needs, consistently hitting the right spot, driving the music hard when needed, or slowing it down for the melodic sections. Jeff is a drummer that knows how to go from precision to frenetic to powerful. His footwork is freaking amazing! And then there is Sarah. Whether singing, screaming, or growling, she is a whirling dervish that fires the crowd up. Her energy and enthusiasm on stage are admirable.
Aversed ranges from melodic to technical to progressive metal, throwing in elements of death metal, especially with the vocals. They are technically precise and excellent at writing carefully constructed compositions. According to the band, they hope to go into the studio near the end of the year to write and record a new album. They already have two songs done, both played live already. Man, is that something I'm looking forward to!!!
Pathogenic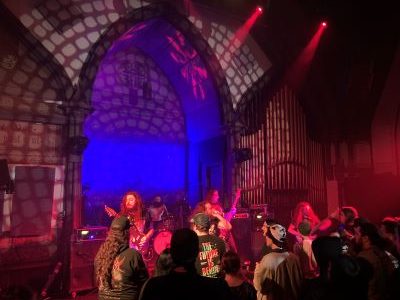 Set List

The New Rot
Albatross
Cobwebs We Keep
Fish Frenzy
Exiled From The Abyss
King Of Ignorance
Lie Of Humankind
Suicide Itch
Pathogenic is listed as Extreme/Progressive Metal, and they live up to that categorization. Justin played his second set of the night, giving just as much to the latter setlist as he did to the first one. He and Chris shredded that stage like the parmesan grater at an Olive Garden. They always give you two more cranks after you tell them to stop, and these guys went a little heavier than you thought they could. Both played eight-string guitars, so you know there was a lot of technical skill and precision on display.
Dan and Tyler laid a foundation for them to play on, occasionally showing off their skill set with a few sporadic leads. Jake had to work hard to keep up with these guys. It's not like the glam metal days when the singer just had to be pretty. Now, we expect a good show and talent. Fortunately, Pathogenic was more than ready for this challenge. The three previous bands threw down the gauntlet, challenging the final act to rise to the occasion.
I'm happy to report they accepted the challenge and raised the stakes! From the first note to the final bow, they took the night seriously and showed they were more than capable of handling their business. On top of that, they're nice guys, so you get a show and a new band you want to support just to see them do well. Again, I had to get to the merch table to pick up their latest offering. Anyone who says rock is dead must get off their high horse and hit the local stages. It may not be on the radio, but the excellence and skill have never been better than it is now.
This was my first show at the Stone Church; in fact, it was my first in the state of Vermont. As a venue, The Stone Church is an excellent place for a show. The remains of the pipe organ beside the stage, the stained-glass windows, and the old church vibe lend themselves to a good night. Many in the crowd were in costume for Halloween, adding another killer element to the night.
The bands walked around and chatted with their friends and fans; the venue provided cold beverages, free water, and cheap pizza, a recipe for a great night out. The fans were excited to be there, and the bands felt that. In turn, the excitement from the bands then fueled the audience into an absolute frenzy. Booze flowed, merch flew off the tables, music coursed through the collective veins, and all had a great time.
This was just one of those nights that had a unique vibe to it. There was something besides a joyous noise in the air. It was a camaraderie, a love for the music, and a communion of metalheads. There is something about music that brings people together, but there is something even more special about the metal community. It doesn't matter if the genre is punk, technical death metal, or progressive thrash metal. When the right crowd hits at the right time, the bond is more profound than the physical handshakes, more than the collision in a mosh pit. It's a sense of belonging to something bigger than yourself. It's exorcising the shared demons, bonding over shared trauma and joy. It is, simply put, one of the most beautiful things on Earth.