Behind Bars – All In Due Time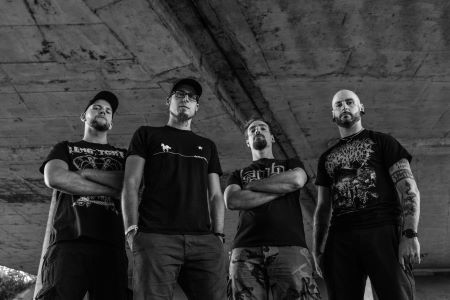 Belgian Heavy Metal band Behind Bars crashed onto the scene in 2015, quickly staking a claim in the Groove/Thrash/Hardcore Metal realm. Massive riffs and bombastic rhythms put them in league with such acts as Hatebreed, Lamb of God, and Gojira, elite company for a less-than-a-decade-old band. Having shared stages and tours with some of the giants of metal, roaming Europe, and playing festivals, they've cemented their status as heavy hitters. Angry, heavy, defiant, and brutal, they take no prisoners.
https://vi.be/platform/behindbars

Band Members:
Ian Huyskens – Vocals
Steven Vandermosten – Guitars
Andy Phillips – Bass
Bjorn Van Olmen – Drums
March 4, 2023
Tracklist:

Means To An End
Bleeding Heart
Lockdown
Silence Or Death
No Faith
Blackout
Trapped Inside
Doomsday
End It All
All In Due Time
The album opens with "Means To An End," a heavy-riffed track that oozed brutality. The thrash-inspired guitar work blends with harsh vocals, and the rhythm blazes a beautiful trail underneath. The composition has a definite melodic sensibility, mixing some finesse with the chaos. Don't mistake finesse for delicate or soft; there is none of that here.
In much the same vein, "Bleeding Heart" has some excellent lead guitar work woven around the riff, giving the song a little extra tonality. It's the care they take to ensure the leads and fills actually fit; they aren't just forced in for random effect.
"Lockdown" rips your face off from the first notes. The riff is inspired by Death Metal for tone. The speed could be Thrash or Death Metal with a side of Speed Metal. The drum patterns are fast and frenetic but controlled, changing at just the right time to give the track a mild shift from one phrase to another.
"Silence Or Death" is more of a straightforward Thrash Metal song from a guitar perspective. Like many other pieces, the bass is a presence, hovering just under the riff, keeping everything in line, setting the tone, and hiding unless you listen closely. I love where it sits in the mix.
Both "No Faith" and "Blackout" are in line with the theme of the disc. The drums are complex and fast, setting the tempo of the record. The bass sets the tone and gives the guitars the freedom to do all the extra flair mixed in to give the song more musicality. There is much to hear and digest as you make your way through the songs. It's not just a speed-fest. There are layers of sound to unpack, so many that it takes a few run-throughs to pick it all up.
The following two tracks, "Trapped Inside" and "Doomsday," have videos made for them. If you want to know what Behind Bars is all about, watch those. You will learn more about how their collective minds work. Reading the lyrics and hearing them coupled with the massive wall of sound they create will give you an indication, but watching the videos lets you visualize the anger and picture the rage.
"End It All" begins with an early Slayer rhythm and tone, while "All In Due Time" goes for more of a Melodic, almost Groove Metal style, skirting closer to Pantera. Make no mistake, These guys don't sound like either of those bands, but I hear some influences, whether intended or not. The vocals are the biggest difference, staying harsh the whole time, ranging more into the Hardcore and Death Metal arenas.
Behind Bars has an excellent blending of styles, combining Thrash, Death, Groove, and Hardcore Metal in multiple ways. Each song has its custom-designed blend, but the base stays the same. The album is very consistent, with each song sounding different enough to be unique while all sounding like they belong together. Approaching their first decade's end, they've established their sound.
MZ Ratings:
Musicianship

Guitars – 9
Rhythms – 9
Vocals – 9

Songwriting – 9
Production – 9
Overall – 9.00