Blazon Rite – Wild Rites And Ancient Songs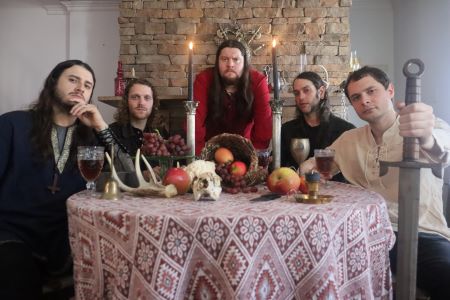 Blazon Rite is a five-piece Classic Metal band from the city of brotherly love, Philadelphia, PA. Twin guitars and a bass/drum combination are the hallmarks of this band, fronted by a vocalist with a voice that hints at Classical training, they range through more than one genre, traveling through Power and Progressive Metal as they trek through a soundscape full of cinematic glory, they build an entire world within their music that allows for mental LARPing. This is more than an album, it's a soundtrack.
https://blazonrite.bandcamp.com/album/wild-rites-and-ancient-songs-2

Band Members:
Johnny Halladay – Vocals
James Kirn – Guitars
Pierson Roe – Lead Guitars
Devin Graham – Bass
Ryan Haley – Drums
April 14, 2023 – Gates Of Hell Records http://www.gatesofhellrecords.com
Tracklist:

Autumn Fear Brings Winter Doom
Salvage What You Can Of The Night
The Fall Of A Once Great House
Mark Of The Stormborn Raiders
Wild Rites And Ancient Songs
Troubadours Of The Final Quarrel
The Coming Tide Of Yule
Reading the titles of the songs, you might think this is Norwegian Black Metal, but it definitely is not. Instead, it's a band that likes to show off its Classic Metal chops and blend in elements of various genres, like Power Metal and NWOBHM. Johnny's timbre reminds me a bit of Blaze Bayley, one of the more distinct voices in Heavy Metal. Whether it's one of the original songs or the Christmas song, "The Coming Tide Of Yule," his voice has that tone you will come to recognize as an integral part of this band's sound.
Speaking of Christmas tunes, they really rock out their version. The fast-paced intro, followed by the slower, melodic body of the song, is well done, shifting back and forth into the heavier sections with precision. Johnny's ability to go from his lower register to the higher belting tones is pretty spectacular. But he's not the whole band, so we must look at the rest of them now.
James and Pierson are a definite twin guitar assault. They can hammer out some excellent riffs and harmonize on some intense leads and fills. Just check out the opening of "Autumn Fear Brings Winter Doom" to see what I mean. Devin has a way of peeking up from the bottom end, leaning forward in the mix to make sure you hear the bass clearly rather than hanging out and just trying to beef up the rhythm. Ryan does his own thing, adding a good number of cymbal crashes to punctuate some of the riff work.
What is so impressive about Blazon Rite is that they just seemed to appear somewhere around 2020, releasing an EP that year and their debut full-length in 2021. They like slightly longer songs, with two going over five minutes and one over six. The longest, "The Fall Of A Once Great House," is like an epic tale. It begins with gentle guitar work and subdued drums, but you can tell it will build and grow and become a massive soundscape that covers you head to toe in their unique blend of styles. When the launch happens, it comes after a quick drop that lets you know the time has come. Then, it's a trek through Epic Power Metal.
Blazon Rite is one of those bands that has a somewhat unique sound. The voice differs from much of what you will hear today. Some tones he uses feel like they come from a Classical singing background. The guitars are a nice mix of shredding and rock-solid rhythms. The drums and bass belong in Power Metal. The ability of the rhythm instruments to step into leading roles whenever they desire is, in my opinion, a highly underrated skill. Wild Rites And Ancient Songs is a wild ride through modern music with killer hooks and pretty catchy rhythms.
MZ Ratings:
Musicianship

Guitars – 8
Rhythms – 8
Vocals – 8

Songwriting – 8
Production – 8
Overall – 8.00