Celestial Demise – Demo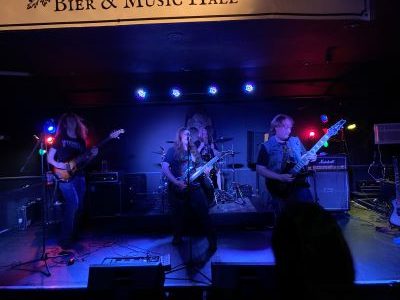 Celestial Demise is a four-piece band from Massachusetts that just loves to show you their brand of power metal. As power metal often does, it crosses into progressive metal a bit, but they also love to shift gears and throw in a few stoner/doom metal elements. Power metal bands must, above all else, be well-rounded musicians that can go to extremes without missing a beat. Celestial Demise is more than capable.
Self-Released https://celestialdemiseband.bandcamp.com/releases

Band Members:
Tom Labednick – Lead Vocals/Guitars
Krys Hayward – Guitars/Vocals
Chris Rene – Bass/Vocals
Kyle Hebner – Drums
Celestial Demise self-released their debut demo on October 17, 2021.
Tracklist:

Night Seeker
When The Black Rain Falls
Chains Of Time
The Autonomous Invasion
The Curse Of The Phantasm
The disc opens with "Night Seeker," a fast little ditty with some pretty cool twin guitar work. The riff is powerful, and most of the fills are in tandem. The vocals are straight power metal with soaring highs and belting lows. The drums build from the intro to the rapid-fire rhythm you expect in your power metal. The bass is harnessed thunder, pummeling you with fury. The whole tune is written in classic power metal music theory. Tom, Chris, and Krys work well together with the vocals.
For a bit of a change, "When The Black Rain Falls" brings in some doom. The song is darker in many ways, both in lyrical content and musical tones. The track is slower and a bit heavier with a bit of a sludge tempo. The intro sets the riff up nicely, letting the listener know this will be different from the last track. I like bands that can cross genres like this. As much as I like a pure power metal disc, I also get excited when a band challenges my purist thinking and makes me believe in something different.
"Chains Of Time" is back to standard power. Here, there is better differentiation between the lead and rhythm guitar. There is also a lot more gusto from both the drums and the bass. They disappear a little in the mix, but what do you expect from a demo? The good thing is that they know how to write proper power metal bass guitar phrases. I think back with fondness to guys like Markus Grosskopf of Helloween and how he made the bass something other than just a rhythm instrument. Here, that time-honored tradition is brought back with a vengeance. I love the extra touches like this.
The longest song, at just over seven minutes, is "The Autonomous Invasion." You didn't expect short songs on a power metal album, did you? Here, we have more of the doom vibes creeping in. There is still plenty of power riffing, but there are also sludgy pieces interspersed. The backing vocals, consistently significantly lower in register than the lead, again add a dimension of intrigue to the track. It's interesting to hear these guys use such a wide spread in tones. There are a couple of occasions in this song where it sounds a bit like King Diamond using both voices at once.
The EP finishes on "The Curse Of The Phantasm," a song with an almost Iron Maiden-sounding intro. Yes, that is a compliment. The vocals start lower but do go into the upper register when needed. In some sections, there is a bit of a fantasy feel to the riff and rhythm. I also get a pirate vibe with some of the musical passages. The soloing is really good on this track. Something about this one stands out more.
Celestial Demise is an up-and-coming band. Look for them to start making more appearances on the local stages. Just a few weeks ago, they played their debut show in Connecticut. I'll be seeing them again on July 16th at the same place, Prost Bier and Music Hall. As these guys get more exposure and experience, they will just get better. Their music is all new and has some excellent flourishes to it. Making it stand out from the same old stuff you hear all the time. Power doom should be more of a thing, and maybe these are the musicians to make it a thing. Let's hope!
MZ Ratings:
Musicianship

Guitars – 9
Rhythms – 9
Vocals – 9

Songwriting – 8
Production – 8
Overall – 8.60