Chemical Annihilation – Resurrection
Facebook share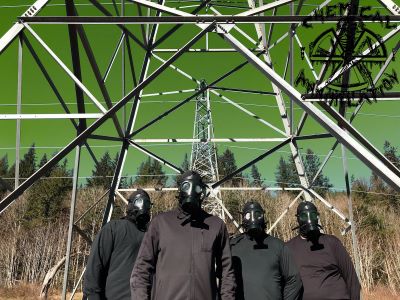 Formed in 1987, Chemical Annihilation is a Thrash Metal band from Portland, Oregon. After a three-year run, they called it quits… until 2017, when they got the band back together for a new run. This is old-school Thrash with heavy guitars, heavier rhythms, and a massive attitude. Resurrection is just that, a rebirth of sorts for a band looking to re-establish themselves in the scene. Using more harsh vocals than many classic Thrash bands, they cover relevant and current topics with a similar fury to many of their peers, fitting perfectly into the genre.
http://www.chemicalannihilation.com/

Band Members:
Mike Pfau – Vocals/Drums
Tobe Anderson – Guitars
Paul Nicholls – Guitars
Jeff Vance – Bass
February 4, 2022
Tracklist:

Virgin Blood
Why Die
COVID-19
Baptism Of Fire
Resurrection
Darkness Before the Dawn
Bastion Of Evil
Dying Rights
Contamination
Nuclear Proliferation
From the start, this album hits hard. The opening riff for "Virgin Blood" is heavy and has a good chugging tempo to it. The rhythm is well-paced, supporting the guitar work well, and the gruff vocals fit the song's attitude. The layered voices add some interesting tones to the song, giving it a chaotic feel. The shifts in tempo and patterns work well. "Why Die" continues this trend with a faster vocal delivery and a heavier riff.
"COVID-19" opens with a sound clip of former US president Donald Trump claiming, "it's not racist at all; it comes from China," speaking about the virus that disrupted the globe for a couple of years, though it felt like a lot longer. Lyrically, the song is about the possible long-term effects and how it was relentless and did a lot of damage. There does not appear to be a political slant to this, just a rant at the virus that tried to kill the music industry (personal observation there).
"Baptism Of Fire" and "Resurrection" mix in some sludgy/doom elements to the mix, going for a darker, heavier sound with slower tempos in some parts, though they both have their hard and fast sections. For some reason, I notice the use of channels more here, hearing specific phrases in the right ear only. Those are quick fills meant to break the song into different segments. I think this is a highly under-utilized technique that adds some killer twists to the songs.
As we continue through the songs, we hear more of the sludge and doom, like the intro for "Darkness Before The Dawn," scattered throughout the rest of the record, though other songs start off by ripping your ears from your head, like "Bastion Of Evil." The mix of Thrash and Doom, covered in Death Metal vocals, is something that should exist more in Metal. Much like Power and Symphonic Metal blend beautifully, so do Thrash, Doom, and Death.
"Dying Rights" feels like a mid-tempo for these guys, and "Contamination" has an intro that includes air raid warnings and a similar tempo, at least until the first verse, when this one takes off. The album concludes with "Nuclear Proliferation," another song that shifts tempo and covers a lot of ground across multiple genres. It's heavy and sludgy, chugging along at a moderate pace, all while letting you know the world is likely to end in a fiery storm of nuclear radiation as global suicide is launched by either a sentient computer or a stupid world leader.
Chemical Annihilation is a good mix of various Metal elements blended into a lethal concoction of massive riffs, killer rhythms, and harsh, angry vocals. The lyrics fit the theme of the band. The music fits the lyrics, so this is a group who knows their identity and gladly works with that to make the music you would expect, even desire, from them; so sit back and enjoy some heavy, pissed-off metal and let it relax you in ways nothing else can.
MZ Ratings:
Musicianship

Guitars – 8
Rhythms – 8
Vocals – 8

Songwriting – 8
Production – 8
Overall – 8.00