Adamantis – The Daemon's Strain Album Release Party at Prost Bier and Music Hall, Jewett City, CT July 16, 2022
Celestial Demise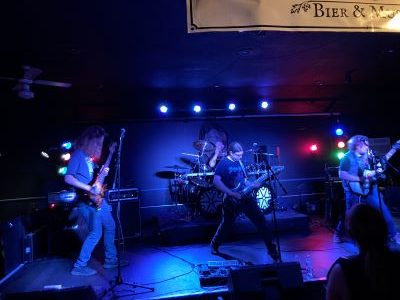 Set List

Night Seeker
When The Black Rain Falls
Chains Of Time
The Autonomous Invasion
The Curse Of The Phantasm
Celestial Demise opened the show with a nice set of heavier power metal. The set followed their demo's track listing, which works pretty well. It makes them end on the sea shanty "The Curse Of The Phantasm." That is a really fun song live and a great way to end a show in the New England area, where these songs are still wildly popular, regardless of musical style. I have a different opinion. I think "When The Black Rain Falls" would be the best ending to the show. That song has some excellent doom/sludge elements added to the power metal mix that just strike a chord with me. This is my opinion only and the band should do what they feel is right, of course. And whatever they do, I will listen and rock out with the rest of the crowd.
I saw these guys play just a few weeks back at their debut show in the same club with different bands. First off, Prost Bier and Music Hall is working hard to improve their sound system. So, this show sounded better than the first one because the mix of the sound was better. The show went a little better as a whole. I spoke to all the band members at one point or another during the night and was assured they are already working on new material. This is good news. Their brand of power metal is a nice, diverse mixture of their influences, so there should be some killer hybrids coming soon!
Another cool thing about these guys is that some of them stayed all night to support the other bands. I love good showmanship and good attitudes. These guys have both. Being the first band on, they played with all the fire and fury of the headliner, proving they do this for the love of the music and not just to get on stage and show off. The second live performance is in the books and I hope there are a lot more to come!
Perennial Quest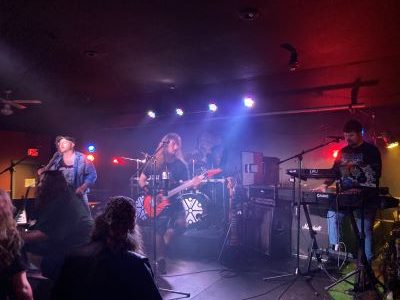 Set List

Twisted Circuits
Beyond The Light
Caged Delirium
The Immortal Sons
Angel Of Fortune
Perennial Quest is a lot to take in. Mostly because there are seven people on stage, including three guitarists. All three of them shred, so it's hard to pick which one to watch. Especially when two of them start doing tandem solos. It's hard to tear your eyes away and watch the drummer freaking pound those skins. Then, there are the bass player and the keyboard stud. Oh, and the singer is like a fusion of Bruce Dickinson and Michael Kiske, with the occasional Geoff Tate thrown in just for fun.
The set was high energy and high octane. Perennial Quest was originally slotted to play third, but ended up playing second to cover a little time for Shadow Kingdom. It didn't matter what time slot they played, they just crushed it. We were treated to more power metal, though this was a bit more traditional, using epic guitar solos, keyboards to build the sound, and a vocalist who was not to be denied. These guys play a modernized version of 80s and 90s era power metal, using some technical metal stylings in their compositions.
I love the new blends of power metal that keep emerging. These guys are closer to purists in some ways, but have kept up with the times. This has allowed them to put together an excellent package of original tunes that go over well live.
Shadow Kingdom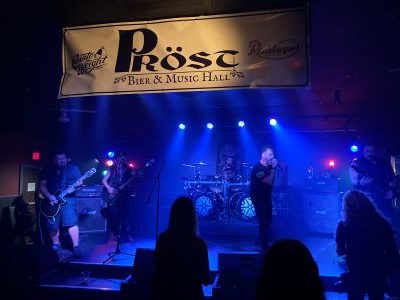 Set List

Eyes Of Pain
Until Death
Reject Hell
Winter Dancers
Awakened In My Mind
Nightmare Beyond
To watch Shadow Kingdom is not to see what you hear on their CD. There, you get traditional heavy metal with tinges of melodic and thrash metal mixed in. Live, you get a bit of a hardcore vibe the singer loves to punctuate the lyrics with stomps and fist pumps. It's more of a visual nod to hardcore than a musical one. They played hard and threw everything at us. Stunning guitar solos, thundering bass and towering drums. When talking about the songs in the spaces between, the singer claimed they are patriotic metal.
I've had rime to mull this over since the show. I've also listened to the disc. Their sound is not patriotic. There are no marches and a sousaphone wouldn't fit the sound. Their lyrics are patriotic. They achieve the goal, more by their lyrics than instruments. I also noticed the singer uses more distortion live than on the record. That is a great choice as the live versions just rock harder. That might have had something to do with the crowd. Prost Bier Hall is known for having other local musicians hang out and get rowdy in support of friends and strangers alike. It's a beautiful thing.
Shadow Kingdom is a force to be reckoned with. They play hard and give it everything they've got on stage. The crowd feels that all the way to the core. These guys are never going to give you anything less.
Adamantis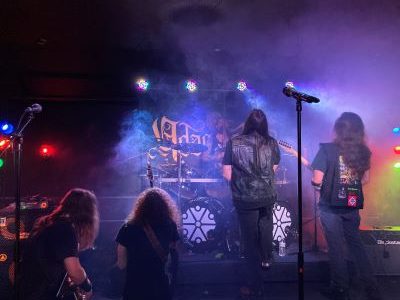 Set List

Unbound Souls
Storm The Walls
Voron – The Ravensong
Fire And Brimstone
Seige Of Arkona
Thundermark
Shieldmaiden
Adamantis was here to celebrate the release of their EP, The Daemon's Strain. They did this by bringing their A game and a guest vocalist. Classic power metal was the theme here. Epic tracks, long phrases, progressive elements, and fantasy themed lyrics ruled the night. Much of the crowd knew these guys, one even is going to join them on stage in the near future. He yelled the words along with the singer on some songs. Everyone chanted along with "Storm The Walls." Most of us also wailed along with "Shieldmaiden" where we could.
Speaking of "Shieldmaiden," Krista Sion of Dialith joined them on stage for this song, adding her vocal prowess to the already epic power metal stylings of Jeff. He spent the night belting and wailing and screaming and really working himself into a frenzy. We, the fans, are grateful for that. Andrew and guitarist Jeff shredded the night away and Cody absolutely dominated the bottom end. Evgeny was talkative for a drummer, stepping out to thank the crowd and probably just taking a break. That guy plays harder than most drummers I've ever seen.
The night was a great success as far as I'm concerned. Four bands blasted beautiful metal of many styles into my appreciative ears. The crowd was going hard from the first tones to the last fading notes. Prost Bier and Music Hall really knows how to throw heavy metal party on a Saturday night. Four bands, cheap drinks (I stick to water) and good food made this another memorable night in Jewett City, CT.