Apocalyptica/Lacuna Coil – CELL-O Tour at Big Night Live, Boston, MA, May 3, 2022
Lacuna Coil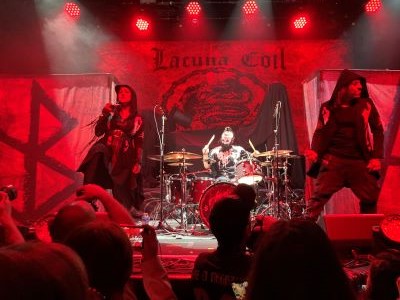 Set List

Blood, Tears, Dust
Trip the Darkness
Reckless
Sword Of Anger
Layers Of Time
Heaven's a Lie
Save Me
Veneficium
Die & Rise
Nothing Stands in Our Way
Lacuna Coil is an Italian Gothic Metal band that has been honing their sound for 25 years now. From the melodic days of yore to the new, brutal sound they have crafted, they continue to grow and expand their sound. On a Tuesday in early May, they played Big Night Live in Boston as the last U.S. show for their North American tour with Apocalyptica. The same night, just a few hundred meters away, the Boston Celtics won a playoff game.
I celebrated Lacuna Coil finally getting to tour for their Black Anima album more than a basketball game. I'm a bigger music fan than a sports fan any day of the week.
This show got rescheduled numerous times. It was initially planned for 2020, but we all know what a disaster that year was. I was treated to the heaviness that Lacuna Coil knows how to bring from the very beginning. They opened with a track from Delirium (Blood, Tears, Dust), then went back to Dark Adrenaline (Trip The Darkness) before hammering out three from Black Anima (Reckless, Sword Of Anger, Layers Of Time). They ended that run on "Layers Of Time," a personal favorite of mine. In my opinion, the guitar riff is one of the best they've ever written.
The next half of the show was a collection of their greatest hits. I screamed, raised my horns, sang, and got totally lost in the moment. The set ended way too fast for my taste. Of course, I'd prefer they play two hours straight. The good thing is, they promised to come back and do this all over again. I really hope they get to make a headlining run through North America on their next trip over. I could quickly put together an 18-song set for them, but that's just my greed wanting to hear all my favorites.
It doesn't matter where you look while L.C. is on stage. You will see something magnificent. Whether it's Richard crushing the drums, Marco "Maki" Coti Zelati on bass, or Diego "Didi" Cavalotti on guitar, you will see them prowling the stage, making eye contact with the audience, mesmerizing them with intense looks meant to draw you farther into the music. If you aren't watching one of them, you see Christina Scabbia and Andrea Ferro trading off vocal duties with power and precision.
Andrea goes from clean and crisp to growled and aggressive with his voice. Christina goes from low to high and all points in between as easily as anyone in the business. She can belt or whisper, and he can scream or croon. They are probably the most dynamic duos in metal today. This band can go from the semi-ballad of "Heaven's A Lie" to the crushing "Layers Of Time" and never bat an eye. They have a group of musicians that can do whatever they want and do it better than most. Lacuna Coil freaking ROCKS!!!
The coolest part of the show… when it was over, Richard Meiz walked out to the edge of the stage and tossed a drum stick that I caught. I love getting a physical memory from a show like this. The bonus treat was seeing Andrea Ferro after the show. He graciously allowed me to take a selfie with him, further cementing this as one of the better nights I've had in recent memory. Next time they come through, I will be requesting a press pass in hopes of getting to interview one or more of the members of this most excellent group.
Apocalyptica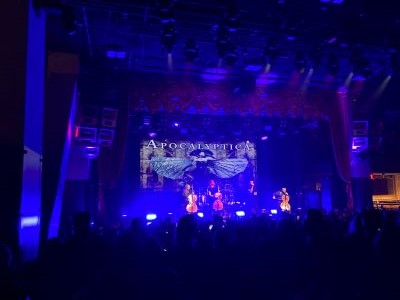 Band Members

Eicca Toppinen – Lead/Rhythm Cello
Paavo Lötjönen – Rhythm/Bass Cello
Perttu Kivilaakso – Lead/Rhythm Cello
Mikko Sirén – Drums
Frankie Perez – Vocals
Set List

Ashes of the Modern World
Path
Grace
I'm Not Jesus with Frankie Perez
Not Strong Enough with Frankie Perez
S.O.S. (Anything but Love) with Christina Scabbia
Rise
Scream for the Silent
En Route to Mayhem
I'll Get Through It
Shadowmaker with Frankie Perez
I Don't Care with Frankie Perez
Nothing Else Matters (Metallica cover)
Inquisition Symphony (Sepultura cover)
Encore:
Farewell
Seek & Destroy (Metallica cover)
In the Hall of the Mountain King (Edvard Grieg cover)
Apocalyptica came from humble beginnings. Starting as a Metallica "cover" band, they have moved well beyond that into a trio of cello players that write and record some incredibly dynamic music. Over time, they've incorporated drums and various vocalists, including Christina Scabbia. The previous records used several killer vocalists, including Gavin Rossdale, Corey Taylor, and Lacey Sturm. To do those songs live, they recruited a powerhouse in Frankie Perez.
Mikko Sirén has added drums to songs that did not initially have them. To his credit, now I have a hard time not adding them mentally to the previous recordings. The addition of drums has deepened the overall sound of Apocalyptica, making them sound more like a neo-classical heavy metal band. Their ability to create new songs and cover old ones in innovative and exciting ways is really something to behold.
Whether they are playing an original composition, covering Metallica, or absolutely slaying "In The Hall Of The Mountain King" from Edvard Grieg, they excite the senses in ways ordinary bands cannot. There is something magical about an amplified cello. This is modern classical music fused with bombastic heavy metal. Watching this performed live is something unique and compelling. Apocalyptica has done something few bands have managed in recent times, created a new sound that was not instantly copied by a flock of copycat bands.
I do not think many other musicians can take on these giants of classical metal. Watching these three masterful performers moving about the stage with instruments that are generally relegated to the back of the platform and limited in their range of motion is an exciting experience. Hearing originals like "Path" and "Scream For The Silent" as instrumental pieces or "I'm Not Jesus" and "I Don't Care" with lyrics is really cool. Hearing their takes on some of the best of both metal and classical is impressive.
It took two years for this show to happen, and it was worth every bit of the wait. Both bands absolutely dominated the stage and kept the crowd captive from the first note to the last.