Aversed/My Missing Half/Dzo-nga/Ancient Death – The Middle East Upstairs, Cambridge, MA July 17, 2022
Ancient Death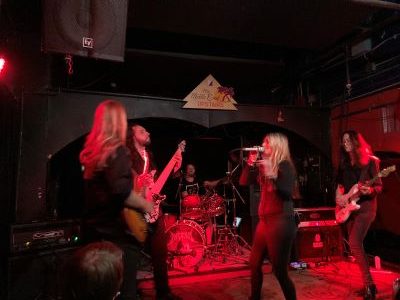 Set List

Celestial Beings
Labyrinth Of Self-Reflection
Glowing Auras
Voice Spores
Ancient Death hit the stage and immediately took control of the place. Their initial tempo was doom-laden sludge, shaking the foundation of the building with thundering bass, languid drums and melodic guitar work. For solos and fills, those guitars turned into blazing phoenixes. The vocals were harsh, ranging from low rumblings to mid-range screams. The activity on the stage was as subdued as the music for the most part, but when they decided it was time to tear it open, they did just that. The crowd hovered back a little, watching as they ran through their set.
Having never heard the band before, I know I will be fixing that soon. Their transitions from slow and methodical to fast and frenzied were fluid and their timing was fantastic. The guitars were mirrored by the bass for the most part. When Jerry and Ray began shredding, Jasmine matched them step for step. Derek went from slow and steady to blast beats and back with ease, keeping the tempo, never wavering. The music was loud and filled the small hall with a joyous, thundering doom. It was a great way to start the night.
Dzo-nga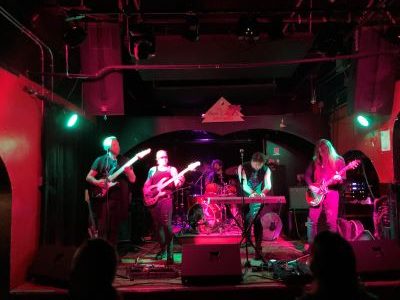 Band Members

Cryvas – Vocals/Keyboards
Jake Bedard – Guitars/Vocals
John McGrath – Guitars
Tom Cat – Bass
Zak King – Drums
Set List

The Wolves Fell Quiet
Flames In The Sky
Heart Of Coal
The Song Of Hiawatha
Dzo-nga is folk, death, and progressive metal. They may have only done four songs, but that took some time. They love long, complex compositions that twist and turn and soar and dive. I also like those things, so I was quite happy. Cryvas growled and sang and played keys and generally lost himself in the atmosphere of the moment. John joined him on vocals, often harmonizing quite well. Both John and James took turns wailing on their guitars. They laid down ethereal tones, crushing riffs, and shredding solos/lead work. Tom Cat is a wizard on the bass, weaving tonality and tempo together while Zak fueled this fire from the back of the tiny stage.
Dzo-nga has the ability to move from folk to death to progressive metal without losing any of the power they possess. They have the ability to layer the guitars and keyboards to create a massive wave of sound that just washes over the crowd. Most of us stood, enrapt, watching the complex interactions of the five musicians on stage, mouths agape. One specific fan wanted to open the pit up, but the crowd was far too rooted in place, mesmerized by the ambient tones and intricate melodies that soared around us at full volume. It was an immersive experience that definitely left an impression on those in attendance.
My Missing Half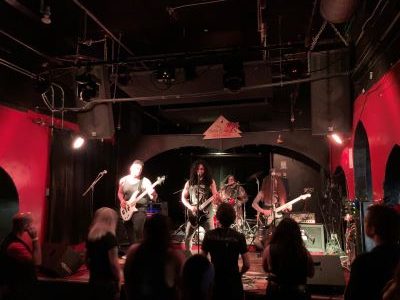 Set List

Six Feet Away
Make It Quick
The Cell I Call Home
Before Waves And Rocks Catch Me
Let Me Forget
Embedded In Tragedy
Postponing Recovery
My Missing Half is listed as melodic death metal, but live they cover a lot more ground than that. When they turn it up to 10 and let loose, they straddle the thrash line quite a bit. Their shredding solos and thundering bass lines are beautifully heavy, giving them a great crossover feel on stage. The drums help all of this out by working up into the blast beat realm frequently. Their melodic sections are really nice as well. The vocals are nice and gruff, giving that true death metal vibe.
All of this combined make for a really nice lead in to the headlining act. MMH has a precision that is to be admired. Their tempo shifts and switches from melodic to heavier metal are well done, allowing them more range to wander through, giving them a nice wide area to fill with their blend of metal. Bijan and Nick both are energetic, forceful players and Phil was flat out abusing his strings. They filled the space in the room completely, And the whole time, Kyle was sitting on his throne powering the whole show with a combination of delicacy and ferocity, hitting each note with loving care, yet powerful intensity.
Aversed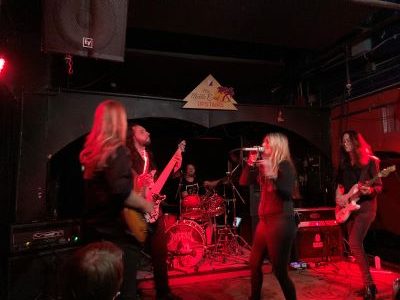 Band Members

Sarah Hartman –Vocals
Sungwoo Jeong –Guitars
Alden Marchand –Guitars
Martin Epstein – Bass
Jeff Saltzman – Drums
Set List

Impermanent
Abandoned
Death Lullaby
Every Hill A Tomb
Laboratory
Close My Eyes
Natsukashi
Prison Of Existence
Malaise
Aversed came home on this night, the final of the tour, to celebrate their music with family and friends. And celebrate we did! Middle East Upstairs became a frenzied pit of adrenaline, ruled by fans with a need to use this beautiful opportunity to release all their pent-up emotions in the pit, surrounded by others who lived vicariously through those in the fray. Sarah sang, Sarah growled, Sarah talked to the crowd. She owned the stage, taking each song and giving it everything she had, leaving nothing left unsaid. As a bonus, the original singer, Haydee, was in the crowd singing along with her. Two absolutely crushing vocalists sharing the art we all came to show our love for.
Sungwoo and Alden are awe inspiring guitarists. Their technical precision, their ability to fuse the two instruments to create some of the most beautiful coordinated chaos I've ever witnessed. The progressive side of their melodic death metal sound is intricate and, at times, delicate. Other times, it is absolutely brutal, pummeling the ears with heavy riffs. Either way, there is a balance to the whole thing. Martin and Jeff both inject their own abilities into the mix, changing tempos and time signatures on a whim, driving the songs like the most experienced of Formula One drivers. Together, they are a technical, progressive death metal that is cutting edge, yet user friendly.
In a move that was sure to please the already rabid crowd, they performed two new songs, giving a preview of what is to come. They also performed fans and band favorites. They even got to do one extra song as the club knew this show was something special and let them take a little extra time to make the night truly memorable.
Aversed put on one of the best shows of the year. There was an energy in the room that filled the place in ways only musicians can. The fans were feeding of the performers and vice versa. It was a show where everyone was on the same wavelength, a special night meant to be. Some shows just have that vibe, and this was one of them. It was the perfect way to wrap a tour.