Celestial Demise – Debut Show at Prost Bier and Music Hall, Jewett City, CT, June 18, 2022
Mecha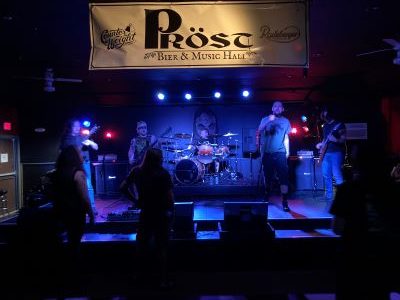 Band Members

John English – Vocals
Brian Rice – Guitars
Robert Rice – Guitars
Tom Cat – Bass
Michael Colantonio – Drums
Set List

Razor Revolution
Vulgarity
Hostile Overdose
Eternal Vigilance
Abandoned
Shadow OF Sin
Downtown Satisfactory
Mecha kicked off the show with an energetic set of heavy/hardcore metal. Having never heard these guys before, I was really impressed with the energy they brought. The set was pretty ferocious, and John was at his wildest the whole time. I've seen bands with a lot more people in the seats giving half what these guys did the entire set. Kudos for giving it 100%, no matter what.
Partway through the set, one of the nicest people in the local scene, none other than Nicki Gallop of Ice Giant, told the singer that he was doing a great job and to keep it up. Shocked for a second, you could see the well of emotion hit his eyes for a moment as he took in the fact that someone noticed how much he loves playing live, and then he turned his act up a notch. We need more Nicki's in the front row.
Mecha gave it their all and left the crowd feeling like they got what they wanted, a killer metal show. I bought the five-song EP and will be listening to it a lot in the next few weeks. Four of the songs in the show were from that EP, and I really want to hear how they sound pre-recorded. They sound badass live.
ORCumentary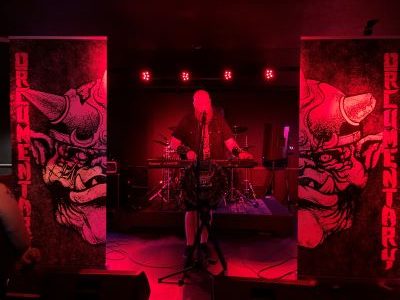 Set List

Orc In My Bathtub
Blood
Fit Of Frenzied Rage
Troll Snot
By Goblins Betrayed
The Orc Belated Birthday Song
Goblin Death March
The Time Of The Orc Has Come
ORCumentary was not what I expected. It was the one and only ORCAdams on stage playing with himself… I mean as a one-man-band. It was just him, his stage banners, and his keyboard setup. All the songs are pro-orc and anti-troll/dwarf/human. I'm okay with that. The vocals were in English, but definitely with an Orcish accent (growl). He interacted with the crowd, mostly Nicki Gallop, as she is a force to be reckoned with. Their banter was funny and added some levity to the show.
The music is at times chaotic but always killer. Well, more like mass murder with the song about Goblin genocide (Goblin Death March). There was anger, rage, and rebellion in the lyrics, and the music was brutal in all the right ways. We even had a chance to join the revolt by chanting the title of the final song, "The Time OF The Orc Has Come." My fry vocals must be getting a little better since my throat didn't hurt the next day.
Speaking of harsh vocals, ORCAdams does them well. His entire set uses harsh vocals, even the banter between songs. He never broke character, though we almost got him to a couple of times. The thing that really impressed me the most was the symphonic ORC metal. That may sound a bit off, but let me assure you, it works better than you might think it would. The time for ORChestral metal is here, and I am here for it!
Celestial Demise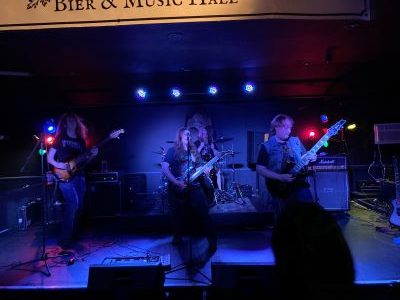 Set List

Night Seeker
When The Black Rain Falls
Chains Of Time
The Autonomous Invasion
The Curse Of The Phantasm
Celestial Demise is not a brand-new band, but this was their debut performance. It was everything you would expect from a debut show. There were a few "oops" looks, but that never slowed them down. They just pushed through, like killer musicians do, and kept going full speed. Celestial Demise is mostly power metal with a little bit of stoner/doom and even a few hints of prog metal thrown in for good measure.
The songs go over well live. The two guitars were really synched up and roaring. On a side note, Krys just may have the most metal woman ever by his side. Forget a ring, she proposed to him with a guitar. That absolutely rocks! Now, back to the music. The vocals, and even the backing vocals, were on freaking point! Tom can definitely hit the proper power metal notes. He's a combination of Michael Kiske from Helloween and Hansi Kursch from Blind Guardian. The drums were fast and furious, as they should be in power metal. The bass was every bit as frenetic as the riffs.
Celestial Demise has a good formula going, and I hope they keep working on honing their skills. They have a lot to offer, and I am sure I will be seeing them again as they grow in the local New England music scene. Nicki was again up front. She was here to support former Ice Giant band members because she is just that classy a musician and person. I will be picking up the EP from BandCamp (and you should, too!) because I really want to hear the studio version of "The Autonomous Invasion" and "Curse Of The Phantasm." They were excellent live, and I'm betting they will be just as good in their original form!
Svn.Seeker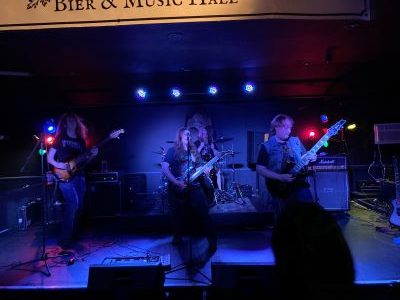 Band Members

Nikita – Vocals/Lead Guitars
Jeff – Rhythm Guitars
"Urda" – Bass
Pat – Drums
Set List

Seeking My Own Sun
Pilfered
Death Of A Judge
Masquerade
The Gold Will Rise
Means To An End
Svn.Seeker is Melodic Metal. They have two guitarists, both of which freaking shred! Their bass player is excellent, and the drummer is fantastic. Blast beats galore, and some of the fastest grooves I've seen in a while make him a force of nature. As a band, they are tight-knit and well-rehearsed. They had a shorter set than I would have liked with only one EP out. Hell, they could have played the exact same songs again, and I would have been happy. This is not a criticism; I just couldn't get enough.
The songs are complex and quite cohesive. They don't get lost going off on random tangents; they stick to the theme and remain laser-focused. There were hardly enough people for a pit, but they got one anyway. Of course, Nicki was involved; do I even have to state that at this point? I'm too old for pits, so I just gave a few random shots and then stepped back into my comfort zone to headbang and be in awe of what those four gifted musicians did for those six songs.
Svn.Seeker needs to work on recording more music. I'm greedy and just want more of what they do. I was impressed with the live sound and cannot wait to dig more into the recorded material. I know the last few years have been rough on bands financially with the lack of available shows to play, but you can rest assured that I will be catching these guys as soon as possible.
The entire crowd was still there at the end of the night. Kudos to all those who showed up early and stayed late. You got to see four bands put their music and their hearts out there. Now is the time for a few special mentions! Nicki Gallop. Came early, stayed late, partied hard, and actively supported every band. She is awesome and deserves her own chatter. She knew many, if not most, of the musicians on stage and was there to make sure they knew they were loved. She has an infectious energy and brought smiles to faces all night. She, Nicki, thank you for making the show that much better without ever picking up an instrument. You absolutely rock!
Finally, thanks to Prost Bier and Music Hall for putting this package together! I'm sure that is only the first of many times I will enter your establishment to rock a night away! The staff was friendly, the food was good, and no one complained about the beer. I don't drink, so I wouldn't know about the quality of those beverages. The soda was only two dollars, so I was happy about that. I've paid $5 for water at other places. The atmosphere was most excellent, and fun was had by all!