Halestorm/The Pretty Reckless/The Warning/Lilith Czar – Leaders Bank Pavilion, Boston, MA July 19, 2022
Lilith Czar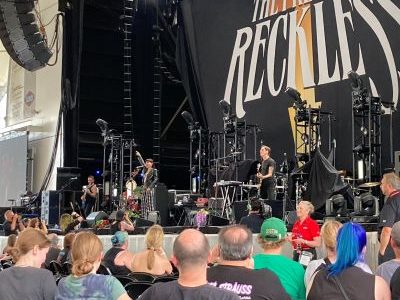 Set List

Intro Poem
Feed My Chaos
100 Little Deaths (Juliet Simms cover)
Edge Of Seventeen (Stevie Nicks cover)
Lola
King
Anarchy
Lilith Czar is the creation of Juliet Simms. She is somewhat of an alter-ego. She has a feminist attitude and devil may care outlook on the patriarchy. She speaks between songs of the empowerment of woman and sticking up for yourself. If I did not agree with her whole-heartedly, I would probably be feeling a bit triggered right now. I do agree with her, though, as did a very large portion of the crowd. There were a lot of women at this show and it was great to see them celebrating and being celebrated.
As for the music, Lilith is a consummate professional. She engaged the crowd, worked her way around the stage, and connected with her fans. The music and lyrics are angsty and rebellious. The energy is infectious. Guitar picks were tossed, drum sticks thrown, and all the set lists were handed out. One set list was given to a woman way off the front line, but she was called over for being such a fervent supporter. This is the kind of show that is really fun to see. Crowd and band seem to merge and become a singular entity, enjoying a night of revelry and a psychic bond that is unmistakably awesome.
The Warning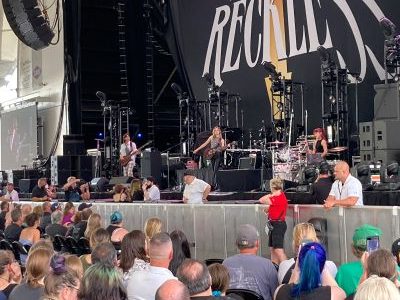 Set List

Dust To Dust
Z
Queen Of The Murder Scene
Choke
Money
Enter Sandman (Metallica cover)
Error
Disciple
Evolve
The Warning is three sisters from Monterrey, Mexico who grew up in a very musical family. The talent they have in undeniable and they obviously practice their tradecraft diligently. They walked out on that stage and took the place over. All three sing individually as well as harmonizing in some songs. All three women use clean vocal styles with very little distortion, though there were a few bits of gritty spice added to a few phrases. They are obviously at home on a stage. They never showed a bit of nerve and they displayed all the confidence you expect from an international touring act.
Paulina is one of the more energetic drummers you will see. Arms and legs were flailing wildly and her head was bobbing along in time to the music. Her performance is a little like Junna, with a little less facial expression (because she's singing a lot of the time). Meanwhile, her sisters both patrolled the stage, shifting from side to side to make sure they engaged the audience and kept them thoroughly entertained.
The songs are catchy with many of the refrains being easily chantable. The crowd enjoyed singing along to the parts they knew and dancing to the parts they may not have memorized yet. Of note, their version of "Enter Sandman" is on the 30th anniversary edition of Metallica's Black Album, chosen by the band. Talk about earning your stripes! This power trio put on an excellent show and deserve all the praise that can be thrown at them. Those people who claim rock is dead have not heard this band yet. Their energy and passion alone are helping to keep the heart of rock and roll beating.
The Pretty Reckless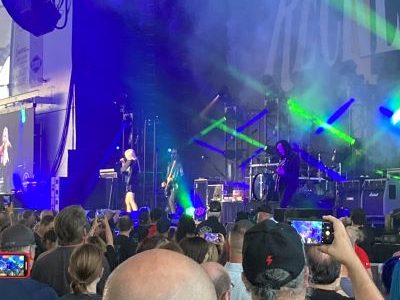 Set List

Loud Love (Soundgarden cover)
Since You're Gone
Only Love Can Save Me Now
Death by Rock and Roll
And So It Went
Make Me Wanna Die
Witches Burn
Going to Hell
Heaven Knows
Take Me Down
The Pretty Reckless puts on a languid, slower-paced show than you would expect since they are on tour with one of the most high-octane frontwomen in the business today. The songs took their time, going at the speed necessary to give the tune maximum impact. Some were a bit faster, but they all ended with a bit of flourish and drama. There was no hurry and the fans seemed to appreciate this. It felt a bit strange to me since I recently attended a power metal concert on Saturday and a technical death metal show on Sunday. I got so used to blisteringly fast that this felt almost foreign.
A change of pace can definitely be nice every once in a while. This set was exciting even with the more relaxed pacing between songs. Taylor has an incredible voice, capable of going gritty and distorted at a moment's notice, The band is excellent. Ben and Jamie worked both sides of the stage, connecting with their compatriots, rocking out and showing their chops in all the right places. Mark stayed behind his kit and just hammered out amazing rhythms with metronomic precision. The crowd stayed engaged and stood for most of the set, screaming along with the lyrics and yelling their approval at the ends of the songs. Fun was had by all.
Halestorm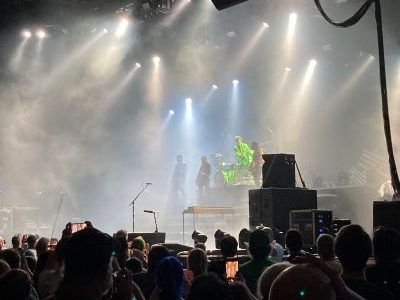 Band Members

Lzzy Hale – Vocals/Guitars
Joe Hottinger – Guitars
Josh Smith – Bass
Arejay Hale– Drums/Vocals
Set List

Back From the Dead
Freak Like Me
Wicked Ways
Love Bites (So Do I)
Psycho Crazy
I Get Off
Terrible Things
Break In (shortened)
Raise Your Horns (Lzzy on piano)
Strange Girl
Drum Solo
I Miss The Misery
Do Not Disturb
Bombshell
Here's To Us
I Am The Fire
The Steeple
Halestorm is one of the premier live bands touring today. The four musicians are all dynamic performers and players. Lzzy Hale has a voice like no other. She is instantly recognizable whether fronting Halestorm or guesting with The Hu, Lindsey Sterling, or Amy Lee. Josh Smith shifts from bass to keys and back and does backing vocals as well in concert. Joe Hottinger is a phenomenal guitar player. His riffs are catchy and powerful and his lead work and solos are incredible. He can shred or go full melodic. His playing is fluid and eloquent. Then there is Arejay Hale. He is one of the most outstanding performance drummers on tour today.
Combined, they own the stage. For almost 90 full minutes, they play song after song, delivering them with a ferocity that borders on insanity. Lzzy's vocal prowess is outstanding. The notes she holds, both clean and distorted, have become legendary. Look no further than the climbing note towards the end of "I Am The Fire" to see and hear excellence. The way she shifts from clean to grit and adds power without wavering is mind-boggling.
What was even more impressive about much of this show was the fact the temperature soared pretty high and the breeze didn't really help too much earlier. The only bonus was the lack of direct sunlight. All the performers endured and kept the energy levels going in spite of probably losing a pint to sweat. On an unseasonably hot night in Boston, these four bands gave their all to an adoring crowd. Definitely a show worth seeing!