Crown of Madness – Elemental Binding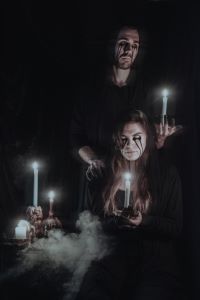 Crown Of Madness describes themselves as a Dissonant Death Metal Duo. I heartily agree with that assessment and applaud their self-awareness. Crown Of Madness does not try to be more than they are or minimize their style; instead, they just do what they do best. Elemental Binding is their second EP, following the 2022 debut, The Void. Hailing from Vancouver, British Columbia, they are here to politely blow your mind and leave you shuddering on the floor, shaken by the brutality of their music.
https://crownofmadness.bandcamp.com

Band Members:
Sunshine Schneider – Vocals/Guitars
Connor Gordon – Drums
February 23, 2023
Tracklist:

Immortal Eyes (feat. Matthew Pancoust)
A Wrenching Nostalgia
Roots, Limbs and Sky
Vile Sun
First and foremost, kudos to Sunshine for not trying to "Blackened Death" her name. I love that she did not go for some dark-sounding pseudonym, instead highlighting the dichotomy within us: there is light and dark, good and evil. I have no idea if she intended that, but I'm here for it anyway.
"Immortal Eyes" begins with ominous tones leading to a highly technical, incredibly fast guitar riff and fantastic drumming. The shifts in tempo they use signify a coming change in the song, whether that is the start of the lyrics or moving into Matthew's solo. The changes are handled with great expertise, hitting right on point. Whoever mixed this album deserves all the praise they can get. And that solo is amazing! Melodic and measured with just the right amount of shredding to make it fit the song's overall tone.
The next track, "A Wrenching Nostalgia," is a bit more Doom/Sludge inspired while maintaining the tempo Crown Of Madness seems to favor. Connor is an excellent technician on the skins, shifting phrasing to match the guitars and maintaining a consistent rhythm. I can't even do that on air drums, so I admire anyone who can handle their instrument this well. One of the best things about this is that Connor and Sunshine are so perfectly in sync with each other.
"Roots, Limbs And Sky" is where you get some of the better examples of the "Dissonant" part of their sound. Some of the wild guitar tones that are thrown in, quick bends, and runs coming from out of nowhere to fit into a half measure accentuate the peaks and valleys of this track. Meanwhile, the voice is present in some tones and vacant in others. There are no clean vocals here, which would sound out of place for the most part. Sunshine has a great fry vocal tone, level harsh and brutal, everything you want in a Death Metal vocalist.
The EP finishes with "Vile Sun," three and a half minutes of more brutality and beauty. There is a consistency to the compositions that let you know Crown Of Madness knows precisely how they want to sound. There is no questioning where they fit or how they want to come across. From start to finish, this record is done well. It is precise, and there are no gaps in the recording, mixing, or production.
There are 14 minutes of music on this EP. That is the only drawback to it. There just is not enough; you want to hear more and five more songs showing off the technical skills of these two most excellent musicians. Hopefully, they will come to the US one day and play some dates. There is a beautiful scene they would fit perfectly into in the New England area. I know there have to be more places than just New England, but I know that scene better than I do any other in the US.
MZ Ratings:
Musicianship

Guitars – 10
Rhythms – 10
Vocals – 9

Songwriting – 9
Production – 9
Overall – 9.40