Dead End Finland – Victory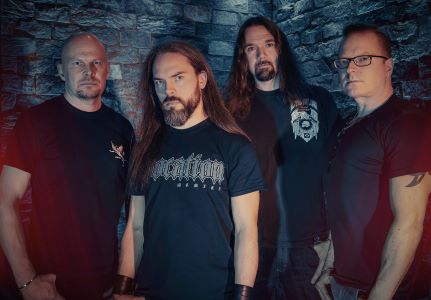 Dead End Finland is a four-piece band formed in 2007. Not ones to conform to a standard, they are a brash blend of genres and styles that range from Classic Metal to Death Metal, making some exciting side journeys through Neo-Classical, Electronic, and Symphonic Metal in the process. There are a lot of heavy riffs and massive rhythms, and killer melodic elements that create a heady, intoxicating sound. The blend of clean and harsh vocals allows for maximum impact giving their compositions an excellent diversity of tone and texture.
Band Members:
Mikko Virtanen – Vocals
Santtu Rosén – Guitars/Bass
Jarno Hänninen – Keyboards
Miska Rajasuo – Drums
March 31, 2023, Inverse Records https://www.inverse.fi/
Tracklist:

Northern Winds
Wounded & Bleeding
Heavy Rain
Beyond The Distance
In The Dark
Kaamos
Up So High, Down So Low
Delusions Of Grandeur
Bound To Be Reborn
Wrath Of God
The album opens with an electronic sound blended with industrial and symphonic before blooming into full-blown genre-bending mayhem to complete the overture. Everything drops, and then different instruments and voices emerge from the silence. The biggest thing I notice here is the wide variety of tones the keyboards place into the track, giving it all these different styles. This is Dead End Finland's primary method for crossing the many genre lines.
The melodic opening to "Wounded And Bleeding" is a grand deception, hiding the bombastic interlude that follows. The song's main body settles on a mid-point between those two extremes, tantalizing the senses with a metronomic shifting from melodic to heavy and back. Going entirely the opposite direction, "Heavy Rain" starts with a massive keyboard/riff combination before dropping back into a more melodic phrasing for the chorus.
Through the first three songs, Dead End Finland establishes that they can handle heavy, epic, Doom-laden Metal, filter in multiple styles and genres, and go as heavy as they want to, shifting through Death and Heavy Metal just as quickly as they do any other style. They can mix things up in new and exciting ways, creating unique blends. Having two different vocals styles opens the space they can inhabit sonically, just like the keyboards add different textures based on what each individual track needs.
By the time you get to "Up So High, Down So Low," you know there will be interesting twists and turns in the melodies. You will be ready to embrace the shifts, lovingly following the compositions with bated breath, but you will be glad "Kaamos" gave you a moment to collect your thoughts. Just under two minutes, "Kaamos" is a delicate instrumental meant to let you catch your breath and prepare for the album's second half.
Closing the album out is "Wrath Of God," a heavy track with dark, rich guitar tones and ethereal keyboards over a melodic rhythm. Layered vocals add size to the song, making it feel bigger and darker than it would with a single vocal track.
Dead End Finland goes a little farther afield than most bands, fusing in different styles to create a larger sonic space. The drops, the tempo shifts, and the genre-bending all mix in, creating something different, alluring, and new. I love that they dare to challenge the status quo and experiment with a variety of styles. They make it work, giving them something new and unique for all of us to love.
MZ Ratings:
Musicianship

Guitars – 9
Rhythms – 10
Vocals – 10

Songwriting – 9
Production – 9
Overall – 9.40