Deiquisitor – Apotheosis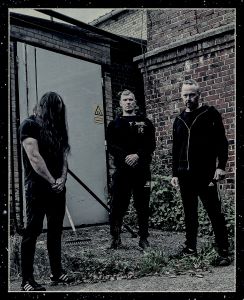 Deiquisitor is a three-piece band from Denmark that weave their way through a variety of genres that exist around Death Metal. You will hear Sludge and Doom, as well as Black Metal, incorporated into the music in fascinating ways. There is no clean singing on this album. The rhythms are heavy, often fast, and the riffs are brutal. The song titles tell of tales of woe and dread, speaking of apocalyptic stories and occult-based themes. There is a lot of dark imagery in the lyrics and music.



Band Members:
Thomas F.J.– Guitars/Vocals
Daniel A.– Bass/Vocals
Henrik B.C. – Drums
January 20, 2023, via Night Shroud Records
Tracklist:

Humanoid
Striving For Destruction
Autosarcophagy
The Eyes Of Worms
Apophis
Reflected By The Void
Deiquisitor
Atomic Assassins
Praise The Lord
The album opens with "Humanoid," the longest song on the album at just under six minutes. This track is interesting because the guitars have an almost Sludge feel/tone to the intro, but blast beats are coming from the drums. The bass seems to align with the riff, acting like a rhythm guitar. It would be tough to run with the bass drum as there are a lot of times Henrik is just going too fast on the kicks to keep up with unless trying to play bass with a power drill.
Deiquisitor stays with a dark, heavy tone for the entire album, varying the phrases, but keeping the intensity. The drums are almost always at full throttle, staying somewhere in the 666-bpm range. Yes, that is an exaggeration, but I'm okay with that. Thomas uses a lot of chugging riffs, and Daniel is a seriously fast bass player. Songs like "Striving For Destruction" and "Apophis" begin at full speed and stay there for the entire piece. Others, like "Autosarcophagy" and "The Eyes Of Worms," have similar Sludgy intros to "Humanoid."
No matter how they start the song, there will always be a tight, intense, brutal main body to the track. Bridges and interludes are used some, but I don't hear any major breakdowns. Guitar solos are fast, easily hitting full-on shredded glory. I admit I do not really hear the difference between Daniel's and Thomas's vocals. At first, I thought the vocals were layered, but after reflecting on them, I think they are singing in harmony to increase the impact of the voices. A couple of times in "Reflected By The Void," it sounds like they are just a hair out of synch, making me think it is a lead and backing vocal, not a layered track.
Moving to the last track, "Praise The Lord," we hear another brutally fast song with many dark tones and heavy tunings. The drums never relent. I'm almost physically tired at the end of the song. The whole album feels like a soul-draining race through Hell; in other words, just what you want from your Death Metal.
The pace this trio keeps up across the entire span of this album is impressive. Deiquisitor barely gives you a chance to catch your breath between songs. The whole record is an assault on the senses, with each song feeling like an onslaught, a wave of sound meant to drag you under and make you struggle to survive. They are aggressive, loud, violent, and eerily devoid of any color except the darkest black they can find. I truly mean that as a compliment.
MZ Ratings:
Musicianship

Guitars – 9
Rhythms – 9
Vocals – 9

Songwriting – 8
Production – 8
Overall – 8.60