Dialith – Extinction Six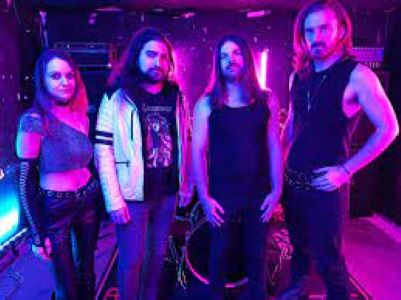 Dialith is a symphonic power band from Danbury, CT, formed in 2015. Extinction Six was their first full-length album. As part of their symphonic style, they incorporate more than just strings. They also feature horns and wind instruments, making them one of the bolder bands out there. So many bands stop at strings, not daring to beef up that extra bit, but Dialith goes there and does it well. The orchestration on this disc is excellent, fitting into the composition and theme equally. Add to this power and progressive metal elements, and you get a fantastic blend of music that will appeal to fans across multiple genres.
Band Members:
Krista Sion – Vocals
Alasdair Wallace Mackie – Guitars (except track 10)/Orchestration
Charles Woodruff – Keyboards/Guitars (track 10 only)
Mark Grey – Bass
Cullen Mitchell – Drums
Extinction Six was independently released on August 16, 2019.
Tracklist:

Emergence (Intro)
The Sound Of Your Voice
Where Fire Dwells
Libra
Break The Chains
Quiver Of Deception
The River Runs Dry
In Every Breath
Catalyst
The Wraith
Extinction Six
The album opens with an eerie instrumental, "Emergence." Dark keyboard tones with a lighter harp arrangement that brings in additional strings and ocean wave sound become lighter keys and deep, booming horns. The build to the crescendo is quite astounding. The string flourishes before the drop that leads into a crushing guitar riff, making the transition work well.
"The Sound Of Your Voice" launches with a heavy guitar riff and builds some nice horn sounds. That rhythm is dynamic! The lead guitar work is still heavy but more melodic, really offsetting the crunchy texture of the rhythm work. The drumming is stellar. It's fast, heavy, variable, and steady. You know the bass is just waiting for the time to step out and give a quick fill. There are wind and drum fills; you know at some point, the bass is going to get some love. We also hear the vocals for the first time, which are beautiful. The voice is clean and clear, ranging from lower chest voice to airy head voice with ease.
The next song, "Where Fire Dwells," begins with a major tribal theme to the drums. The Guitar comes in with a bit of Arabesque flair, then the rest of the instruments kick in. The rhythm chugs along, driving the track at a killer pace, alternating the tempo with occasional drop-outs. One of the wildest facets of this band is the subject matter is dark and heavy, yet the vocals are light and airy. This song is about a descent into Hell, but the voice is not deep or harsh. The difference is noticeable but also kind of a welcome change. Most epic journey-type albums seem to associate the protagonist with a male voice, but that is not the case here. Dialith challenges me to question my stereotyping. I find this most excellent!
The next song, "Libra," begins with strings and then has a massive, melodic riff crash in over that. Krista's soaring vocals are in standard form for this track. She has an excellent tone and can vary pitches with the greatest ease, going from the lower range to incredible head voice in a single phrase, sometimes on a single note. The acoustic interlude at the mid-point is a welcome respite and transitions to the solo, then back to acoustic. There are a lot of daring compositions on this disc, even with the vocal patterns. They play with lyric meters, making this quite an experiment in sound.
"Break The Chains" is a perfect example of that in the chorus. The pause between "break" and "the chains" is an interesting way to deliver the line. I find it even more entertaining with the guitar flourish they add after the first chorus, ending with an excellent drum phrase. The intermittent leads and fills are what really give me the power metal vibes, though the saxophone fills before the guitar solo brings it right back to symphonic.
Moving to "Quiver Of Deception," we get a variable rhythm guitar intro mirrored by the drums. This is the progressive metal shining through. The melding of genres, bending from one to the next with no loss of definition or form, is astounding. The music is stunning. It is hard to fathom how diverse and complex these songs are on the first listen. The shifting instrumentation is jaw-dropping.
Both "The River Runs Dry" and "In Every Breath" start slower, working in the melodic end of their spectrum. "In Every Breath" gives me serious mid-Tara Turunen era Nightwish vibes. Krista's voice is a bit reminiscent of Tarja, but only in the clarity of her classical singing voice. Pitch and tone are different. Meanwhile, Alasdair and Charles are every bit as capable of interacting around the riffs as any pair of guitarists or keyboard/guitar combo in the business. Mark and Cullen dominate the rhythms, taking ownership of the intricacies of the compositions.
"Catalyst" leans toward Epica, another band I absolutely adore. None of these comparisons are meant to say Dialith is unoriginal. Quite the contrary, you hear the influences, but only as a stylistic nod, not a copy. This is one of the more original albums I've listened to over the past few years, mainly because of the boldness of the songwriting and the daring of pairing the dark subject matter with the operatic voice you hear singing about those themes.
The last "normal" song is "The Wraith." Acoustic guitar work, eerie synth tones, and layered vocals give this a haunted feeling. It is also a bit of a respite before the final epic piece on this fantastic lyrical/musical journey. The tempo doesn't get incredibly fast on this song, though it still has plenty of power thanks to a heavy riff. Now that we've had a small break, it's time for the grand finale of this epic trek.
The title track, "Extinction Six," is a 17-plus minute trip that brings the journey to its logical conclusion. The song opens with wind sound effects and a forlorn piano, but that is only the first step in this progressive masterpiece. Dialith weaves its way through every single bit of their repertoire on this track. There are increases in tempo, shifts in time, alternating rhythms, and every instrument leads at some point. There is beautiful, poignant orchestration, punishing riffs, frenetic passages, and significant changes in key, tempo, and time signature. Simply put, this song has a bit of everything and something for everyone.
This is one of those rare albums that just strike every chord with me. The crazy thing is, I wouldn't even know about it if I hadn't met the lead singer at a random show and had her offer me the disc. This is older than I would usually review, especially since they have newer material, but I couldn't keep my thoughts to myself. According to Krista, they are working on new material, though she gave no details or timelines.
I'm blown away by how excellent this album is and how complex, dramatic, and massive their sound is. Dialith is one of those bands that has hooked me virtually from the first note. Fans of epic, power, progressive, symphonic metal should love this one. One day soon, I hope to catch this band live. I can only imagine how these songs translate to a stage. One can only hope there is more, much more, to come from Dialith.
MZ Ratings:
Musicianship

Guitars – 10
Rhythms – 10
Vocals – 10

Songwriting – 10
Production – 10
Overall – 10