Draghoria – Dangerous Species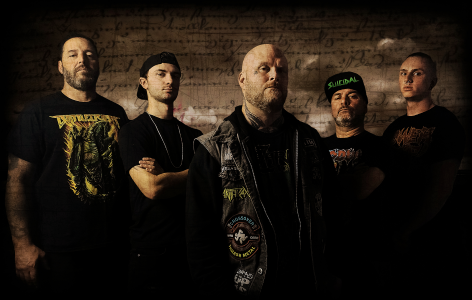 Draghoria is a Northern Colorado-based Thrash Metal band formed in 2013. Dangerous Species is their second full-length LP, and they have two EPs. Combining old-school Thrash with newer musical influences gives a new twist to the familiar, creating a semi-new sound that feels modern and relevant to the scene today. They are poised and ready to take on the world. Having opened for some Thrash legends like Flotsam & Jetsam, Soulfly, and Havok in Colorado, they're eager to expand to new lands and spread their own Metal gospel.
https://draghoriathrash.bandcamp.com/

Band Members:
Benjamin Riggs – Vocals
Ron Carrillo – Guitars
Ryan Nevins – Guitars
John Colucco – Bass
Alex Carrillo – Drums
May 21, 2022
Tracklist:

Dangerous Species
Terror Hypnosis
Murder Nation
Deaducation
Hate Machine
Within Seconds Of Death
Agonist
Blind Eye
0- (Life's Blood)
The title track opens the album with speed and fury. "Dangerous Species" has a dark intro that sets the stage for a fast, heavy riff and a killer rhythm. Benjamin's vocals remind me a lot of Exodus, gritty, sometimes harsh, always a bit distorted, delivered fast and accurately. The drums vary between metered pacing and full-on blast beats, increasing and decreasing tempo at will. I'm always impressed with great drumming, and this is it.
On "Terror Hypnosis," we get more coordinated twin guitar assaults from Ron and Ryan. They are well-synched up for the riff and the leads/fills whenever they want to go in tandem, but they can also split off and do the whole lead thing whenever they want. The bass is excellent, hammering out the tempo and adjusting it to meet the rest of the instruments. John definitely builds a solid foundation, never faltering, just carrying the band like a true grunt of a soldier who leads the squad.
"Murder Nation" has a killer melodic intro, expanding the sound range Draghoria has to more tempered music. The song does get nice and heavy after the opening, speeding up incrementally until it hits full speed. Alex is a freaking beast on the drums. His variable double-kick patterns are things of beauty. If I had any rhythm whatsoever, that is how I'd want to play.
"Deaducation" is the polar opposite, starting heavy and staying heavy throughout. There are no melodic tendencies on this one; it is just Thrash Metal with a side of Speed Metal meant to get your head banging. Like many other tracks on this disc, there is angst in the lyrics. This is not a happy album about sunshine and roses; it's an angry Heavy Metal album that is pissed off at society, people, and the universe simultaneously.
Take "Hate Machine," a track with a bit of Sludge and Doom initially. Cue Alex for a quick lead that transitions the song to normal Draghoria tempos. That's another thing this band does well, transition. They go from melodic to heavy, sludgy to speeding without dropping a single note. It would be fun to see these guys live and see how well the songs translate. I like how this song is about social media and technology being worse than we thought. Humans are not mature enough to handle the internet. Their inner stupidity comes crashing to the forefront, choking off all sense and decorum.
"Within Seconds Of Death" has some of the most disparate guitar work on the record, and it works well. Ron and Ryan show they can work together and apart equally well on this track. I love how they go separate ways, unite, then split again over and over. This is one of the songs that really impresses me with their shared talent. Then "Agonist" comes along, and they stay in tandem most of the time. Here, the drums are the chaos agent. Those different patterns and phrases all keep me listening for the next shift.
The last two songs, "Blind Eye" and "O- (Life's Blood)," are more examples of the diversity Draghoria likes to throw into their songs. There is fast and heavy, melodic, speedy, and thrashy, all mixed together across the two songs, showing how well these guys can mix it up without ever losing any power. "O- (Life's Blood)" actually has some of the cleanest vocals on the record and they sound just as natural to the music as the rest of the vocals. They don't sound like the band is trying to force something outside the norm into existence.
I love the complexity of the compositions on this album. Draghoria uses interesting shifts, twists, and turns to make the songs sound bigger and more robust. Pair that with some angry lyrics, and you have a killer Thrash Metal album! They are one to watch out for ten years into the band's tenure. They want to expand beyond the borders of Colorado, and they should. Hopefully, they can catch a regional tour and get some better exposure.
MZ Ratings:
Musicianship

Guitars – 9
Rhythms – 9
Vocals – 9

Songwriting – 9
Production – 9
Overall – 9.00