Eluveitie/Omnium Gatherum/Seven Spires – Canal Club, Richmond, VA – April 1, 2023
Seven Spires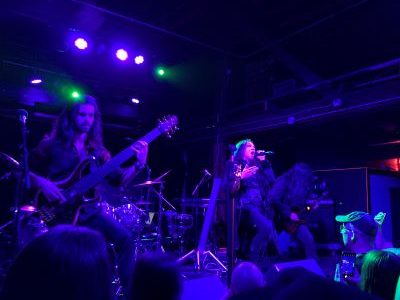 Set List

Gods Of Debauchery
The Cursed Muse
Succumb
Shadow On An Endless Sea
Dare To Live
Seven Spires, coming off their first European tour, got back to the US and hit the road with two fantastic bands, doing a loop around North America. The last show on that tour was in Richmond, VA, and they absolutely rocked the house. I do wish they had a longer set, but that is because I've loved this band for five years now and want to see them headlining already. What I was incredibly pleased with is that they played with tons of energy and that the crowd was totally engaged. There were fans there specifically for them, showing they have their own draw.
Everything Seven Spires is was on display this night. Technical proficiency, excellent musicianship, and infectious energy. "Wanderer's Prayer" brought the band to the stage, giving them time to get up and get set, survey the crowd, then bring "Gods Of Debauchery" to a roaring start. That was followed by "The Cursed Muse" and "Succumb," then "Shadow On An Endless Sea." The show closed with "Dare To Live." This is four songs from their third album, Gods Of Debauchery and one from Emerald Seas, their second record.
As soon as the show was over, the line at the merchandise table grew. That is the mark of a band that just blew the crowd's collective mind. I like to think Seven Spires is on the rise, growing, reaching greater heights. I'd love to see them as a headliner. They put on a great show, have three solid albums out, and know how to rule the stage. In the absence of headlining, I hope they get more tours like this. Both Omnium Gatherum and Eluveitie are great bands and Seven Spires is more than capable of providing support to those bands. If you have not yet checked them out, you owe it to yourself to do so.
Omnium Gatherum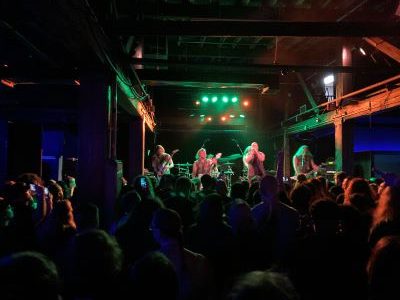 Set List

Frontiers
Paragon
Gods Go First
Reckoning
Slasher
Tempest
Be The Sky
Ego
The Unknowing
Maniac (Michael Sembello cover)
Omnium Gatherum, with six active members, was the second largest band on stage this night. Finnish Melodic Death Metal plays very well live, filling the space with a beautiful sound. They played 10 songs, including two from the new EP, Slasher. Having been in the business for over 25 years, this band knows how to take a stage and make it home for a night. I've seen OG before, and once again, they truly impressed me. The music washes over you with a stunning heaviness, a weight that is almost palpable.
From the opening notes to the cover of the Michael Sambello hit "Maniac," they made the stage a place of happiness and harmony. Fans of all three bands gathered together to listen in wonder as Omnium Gatherum shredded their set. Much like the Spires set before them, this was not just an OG set, it was also a warm up for Jukka, who has been supporting Eluveitie vocally in the absence of Chrigel.
Omnium Gatherum is an excellent band live. They've toured the world more than once and know how to put on a show. They get the crowd engaged and treat them like a massive metal family, welcoming them in to the fold. It is not just all party and fun, they take this very seriously. Music is their passion and you can tell this from their live shows. Omnium Gatherum is someone you need to see live the next time they come close enough to you.
Eluveitie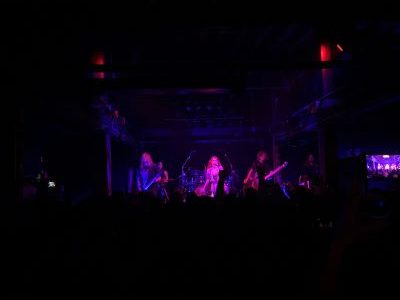 Eluveitie

Fabienne Erni – Vocals/Ce;ltic Harp
Rafael Salzmann – Lead Guitars
Matteo Sisti – Bagpipes/Tin Whistle
Kay Brem – Bass
Alain Ackermann – Drums
Jonas Wolf – Rhythm Guitars
Nicole Ansperger – Violin/Backing Vocals
Annie Riediger – Hurdy-Gurdy
Jukka Pelkonen – Guest Vocals
Adrienne Cowan – Guest Vocals
Eluveitie
https://eluveitie.ch
Facebook
Instagram
YouTube
Set List

Exile Of The Gods
Epona
Omnos
Deathwalker
Lvgvs
Arn
A Rose For Epona
Guitar Solo
Thousandfold
Ambiramus
Drum Solo
Quoth The Raven
Breathe
King
De Ruef Vo De Bärge / The Call Of The Mountains
Aidus
Ategnatos
Inis Mona
Eluveitie is one of the more interesting bands on the scene today. Fusing Folk and Heavy Metal, both with musical themes and instrumentation used in their recordings, they have a unique sound that is both heavy and melodic in equal parts. They use clean and harsh vocals, two guitars and bass, but also have a Celtic harp, pipes, whistles and a hurdy-gurdy. It takes nine people on stage to get their sound right. They use every inch of stage space and fill the entire venue with a bombastic, aggressive sound.
The tour almost had a major problem as the male, harsh vocalist, the founder of the band, Chrigel, had an emergency and could not make the tour. Not to be deterred, they asked the two opening bands, who both have vocalists very capable of filling in, to do so. Even better, they both graciously did! To see Fabienne Erni singing with Jukka on some songs and Adrienne on others was a real treat. The crowd missed Chrigel, but not the tour.
Speaking of Fabienne, she performed an acapella song, showing her incredible voice. This was an amazing show for so many reasons. The guest vocalists were a treat, just knowing there is that much love and camaraderie in the metal scene is a joy to see. The sound at the back of the venue was fantastic. I heard the pipes, the harp, the guitars, all of it. The mix was excellent and The Canal Club should be praised for it. Fans of all the bands packed the place, showing love and support for all the bands, celebrating a night of amazing music.
This was a magical night full of great live music. All of the bands put on killer sets full of fan favorite songs. They also celebrated the end of the tour by having some additional fun on stage, horsing around and creating memories for themselves, though I will take some of those antics away for my memories as well. How often do fans get to see shows like this? Having lived in the middle of the country for most of my life, I usually caught the middle of the tour, not the first or last night.
I came away from this night knowing a few things for sure. All three of these bands are amazing live, the metal scene is growing more and more supportive, and any time I can, I will catch any of these bands live. The night and the music were magical, the fans were pumped, and I had a great time. Long live HEAVY METAL!!!