Endgame – Serpents Whisper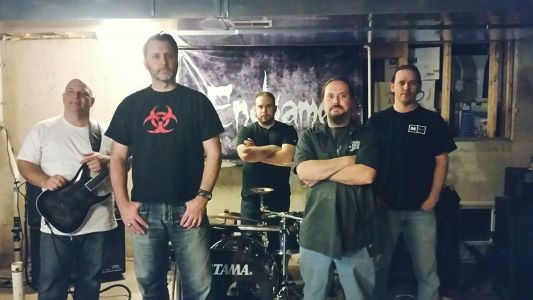 2014 saw the creation of Endgame, a Heavy Metal outfit from Illinois. Like so many bands, the pandemic derailed their timelines, delaying the hoped-for original release date for their sophomore EP, Serpents Whisper. In their own press release, they state they are ready to take on the newly reopened world! An excellent start to that was opening for Drowning pool recently, and with good reason. They have some catchy hooks and tasty riffs that will play well live.
https://www.reverbnation.com/endgame1

Band Members:
Dean Leo – Vocals
Tom Theres – Guitars
Greg Nolter – Guitars
John Wanner – Bass
Mike Cullotta – Drums
October 2, 2022
Tracklist:

Cascading Lies
The Palace Is Burning
End Game
Broken
See How We Run
Vows
The record opens with "Cascading Lies," a slow burner that begins with an almost Sludge metal guitar section. The vocals are distorted and gritty, with occasional drops into growls. Mike is a beast on drums, handling the tempo shifts with precision and power. John is thunder, hammering out a bass line that solidifies the bottom end, keeping everything perfectly in line. Tom and Greg spend much of their time in harmony, though they can go their separate ways and show they each have their own talents.
Next, "The Palace Is Burning" opens with another melodic sludge tone that morphs into something heavier. I hear minor Sevendust influences in the first two songs. No major stuff, just a few similar patterns, like at the halfway point here, there is some similarity to "Crumbled" in the vocal delivery. If these guys are Sevendust fans, they've won my heart!
"Endgame," the song, not the band, opens with different tones than the last two songs. This one is less sludgy and more 90s Heavy Metal. You get some drum fills and runs and lots of wild guitar tones straying away from the primary riff tones. There is a nice drop in the middle where they go melodic, then build back to the heavy riff by way of the guitar solo.
"Broken" opens with a bass riff, showing that each of these musicians can take the lead whenever they want. This song pays homage to multiple 90s acts, including Drowning Pool and Pantera. The rhythm and riff are deep, heavy, and chugging, giving solid vibes that feel part Groove Metal, part Heavy Metal, all badass. Then "See How We Run" carries on the legacy now being established. These guys know how to craft a song that defies simple categorization.
The record ends with "Vows," another track with a semi-sludge intro that changes to something much more brazen and angry, shifting to a more straightforward Heavy Metal styling. I like how the vocals are harmonized with the guitar riff. This song has one of the better guitar solos. It's cool how they separated the sections with a quick fill. A few pinch harmonics and the song delve back into the vocal segments.
Endgame has some non-standard songwriting techniques that hooked me pretty well. They take a few risks by wandering through various genres to create a rather unique sound. I think they are correct; they are ready to move on to the next phase of their musical career. I hope they catch a regional tour and get some better exposure opening for a national act. They should be heard by a wider audience!
MZ Ratings:
Musicianship

 
Guitars – 9
 
Rhythms – 9
Vocals – 9

Songwriting – 9
Production – 8
Overall – 8.80