Epinikion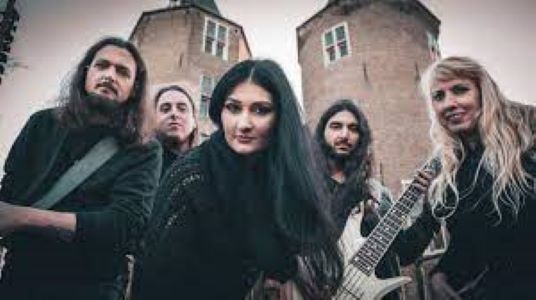 Epinikion is a Belgian Symphonic Metal band with a love for creating cinematic soundscapes. They weave Power and Progressive Metal into the exquisite tapestry that is their mainstay. The orchestration that becomes more than just a backdrop, but an integral piece of the fabric that is Inquisition. Here, Epinikion tells the tale of a love that does not conform to the societal mores of the time, showing us that love is just does not care what you look like, instead desiring only what is in your heart. Then, as now, there are those who cannot and will not, approve of this kind of thing, but love just doesn't care. Throughout the album, we learn that love is still the most powerful connector of people this world has ever known and will continue to be as long as people exist.
Epinikion are:

Renate de Boer – Keyboards
Robert Tangerman – Guitars
Eleonora Damiano – Vocals
Levent Gasgil – Lead Guitars
Emre Demir – Bass
MZ – Having read the meaning of the band's name, in what sports did the two founders participate?
Epinikion – We were both runners, tracking field athletes.
MZ – Who are some of your biggest musical influences?
Epinikion – That is a difficult question because I love so many artists and a variety of music! Robert is a big Iron Maiden fan, which could explain the heavy metal influences. But from Abba to Black Label Society, I could make a complete Who are some of your biggest musical influences?list for you which is too long for this interview.
MZ – What are some of your biggest cinematic influences for creating scores and thematic elements?
Epinikion – When I was young, I was the piano player of a big band and we played a lot of cinematic and musical productions. I suppose that is where it all started.
MZ – Is Inquisition a stand-alone story, or will there be more to come? Is there more to this one?
Epinikion – I think that Inquisition is a stand-alone story. We would like to explore more musical area's and although we are busy writing it's not completely clear where we will end up. Stay tuned!
MZ – Are there any hopes (plans) to try to put this on a bigger stage and perform it as an orchestral/cinematic event?
Epinikion – Of course! We all have our dreams, don't we?
MZ – If there was one venue you could play, and perform this record start to finish with full orchestration and all the various singers, where would that be? Dream big for this answer, please!
Epinikion – To be honest I am currently talking about a rockopera production based on 'Inquisition'. This is a major step but in my dreams I can see the Epinikion team in all major theaters around Europe. That would indeed be a dream come true.
MZ – What is the songwriting process for the band? Does everyone bring ideas and they get worked out, or is there one primary creative person who drives the direction of the story?
Epinikion – The ideas mostly come from Renate but together with Robert it is shaped into the beautiful end results you can hear on the album. Once the demo is there, we ask the other (session) musicians (unfortunately we don't have permanent members yet) to look at it and give their ideas. Works fine so far.
MZ – What inspired the story? Does it come from a legend or favorite book? Is it your own creation?
Epinikion – I used to work in Zeeland, a part of the Netherlands. There I saw beautiful remains of a 'golden age' and the influence of the Spanish people that once where there. Immediately the idea of a love story came up and resulted in this album. Robert and I did it all by ourselves.
MZ – There are some major Spanish music influences on this record. Are there other world music elements you would like to weave into future work (Asian, Arabesque, African)?
Epinikion – I certainly would love to! In my opinion it's almost inevitable that you will hear these influences, I love them!
MZ – There are a number of thematic elements that translate into modern society, such as the shunning of love crossing religious or cultural lines. Was part of this record to point out that we have yet to learn our lesson about love being universal even today?
Epinikion – You took the words right out of my mouth. Absolutely!
MZ – What are the key elements to the story from your point of view?
Epinikion – – Freedom of choice and love as the most beautiful force that we have on this planet.
MZ -What is the main moral/lesson of the story you want the listener to take with them?
Epinikion – There's one sentence that I can repeat from the lyrics to answer this question: 'you care more about moralizing than your own bad attitude'. That's what comes to my mind if you ask me this.
MZ – What is the main lesson you learned, about the world and about yourself, that you learned while writing/recording this record?
Epinikion – That love is the most important thing in the world, it can conquer anything!
MZ – Do you think we, as a whole world, will ever learn that love knows no bounds? Do you think the world will ever be rid of enough prejudice to find some bit of stability, peace?
Epinikion – If we look at the current situation, history repeats itself. Unfortunately we did not learn anything I suppose…..
MZ – Is there a specific message you wish to pass along to the world?
Epinikion – Be yourself, make your own choices and try to do good, whatever that may be in your mind. Once again, we see that no matter what we think or feel, there are those who will disapprove of who we choose to give our hearts. The lesson of this album is to ignore them and do what you know to be right. True love is not blind, it sees you for exactly who you are. Love accepts all your faults and quirks, revels in your good and helps you overcome the bad, it comforts your wounds and celebrates your victories.