Firewind – Firewind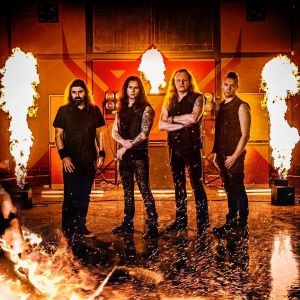 Firewind, hailing from Thessaloniki, Greece, is a power metal band. Formed in 1998 by the legendary shredder Gus G., they have put out some of the best metal you will hear. Their eponymous disc introduces us to a new singer, Herbie Langhans, a big voice with lots of power and even more emotion. Firewind is currently touring the United States with DragonForce, Visions Of Atlantis, and Seven Spires. They are tearing up stages and creating a new fan base with their dynamic stage presence and killer shows.
AFM Records https://firewind.gr/

Band Members:
Gus G. – Lead Guitar/Rhythm Guitar/Backing Vocals/Keyboards
Petros Christodoulidis – Bass/Backing Vocals
Johan Nunez – Drums
Herbie Langhans – Lead Vocals
Firewind is the eponymous ninth album by Greek power metal legends Firewind. Released May 15th, 2020, via AFM Records, this is the record that introduces us to new vocalist, Herbie Langhans, a very skilled singer who fits in beautifully with the Firewind sound. This one is more about personal struggles and overcoming adversity. Previous releases were more fantasy and history-themed. Herbie brings a new flair and temperament to the band, creating an atmosphere of longing for a connection to fellow humans. This album is more relatable on an individual level, detailing more inner turmoil and strength rather than telling tales of heroes' past.
Tracklist:

Welcome To The Empire
Devour
Rising Fire
Break Away
Orbitual Sunrise
Longing To Know You
Perfect Stranger
Overdrive
All My Life
Space Cowboy
. Kill The Pain
This album starts off with an ethereal guitar intro that leads to a monstrous riff. This thing is an absolute beast! The lead work and fills from before become a massive wall of sound. The rhythm is frenetic, angry, and delicious. Herbie goes gritty for the verses, smoother for the pre-chorus, and belts out the chorus, hitting three stages of his voice. This song is huge, so it is no wonder they use it to open their set on tour. It's a great way to open an album or a concert.
Next, "Devour" is a rapid-fire song with a killer riff and fantastic rhythm. Once again, Petros and Johan prove they are one of the best teams in the business. They lay down a foundation that is capable of supporting everything Gus and Herbie can put on top of it, regardless of how high they build. Soaring vocals and towering guitar work stand tall on this base and never falter.
"Rising Fire" and "Break Away" are heavy songs. The guitars are wild, and the rhythms are powerful. There are keys built-in, too. "Break Away" has a slightly more melodic feel to it, built on a less intense rhythm but still with lots of oomph. Firewind does not need to be at top speed all the time. They are perfectly capable of crafting a heavy song in the melodic metal realm, showing they have an incredibly diverse talent base. And even when they are going more melodic, there is still a significant amount of shred in the lead work.
Moving down, "Longing To Know You" and "Perfect Strangers" are much more personal. These are about relationships rather than the epic tale or the fantasy series. Similarly, "All My Life" feels like a journal or diary entry to a degree. "Longing To Know You" is definitely the power ballad of the disc. The layered strings create the emotional backdrop that pulls the heartstrings and makes the listener wonder exactly who this is about.
"Overdrive" is the keyboard-heavy song on this record. With the departure of Bob Katsionis after the last record, Gus G. took over these duties. He definitely has the skill to play the keys, but it feels more like they're used for atmosphere on this record, not as a second lead instrument. I'm very okay with this as a huge fan of heavy, technical guitar work. I love well-done keyboards but do not need them as a major player on every song. I really like how the keys are used more sparingly on this record, but that is my opinion. I would never tell an actual musician how to write music. I'm clueless in that arena.
"Space Cowboy" and "Kill The Pain" wrap the album up. Both songs are stand-alone pieces and seem to be a lot of fun. They are not the heavy, emotional songs we've heard earlier, nor are they the epic tales from previous records. The rhythms are not as heavy but still have plenty of heft to them. The shredding in "Kill The Pain" is fantastic. Once again, when Gus decides to show off his extravagant lead work, we are left with our jaws hanging at his phenomenal skill. p>
Firewind knows how to craft heavy, melodic songs that showcase the talent of everyone involved in the song. The bass and drums are never covered up. Even when they aren't the main focus, you cannot deny their influence on the song. The vocals are just amazing. Herbie has so much power and emotion in his voice. Whether he's turning on the grit or belting from the bottom of his soul, he sounds incredible. Gus is one of the most technically proficient guitarists on the scene today.
One of the things I like most about power metal is the musicians all tend to be incredibly gifted, and Firewind is no exception. These are four excellent individuals who come together and create something magical. It does not matter if they are in the studio or on stage; they rock. These guys are just as tight live as they are on a record. That always amazes me. I do not play any instruments, so I really admire anyone who can. These guys are worthy of all the nice things I can write because they take their tradecraft very seriously, and the fans are the ones who benefit the most. Keep rocking, Firewind!
MZ Ratings:
Musicianship

Guitars – 10
Rhythms – 10
Vocals – 10

Songwriting – 9
Production – 9
Overall – 9.60