Firewind – Immortals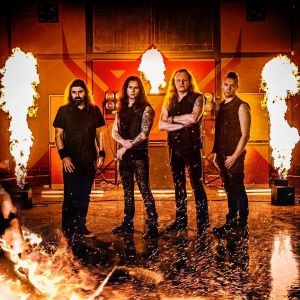 Formed in 1998 in Thessaloniki, Greece, Firewind is a power metal band with a shredder for a lead guitarist. Gus G. is a legend in the business. He also manages to surround himself with some elite musicians in order to make killer music. Firewind's rhythm section is one of the best you will find, and on this one, they use vocalist Henning Basse, a singer with tons of power and finesse, grit, highs, and lows.
Century Media
https://firewind.gr/

Band Members:
Gus G. – Lead Guitar
Bob Katsionis – Keyboards/Rhythm Guitar
Petros Christodoulidis – Bass
Johan Nunez – Drums
Henning Basse– Lead Vocals
Immortals is the eighth full-length album by Firewind. Released on January 20, 2017, via Century Media, this is the only record to feature vocalist, Henning Basse. While he may not have been there long, he definitely left an impression. Excellent vocals over epic power metal, also known as happiness in music form! The music and lyrics are perfectly in tune with each other, weaving together stories of yore and reminding us of legends of the past. This one focuses more on legends and tales, crafting stories about the past and making them enjoyable with a modern retelling.
Tracklist:

Hands of Time
We Defy
Ode to Leonidas
Back on the Throne
Live and Die by the Sword
Live and Die by the Sword
Wars of Ages
Lady of 1000 Sorrows
Immortals
Warriors and Saints
Rise from the Ashes
Vision of Tomorrow
The disc starts with pounding drums welcoming a killer guitar riff. "Hands Of Time" is a real barn burner. Bob Katsionis is a complete beast on this track. He and Gus G. absolutely crush this one. The trading leads of these two are freaking epic and deserve to be lauded ad nauseum. This is one of the few tracks that are not built on more historical tales or epic adventures but make no mistake, the tune is a trek all its' own. Henning's gruff, gritty voice is a thing of beauty on this one.
The next five songs all feel like a tale for the ages. Though they are not truly related in story fashion, they all tell stories of defiance and heroic sagas. The tunes are fast and furious; from the angry "We Defy" to "Wars Of Ages," the songs are fast and furious. Henning Basse uses tons of grit when he isn't belting out magnificent high notes. Johan and Petros are nothing short of amazing. They take on Gus and Bob in a series of races and never lose a step. It is incredible how tight this band is, especially at the speeds they achieve.
Both "Back On The Throne" and "Live And Die By The Sword" are excellent chapters in this epic tale. No adventure is complete until there is a challenge to the hero's mortality. The first step is to get back to where you belong; then, you have to keep the title (throne) by any means necessary. The power-filled rhythms and the phenomenal riffs accentuate the incredible vocals. It does not matter if the song starts with a bang or builds slowly. They end up dazzling the listener and rocking them back into their seats.
For a change of pace, Firewind gives us "Lady Of 1000 Sorrows." Built a bit more like a power ballad, Henning uses more clean vocals on this one than most of the other songs. This one does not really call for that grit and instead lets him use more of the lower end of his voice, showing off the molasses-like oozing sweetness he can produce. This song is more of a stretch than you hear on the rest of the tracks, and they absolutely nail it.
"Immortals" is the quick instrumental that lets you know this band can, and will, shred you to pieces. Those guitar leads are a thing of beauty. The drums are melodic, powerful, and precise. The bass is the mortar that holds the whole thing together. The keys are more of a haunting background melody than anything else, and they really give the song its' texture. They all show why they are some of the best musicians in the genre today in less than two minutes.
The last three songs get back to telling epic tales and giving you the details of the hero's victory and reign. "Warriors and Saints" has a great rhythm, and the guitar/keyboard leads are fantastic. These guys just know how to provide all the power a song needs. "Rise from the Ashes" and "Vision of Tomorrow" both have that epic homecoming feel that is meant to tell the story of the end of the fantastic journey the protagonist has just endured.
Firewind tells a killer tale here. This band is incredibly solid, front to back. When DragonForce needed a band to step up and take the place of Battle Beast on a North American tour, they chose one of the best. That damn pandemic just caused too much turmoil. Prior to this, I had heard the name Firewind but had not really delved too much into their music. Now, I'm pretty obsessed. Massive riffs, epic vocals, and rhythms to die for making this band something worthy of praise and adoration.
MZ Ratings:
Musicianship

Guitars – 10
Rhythms – 10
Vocals – 10

Songwriting – 9
Production – 9
Overall – 9.60