Fractured Reality, Carried By VI, Nevermourn, Arcadia Forsaken – Beeracks, East Haven, CT October 21, 2022
Fractured Reality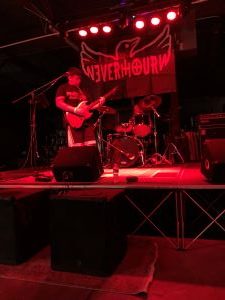 Set List

Live For The End
Hades
The Metal Of War
Blitzkrieg
Death And Denial
Combat
March Of The Sod
The Gremlin
This band shocked me. I looked up on the stage and saw two kids, one on drums and one on guitar. I wanted to know what kind of skills these boys could have then they started in, and I was very impressed. Both these kids are 13 years old and are already better than some people twice their age. They are already well-practiced and will only improve with time.
They both also sang at times. Logan did most of the leads, and Shawn covered harmonies and backing vocals. They are actively looking for a bass player, preferably under 20. They have practice spaces, so if you know someone, contact them through any social media links listed here. They spent a good bit of time just jamming, which sounded really good and showed the progress they've already made in a short time. I cannot wait to hear what they sound like in a few years, especially when they start writing more complex, lyrically deep songs. I hope their future is as bright as it can be!
Carried By VI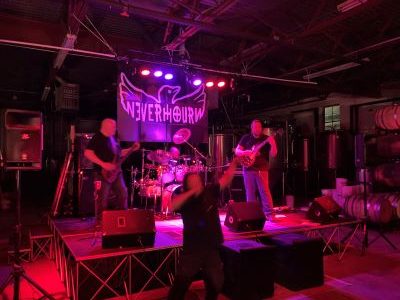 Set List

Beyond Redemption
Morning Commute
Disabled
Soothsayer
Vacant
Crossing Borders
Life Cubed
Through The Door
Exploration
Talk about a solid band! They come out with the guitarist, bass player, and drummer and do a little jam session before the singer comes along and melts your face with his killer, harsh vocals. Jim stalked the stage and the pit barefoot and was ready to kick your ass. Don plays a heavy bass, plucking hard on the strings, making sure he gets tons of vibration to accent Chris's shredding, almost melodic guitar work. Ryan went full-on badass on the skins. They brought a heaviness to the night, not shying away from the deeper metal tones.
It is pretty apparent they take their craft seriously. The songs were well-thought-out, the songwriting complex and melodic while retaining the weight of the heavier end of the metal spectrum. They only had a four-song EP on the merch table, but I bought a copy just to hear what they're like recorded. I was not disappointed! Carried By VI is a killer band, well-styled, and they appear ready to take a few more steps. I hope they can get a full-length record done and use that to better promote themselves and get some larger gigs. I'd love to see them hit a regional stride and get the recognition they need beyond just the Connecticut circuit.
Nevermourn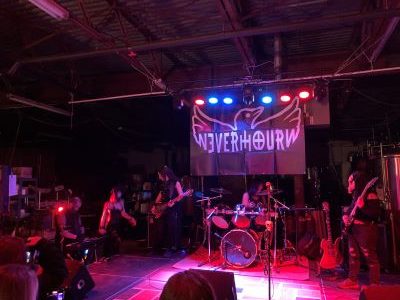 Set List

Opening The Circle
Sunringer
Hanging By A Thread
Plastic Veins
Trail Of Bloodshed
Release The Demons
Closing The Circle
Nevermourn is a cinematic metal band that loves to put on a show. Each time I see them, they improve on some aspect of the show, making it even better than the last one. This time, Bili Manik, the keyboard/percussionist, managed to get closer to the drummer for their interactive section and really get the vibe right. And the drummer did an admirable job considering she felt sick all week. It cannot be easy to put out that much energy when you're dragging ass from a bad week, so kudos to Jordie!
Lucas and Roxy are getting tighter, playing better and better with every show. It's obvious they are practicing and taking this all very seriously. Rach is a dynamo, working the stage like a high priestess conducting a ritual. They continue to refine and improve the show and are working on getting at least an EP out as soon as possible.
Hopefully, we'll get a single before the end of the year. This is a band on the rise, impressing audiences throughout the Connecticut area, and I'm sure they will expand their reach as they continue to grow and mature as a band. They deserve all the love they can get and work hard to bring the best show they can. Forget major acts; the local scene is where you find the newest, hottest metal!
Arcadia Forsaken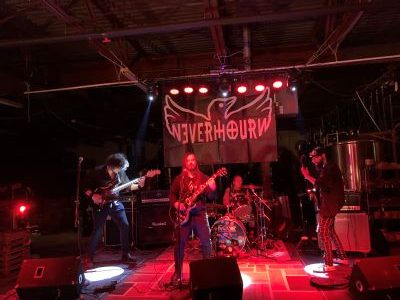 I did not get to stick around long enough to get the setlist from the band. Due to circumstances beyond my control, I had to leave the show during Arcadia Forsaken's third song. What I saw and heard was really good, and I hope to catch them again sometime in the future. They sounded outstanding and had a cool groove to them. They were tight musically, and the vocals were pretty impressive. This is definitely a band I need to check out. It usually doesn't take me long to know if I'm going to like the sound of a band or not, and these guys had me interested early. I definitely owe them a better review than this. I hope to make that right someday soon.