Generation Dead Tour – Generation Kill/Dead By Wednesday at The Tank, Agawam, MA July 29, 2022
Eyes Of Theia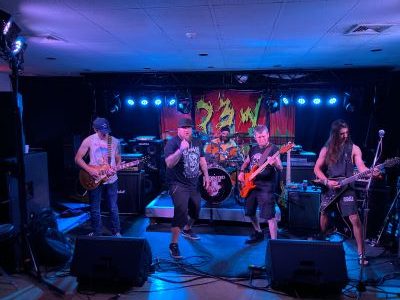 Set List

Family
D.O.D.
Embers
Suffocate
Battle Cry
Control
Eyes Of Theia is a bit hardcore, a bit metal, all attitude. They played first on a bill of six bands, and sent a challenge the rest of the groups. Eyes Of Theia formed a gauntlet, bringing their energy and their passion to The Tank on a Friday night in Western Massachusetts. They spent a lot of time while on stage making sure you were going to remember their name. Not because it's a little different, but because they are hungry and want nothing more than to play their brand of metal wherever they can.
They closed the show with their new track "Control." The song is a full of angst and anger, the guitars are crushing, the rhythm is killer. The song came out really well live. I've since watched the video and that song rips, both live and on record. These guys bring a brutality and fierceness to their live show that is infectious. You cannot help but jam with them, throwing horns and banging heads. They did the local metal scene proud!
Tombstone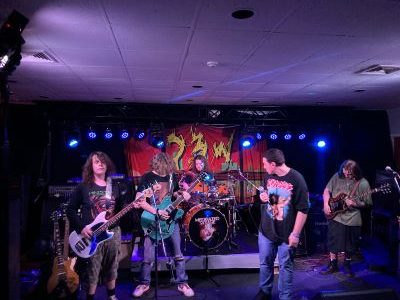 Set List

Motherfucker
Holy Grail
Hand Of Fire
4 Nite Fiezta
Devil's Den
Pretty Lady
Hypnotyst
Tombstone is a five-piece band from CT. None of them are old enough to drink. What they are is old enough to rock you to Hell! Here, we had a group of teenagers throwing down on an entire set of new music. They also know how this is supposed to go. They played second and then stayed for all the other bands. They've got no merchandise at this point, but they are working on it, partially by playing shows like this. Even Rob Dukes gave them a shout out during the Generation Kill set for being such awesome people.
Musically, they tore it up! Rapid-fire guitars, thundering rhythms and really good vocals. They played hard and gave the crowd everything they had. Then they joined the crowd and gave the rest of the bands some energy to spare. Oh, to be so young again. They set a tempo for the night, making sure the rest of the bands knew they couldn't take it easy. Seeing these guys play, I know the future of metal is bright.
Dead Reflections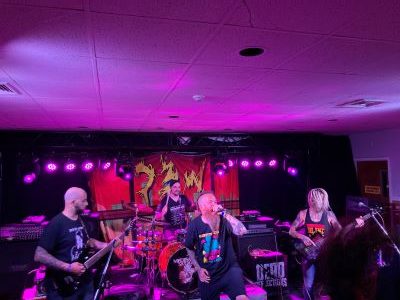 Set List

What A Real Romeo
Lost (And No One Knows)
39
Immigrant Song (Led Zeppelin cover)
One Belief
Worlds Behind
Harsh vocals and screaming guitars, laced with thundering bass and massive drumming are what you get when Dead Reflections hits the stage. There is an intensity to their presence. The lead singer spends a good amount of time bent double, trying to expel his soul through the microphone. Once again, they took the challenge Tombstone offered and delivered one hell of a wild show.
One of the more impressive things was their adaptation of a classic, Led Zeppelin's "Immigrant Song," to a hardcore metal tune. I hope Robert and Jimmy felt a disturbance in the force as they crushed that cover. I didn't know I needed that in my life, now I can't imagine having not heard it. Dead Reflections are heavy, rough and really fun to see on a stage. One day soon, I hope to get a copy of some of their recordings so I can hear them in a different light. I'm betting it's going to be just as good, because I'm not so sure they can top their live show. They freaking rocked the house.
Medicated Savage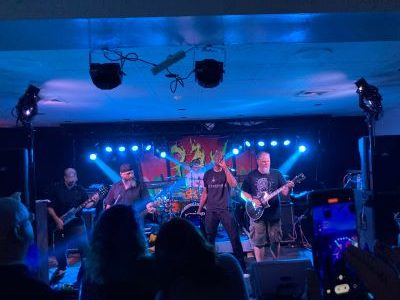 Set List

Tarantula
What We Do
369
Skywalkers End
Great Inventor
My Friend – The Leveler
Crutch
Be Original
Medicated Savage lived up to their name, at least the savage part. Fierce, technical guitar work shredding over a crushing rhythm stood out on this night. The vocals were also very notable. Delivered in a rap/rock style, the anthemic, angry lyrics spoke to the angst of the current times. There was not a real punk vibe to the music, but the attitude did cross over into that realm. The show was pure energy, exhibiting a vitality that is essential to heavy metal, regardless of genre.
Like the three previous bands, Medicated Savage left it all on the stage. They pushed themselves to make sure the audience was left with a great impression. I definitely was. It had so much to offer. The music had a lot of crossover appeal, touching on multiple genres, including some not often seen in metal. On top of this, they are all decent people. I got to chat with them a bit and they were all just ordinary, run of the mill metalheads, until they hit that stage. Then, the gloves came off and the meds kicked in!
Dead By Wednesday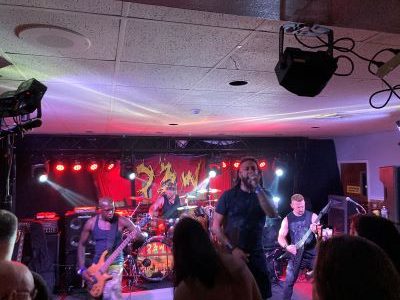 Set List

Invincible
Manimal
The Wake
Here Comes The Dead
Live Again
Vejka
S.O.S.
You And Die
Mars In Exile
Pawns
Dead By Wednesday had a rough start for this show. The sound tech was struggling to get everything going, but once they got it to at least an acceptable level, these dudes went the hell off! Most of what they played came from the new album, Capital Conspiracy, but they did pull out a few fan favorites from earlier discs. Steve made those older songs his own, changing them in ways to better fit his style and vocal talents. Dave is a shredder with melodic abilities, taking his riffs and leads wherever he wants.
As a rhythm section, Michael and Opus are phenomenal. Michael plays hard and Opus hits harder. Combined, they create a wall of sound that washes over the audience like high tide, trying to take them out with a rip current. Opus is the firebrand that fuels the band. His passion for the music and the desire for excellence on both the record and the stage, drive him to be best he can. Add in three additional world-class musicians, and you get a killer, hardcore show!
Generation Kill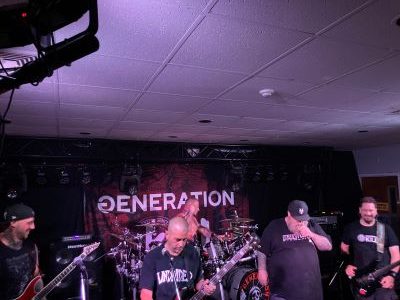 Set List

Never Relent
Rat King
Dogs Of War
Prophets Of War
A Lesson In Violence (Exodus)
We're All Gonna Die
Damage Inc. (Metallica)
Generation Kill, fronted by thrash metal legend, Rob Dukes, closed out the night. Unfortunately, their set got shortened by earlier technical difficulties and time management issues on the part of the venue. They still played one hell of a set, though. Thrash metal and social angst are made for each other, and Generation Kill fused those two things well. Rob told the crowd over and over that they are slaves to the corporations and government overlords. He also told us that the rats will eventually take over the world.
He made fun of the earlier bands, especially Tombstone, though he did actually make sure they knew he appreciated their staying the entire time and hanging tough with a wild crowd. As a band, Generation Kill is skilled and proved they can still put those young'uns to shame with sheer will and tenacity. They played five songs of their own and two covers. One was a cover of Exodus, "A Lesson In Violence." The other was "Damage Inc." from Metallica. Rob claimed they play it better than those guys and it's hard to argue that point. They absolutely slay their set and wrapped this show brilliantly. If you are wondering whether to check this tour out, DO IT! The energy and ferocity of the music is worth its' weight in heavy metal.