Hate-B-Q – Continuum and Special Guests at Cherry Street Station, Wallingford, CT September 3, 2022
Nevermourn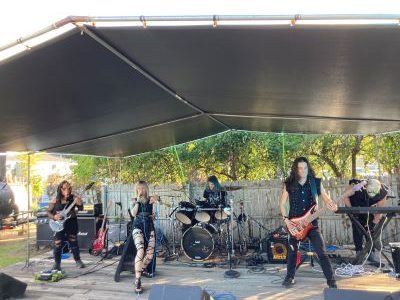 Set List

Opening The Circle
Sunringer
Hanging By A Thread
Plastic Veins
Trail Of Bloodshed
Release The Demons
Closing The Circle
Nevermourn, as always, improved from the last time I saw them just a few weeks ago. Their progressive elements and tempo shifts are getting are tighter and more accurate. Musically, they are improving some things, like the call and response between the guitar and keyboards. The sound was better for this show, allowing for the keyboards to be heard better. Turns out, they use minimalist key tones in some sections, which actually highlight the rhythms even better.
Talent wise, they just keep getting more impressive. Jordie is a beast on drums, Rach is a performance artist, Roxy is an awesome guitarist, and both Bili and Lucas have improved their craft in just the last few months of live performances. Nevermourn is a performance band that will one day have multimedia clips and tracks added in to augment their show and make it a much more immersive experience.
Svn.Seeker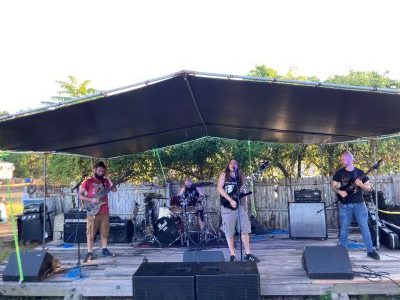 Set List

Seeking My Own Sun
Pilfered
Death Of A Judge
The Gold Will Rise
Masquerade
Means To An End
Svn.Seeker kicked some serious tail at this show. With two killer guitarists, both of whom love cool, bendy notes, you get a lot of excellent tones added into the melodic death metal, which makes it more fun for guys like me who love things like that. It's really cool how the two guitars use a combination of excellent harmonies while also having killer trade off solos that go both melodic and shreddy. The drummer is a blast beat master, using a lot of cool patterns while shifting from the melodic to the death metal pieces.
The bass and drums were really in synch with each other. They are fantastic together and even shine when doing their own things. They did have some minor technical issues, like a fuse blowing and the sound dying completely. The good thing is, Pat just kept trucking, keeping the beat until the club got everything going again. Good thing drums don't absolutely need amplification to be heard. It was a solid set, fueled by food, a little comedy, and a lot of loud, fast heavy freaking metal!
Facedown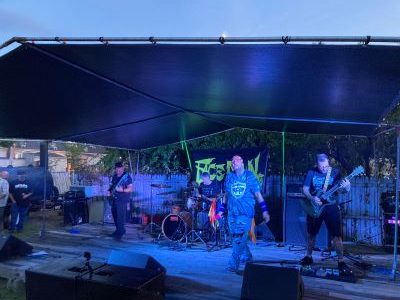 Band Members

Bubba – Vocals
Chuck – Guitars
Kris – Bass
Carmine – Drums
Facedown

Facebook
Set List

Resurrection
Moon And Back
Hopeless Dreams
Absolutely
Chris Flynn
Sorrow
Poison Images
Open Skies
Facedown came up from New Jersey to kick some serious ass. They had a killer blend to the sound. Live, they cross from hardcore to thrash to death metal with some doom thrown in for good measure. Bubba stalked the stage and walked into the crowd a few times, getting out in the mix to make sure everyone was actively engaged in the merriment. He used both clean and harsh vocals, going back and forth easily. It was also cool seeing him wear an Autism Warrior t-shirt. Metal and social causes go in hand in hand.
Chuck had some tasty riffage going on. Together with Kris and Carmine, they had some excellent breakdowns that really made the set feel heavier. There's something about a sludgy breakdown that just makes me happy. Kris' thundering bass and Carmine's adroit work on the kit gave this show a lot to love. Consider the asses in the crowd seriously kicked!
Xenosis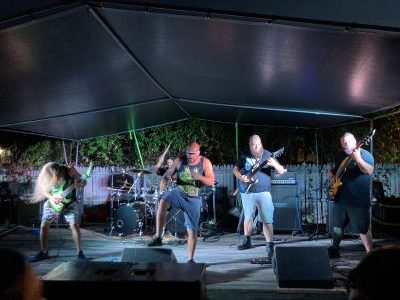 Set List

E.Y.E.S.
Prophetic Blight
Castrato
Amorphous Conquerors
Jenkem Overdose
Skin Of The Dead
Personification Of The Unconscious
Dimension Oppressor
Xenosis is a fun band to watch live. They are smart asses that get up there and enjoy themselves, really drawing the crowd into the show. Sal actively engaged the crowd, at times from the front row when he went into the fray to get everyone moving. Ken and Keith are both excellent shredders who are also capable of delicate harmonies, melodic solos, and massive riffs. They feed off each other, never missing a beat. Their leads and fills are truly awesome, sometimes even stepping over into the prog metal realm just a bit. There was virtuosity, but also jazzy elements that blended together nicely.
Walter was a bit of a shock to see. His bass has seven strings on it! It was hard to take my "E.Y.E.S." off that most stunning instrument. I did, however, check out Gary on drums as well. Both of them fit into the speed/tech metal guitar work well, providing not just a rhythm, but also matching the speed and precision of the guitars. I'm going to have to check out their recorded materials to see how it sounds that way. They really impressed with the sheer skill they exhibited on this night.
Enemy Of Reason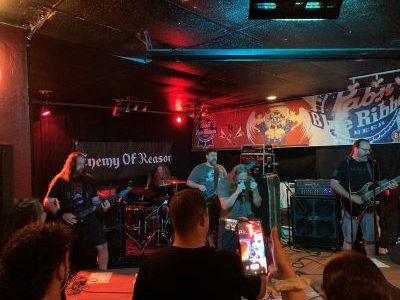 Set List

No One The Wiser
Who Says
Rage
We Are One
Boundaries
Bring The Pain
Another Way out
Enemy Of Reason had a lot of good heavy, melodic, and thrashy elements mixed together. The riffs were fast and the tempo solid. Watching the seamless lead and solo shifts Greg and Jeremy was beautiful. Some of their riffs gave off Corrosion Of Conformity vibes to me, but maybe that is just what I wanted to hear. There was someone walking through the crowd wearing a CoC shirt, so maybe I was inadvertently influenced. Either way, the riffs were quite good. I was greatly pleased. Mike's vocals were a lot of fun. His shifts from clean to gritty to harsh were nice and fluid with some really nice screams added into the mix.
Aaron and Keith were very much in tune with each other. It was cool to watch them while a guitar solo was going on. They were not impressed with the guitar work, being far too busy doing their own thing, and doing it well. These guys are a well-rounded band that can rule a stage. The crowd was engaged, thrashing, moshing a bit, and just generally having a great time. That's what a metal show is all about, release the pent up aggression and leave having had a great workout!
Stagger
Band Members

Mike Diamonte – Vocals
Nick Dowe – Guitars
Joe Stagger – Bass
Carmine Diamonte – Drums
Set List

To Kill A King
Norman Ruminals
Follow The Liter
Autumn Leaves
Liquid Date
Sprinkles Are For Winners
Chosen Path
I Am Sancho
Lysenol
Stagger is another New Jersey band that drove up to smash some faces with gloriously heavy music. Live, they have a crossover sound of thrash and hardcore. Mike's delivery of the lyrics is a wild blend of harshness, going from proto-punk to rap to death metal, all without a single clean note in it. Nick's riffs are heavy, fast, and raucous; in other words, a lot of fun! He went thrashy, he went speedy, he went wild. Together with Joe and Carmine, they put some really nice breakdowns out there.
Like the rest of the bands before them, they held the crowd's attention with a combination of funny banter, killer music, and general camaraderie. They brutalized the amps with a beautiful noise that resonated with the fans. They didn't just go up on stage and play a simple set; they brought their own concoction of sounds to life, giving a taste of all they have to offer.
Continuum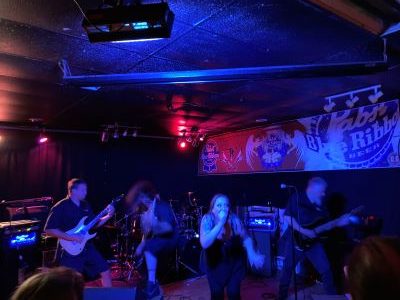 Set List

Water's Rising
Reckoning
Man Up
Embers
Origins Of Hate
Dead To Me
Bleed Us Dry
Beacon
Kiss The Pavement
Rise And Fall
Continuum came to rock. They even decided to do some things differently than they did before the pandemic; they went old school and used the four-string bass and six string guitars! Those are instruments they just don't use very often any more, favoring more strings for their brand of melodic/technical death metal. They called it a "throwback" set. Having formed before 2010, they actually have an era to throw back to. Brenda is a skilled frontwoman, handling both the clean and harsh vocals and most of the talking duties between songs.
The theme of the night was humor and she rolled with it, poking fun at the other band members and herself equally. It helps that she knows how to be actually funny. Even better, when she wasn't talking to the crowd and being funny, Brenda was kicking ass with a amazing voice that blew the audience away. Bryan and Jay did the whole melodic and shredding and technical stuff whether they were playing with 6 or 7 strings. Tony wandered the stage, singing back up and spitting thunder from the bass. Darrin went full hammer king on the drums.
Each of the bands brought something different to the stage on this night of food and music. They all brought a hunger for BBQ and heavy metal. They let nothing stand in their way, not technical issues nor full bellies, though I do think most of the bands ate after they played for fear of falling into a food coma on stage. That would likely have happened as the BBQ was really good and the portions were plentiful.
Many thanks to Vito Flammia for the most excellent grub.
https://www.facebook.com/vdflammia
https://www.facebook.com/flammiaque
Additional gratitude to Cherry Street Station for hosting a great night of live music and killer cuisine.
https://www.facebook.com/CherryStreetStation