Ice Giant/Empress/Dovas/Fallen Monarch – O'Briens, Allston, MA December 3, 2022
Fallen Monarch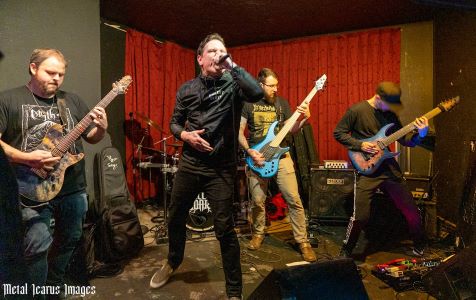 Set List

Chain Of Grief
Scorched Earth
One Below All
Blight
Walking Ghost Phase
So, My Missing Half had to drop at almost the last minute, and Fallen Monarch stepped in to fill the bill. How did they do, you ask? Fantastic!! The guys had 12 hours to get their set together, get to the venue, get set, and everything. Then, they played a killer set. Tiny stage, a short set, tons of vibe, and lots of NASTY breakdowns. These guys owned the stage with a heavy dose of harsh vocals, chugging riffs, and some seriously sludgy riffs.
They also threw in some melodic lead work, shredding for fun, and I even heard a few nu-metal tones and shifts. Was that just because it was live, loud, and fast? Maybe, but it still sounded awesome! It also helped that these guys are tied into the scene. The drummer does double duty, playing in My Missing Half, the band that was forced to drop. So does Nick Petrino, who played lead guitars for Dovas. There may be some competition in the New England music scene, but there is much more cooperation and camaraderie, which was evident at this sold-out show on a Saturday night in Allston, MA.
Fallen Monarch showed up and showed out. Way to rock the house on such short notice!
Dovas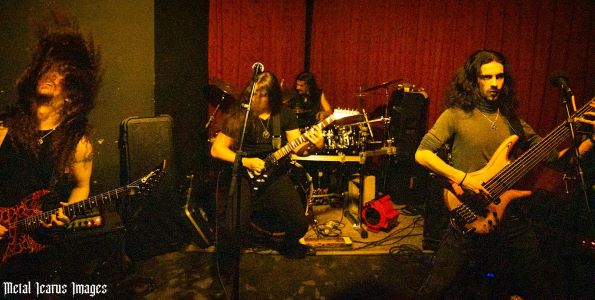 Band Members

Chris Dovas – Harsh Vocals/Guitars
Nick Petrino – Lead Guitars
Peter Albert de Reyna – Bass/Clean Vocals
Kendall Pariah Divoll – Drums
Set List

Commandments Of The Damned (Intro)
Satan's Command
Preacher Of Lies
Proceed To Enslavement
Left Hand Path
Wrath Of God
Fear Within Your Heart
This show was a total mind trip. Chris Dovas playing guitar and singing? No way, man, he's a drummer. Except he's so much more than that. During the COVID lockdown, he decided to pick up the guitar and write two death metal albums; he recorded them with friends and then got a chance to play his solo material before he goes traipsing off to Europe next year for a tour. Did I mention he's not even 25 yet? This guy has already accomplished a lot, and I'd bet there's more to come!
So, for this show, he brings out the big guns, meaning Kendall Divoll on drums, Peter De Reyna on bass, and Nick Petrino on guitar. This is an all-star cast for those who don't know. Watching Nick shred is a privilege. That guy is freaking astounding!! And he has a killer thrashing mane. Chris even laughed about his "lack of skill" on guitar, but he was the only one who noticed anything was off. The crowd was oblivious to that because they were just too busy thrashing. We didn't care; we were watching a clinic.
If you have yet to see any of these gentlemen play, just check YouTube. They all have lots of excellent video footage of them playing. Seriously, go watch. You will see how awesome these guys are. Skill for days! Death metal was the flavor of the night, and no one left without their fill.
Empress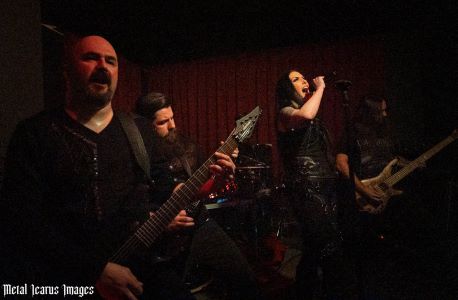 Band Members

Barbara Blackthorne – Vocals
Vlad Khavin – Guitars
Joseph Muir – Guitars
Nick Bonsanto – Bass
Mark Stainthorpe – Drums
Set List

Black Arcana
Beyond The Sleep
Into The Grey
Chimera
Legion
Maid Of Orleans (Dark Moor cover)
Empress is a relatively new symphonic/power metal band from Pennsylvania. They released their debut album, Fateweaver, earlier this year, and we were fortunate enough to have them come to town. What they are is a collection of extraordinary musicians with a variety of influences that create a massive sonic wave that washes over the stage and crowd alike.
Barbara's vocals range from classical/operatic to epic belting to killer harsh growls. The guitar duo that is Vlad and Joe, are so precise. Their trade-off solos and lead work are absolutely beautiful. Nick on bass is a thundering beast, and Mark is something special on drums. Those two have an innate ability to be in the right place at the right time. I had to go back and listen to this some more. I drove eight hours to Virginia and never took that CD out of the player.
The stage version and the live version are so similar. They are truly capable of playing what you hear on the CD. It sounds so incredibly tight and accurate from the stage; it's stunning to witness. O'Brien's was on a new level when they were on stage. And the Dark Moor cover to wrap the setup was a quick fan favorite. Some of the audience lost their freaking minds, screaming at the tops of their lungs along with every word. The only drawback to this set was the length. It was far too short, but that was the club's decision, not the band's. I'm happy, though; they played "Chimera," which is my favorite, so everything is okay in my world!
Ice Giant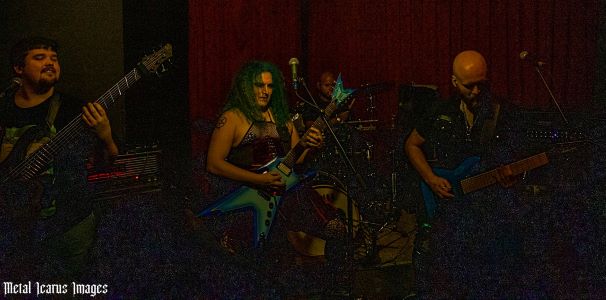 Set List

Heritage (Intro Track)
Venthos Prime
The Ghost of Humanity
At Tyranny's End
Visages of our Past Despairs
Grandeval's Machine
Serenity of Darkness
Ice Giant hit the stage and decided they wanted to be the best they've ever been live. From the first note, they rocked the hell out of that place! Olive growled, Eddie growled, and they both shredded their collective hearts out. Alex was unstoppable on the drums, and Dan is a bassist. Who am I kidding? Dan is a tremendous bassist. How do I know? He had fans doing the crazy finger-waving customarily reserved for the guitarist during a solo. Yeah, the bass finally got the love it deserves!
Watching them on stage, feeding off the crowd, taking energy from the public, and pushing it back out, was an extraordinary symbiosis. There was headbanging, moshing, and lots of screaming along to the lyrics. It was a Heavy Metal feeding frenzy of the first magnitude! This might have been my last show of 2022; if it was, what a hell of a way to end a year! There was a unique vibe in the air for this whole show, and each band stepped up and played harder than the band before.
O'Brien's was sold out. There were members of other bands there, all coming out to support the local scene, which was so fantastically represented on this magic night. 2022 was a year of rebirth for the local scene, and this was one of the best versions of the Boston area showing why it is one of the best in the country. Empress may have come from afar, but they have ties to the area and put on a most glorious show, so they are now honorary Boston Badass Metal.
Go check these bands out. Their socials are listed, as are their YouTube channels. Watch a few videos and see why people like me rave about them. They rock recorded and live. They are excellent people who like to engage and meet with fans, turning them into friends. As musicians and as humans, they are the best of the best.