Ice Giant/Goreality/Murdoc/Exsanguination – Ice Giant at Alchemy, Providence, RI August 12, 2022
Exsanguination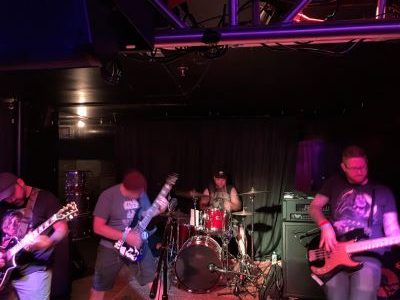 Set List

Martyred
Tombs Of The Blind Dead
Blood Ocean
Dominion
Revenant
Lords Without Thrones
Machine Gunner
Exsanguination kicked the night off with a seven-song set of heaviness. Death Metal was on full, unapologetic display. Dan growled, he and Justin shredded, and two-tiered beast of Kevin and Brendan drove the whole thing. There was a little thrash, some doom, and lots of melodic metal, all pulsating from the amps. The band played well and sounded good. The room was loud, and the early fans were good with this. They wanted it loud, would have accepted it louder.
The energy was already humming when they took to the stage. After a few line-up changes and one band dropping off the bill, Exsanguination hit the stage a little later than anticipated, but they delay did not stop them from showing off their version of brutality. They took advantage of their time and showed they can kick all the ass necessary. One of the best things about their set is that everyone was still trying figure out what was actually going to happen when, but everyone took a break to get their ears blasted, showing love and support to a band that deserves it. They came out on a Friday night and rocked the house, getting everyone ready for the next three bands to come with a great set of original songs.
Murdoc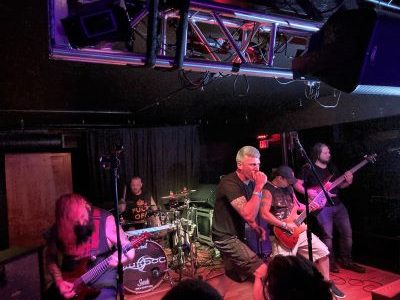 Set List

Perfect Failure
True Evil Defined
Collapse
The Witch
God Of Fire
Taken
Disposal Of This Misery
Murdoc had been on hiatus since about 2017. Of course, everyone was impacted by the pandemic, but this one was a bit more than that. That ended up being of no consequence as they dusted off their setlist and smashed out seven songs like they'd never taken a break. Dominick was the more melodic growler of the first three bands. Joe was sitting back on his kit having a blast and working up a sweat (it was hot in the venue). Chris and Neil worked really well together, keeping each other on their toes. There was also more melodic to the death metal as well. The tunes were not quite as brutal, though still really heavy.
Kevin and Joe really pummeled the rhythms, giving the guitars a killer base of operations. This is another and that knows how to capitalize on an opportunity, using a Friday night in Rhode Island to knock the rust off and get back to fighting form. And back to form they are, playing well together and showing they have a chemistry that works. It was impossible to tell they took a collective break as they performed. They may have heard a few notes out of sequence, but those of us in the crowd were just happy to be there getting our faces melted and minds blown.
Goreality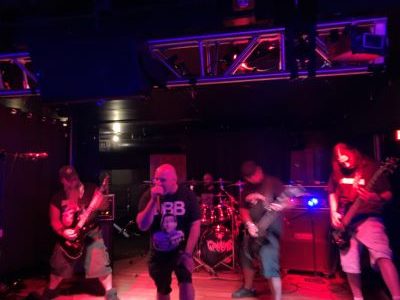 Set List

Inner Divinity
Suffer And Suck It
Abomination Within
The Fruits Of Evil
Your Tomb, My Stool
Murders Within
Predatory Pedophile
Skin On, Skin Off
Psychotic Dementia
Goreality is a not melodic death metal. They are brutality in human form. At least I think they're human. I'm not entirely certain about Dan. His growls are animalistic and fierce and freaking fantastic! I watched his face as he went through the set and noticed he had great technique. There was no strain in his neck, which I know to look for thanks to Elizabeth Zharoff (The Charismatic Voice) on YouTube. Whether hitting the incredible lows or going into a more human register with his growls, he belted everything with a terror inducing tone. Damn, it was fun to hear.
Steve and Mark were sharp. Those guys can shred! Aaron and Josh were on point. It was hard to figure out who to watch. Josh is a killer technician on the kit. I had a lot of fun just watching him range around his kit while making it look like 200 bpm was a walk in the park. The bass was thundering, heavy. Overall, these guys were a killer watch. It's always cool when you have to make a choice what to watch because each of the musicians are equally good. This is why death metal often goes technical as well, it takes a lot of skill to play that fast and that accurately.
Ice Giant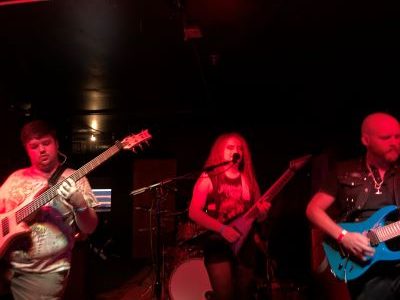 Set List

Heritage
Venthos Prime
Ghost Of Humanity
The Tale Of Rawonam
Home For Eternity
At Tyranny's End
Grandeval's Machine
Unification
Space-Time Crash
Serenity Of Darkness
Ice Giant rounded out the night. Unfortunately, much of the crowd had already turned into pumpkins, so there were fewer of us at the stage, but those of us who remained were treated to an excellent show. Nicki was in pure Nicki form. She strutted the stage, worked the crowd, posed with her guitar, and sang her heart out. Knowing they've been working on new material; we were anxious to hear new material played on this night. We were not disappointed! The new songs sound great live and it makes the wait for the new CD even tougher. It's hard to be patient when you know how good it is going to be because you heard the new stuff already.
Eddie assisted with vocals at times, even taking lead at times. He and Nicki traded off rhythm and lead work, soloing in sequence, sometimes together, always with great shredding skills. Dan was fantastic, showing his chops off, even taking on some of the backing vocal duties. That dude knows how to rock. Alex was… indescribable, but I'll try anyway. That man is a machine on drums. The other drummers were watching, filming, noting his techniques. I watched slack jawed as ran back and forth over that kit, playing at high speed with incredible accuracy. Watching him was a joy as I consider myself to be a fine air drummer and he gave me a few new things to try.
Former members of Ice Giant and guys from other bands were there in support of their friends. Nicki is an incredibly nice person and great guitar player, Dan is in about 350 bands, Eddie is a shredding demon, and Alex is sheer poetry in motion on the kit. I hope this is just the first of many shows they play as they work towards the release of the new material and hopefully get involved with some regional tours. They are a very deserving band that needs to be out there doing what they do best, playing their brand of metal to the masses.