Seven Spires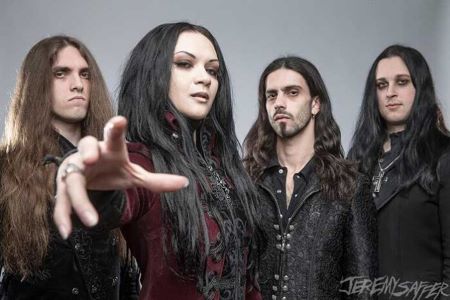 Seven Spires is a Boston, MA, based band. Their first full-length release, Solveig, was issued in 2017. Two more epic albums, Emerald Seas and Gods Of Debauchery followed in 2020 and 2021 respectively. I recently sent the band a series of questions so I could learn more about them. I also asked each musician questions individually. Here, we have the Q&A of the band as a whole. For the individual members, please check out the artist profile page.
Seven Spires are:

Adrienne Cowan – Vocals/Orchestration
Jack Kosto – Guitars
Peter De Reyna – Bass
Chris Dovas – Drums
I left the answers as they were written, not wanting to take any liberties with the responses. I do, however, add in statements, purely mine, that I use only to amplify a point, not to change any context or alter what is said. I guess this is my version of creative license! All of these are clearly labeled with the word "Comment."
Metal Zenith – How did Seven Spires form? Who met who first?
Seven Spires – The band formed shortly after Adrienne and Jack met in the bookstore at Berklee. We went through some various lineup changes before we found Pete and Chris, and that's when everything really solidified and came together.
MZ – What is the origin/inspiration for the name?
SS – We've come up with a lot of different variations of lie to answer this question over the years, but in reality, it was the one from a long list of potential band names that sucked the least!
Comment – This is one of the best, most honest answers I think I've ever gotten from a someone!
MZ – How did you arrive at the sound you have? Is it an evolution or was it planned all along?
SS – A little of both. Adrienne has always been the mastermind behind the creative process and vision for the band and the stories we write about, and even though those have evolved constantly, it is sort of a planned evolution, if that makes any sense! We always just want the next thing we do to be better than what came before it.
MZ – What is the most difficult song to play live? which is the most fun?
SS – I think it would be a different specific response for each of us, but each song comes with its own challenges, and they're all fun to play live! We wish we could play every song at every live show.
Comment – If I can get the answers to this question from each of the individual members, I will update this. I am really curious as to what each member has to say on this subject.
MZ – Are there plans to release the other two records on vinyl?
SS – It's quite possible in the future, seems like a lot of people would like that.
MZ – What are your favorite memories from the NYE release party?
SS – The entire night was a blast, but walking back onstage for the last song, and seeing that the whole venue was full of waving tealight candles was such a lovely and unexpected surprise.
Comment – Someone, not sure who, brought a bunch of those little electric candle lights, to the show, and it was spectacular to see all those bits of light waving in time to the music. More than one band member has said how moved they were at this gesture. Even from a fan perspective, it was a moving sight. To whoever did this… THANK YOU!!
MZ – Did that setlist work for you or would make some changes to it after having played it once?
SS – That setlist worked well, but we always like changing things up depending on the show or tour. We have to keep ourselves entertained too, and playing different songs or different song orders helps us stay focused and have more fun.
MZ – How did you get linked up with Sascha Paeth?
SS – Actually, via a cold email at first! Adrienne wrote to him about having him mix our first release many years ago, and we've worked closely with him ever since. Sascha is a wonderful talent and a wonderful human, we're lucky to have him, and lucky he still likes to work with us!
MZ – Who is the one artist each of you would love to open for?
SS – It's hard to pick just one, some cool ones for the near future would be Nightwish, Kamelot, Fleshgod Apocalypse, or Dimmu Borgir. There's a long list though!
MZ – What is your dream tour lineup (with you as a headliner)?
SS – That's a difficult question too! I think it would be cool to do some headline dates eventually in an "evening with" style, where we just play for 3 hours and it's only us, haha! Maybe not too much of those though. Hopefully when we're doing bigger headline shows, there'll be a bunch of cool new bands we can bring along with us. There's so much good music being released these days that it's hard to keep up with.
Comment – This is 100% a dream come true for Spires fans. If we could just sit and watch them play all three albums in their entirety, I think we might all just faint from ecstasy.
MZ – What is the one venue you want to play? That will make you feel like you've accomplished your dream?
SS – Well, playing some of the bigger overseas festivals would be a good start towards that maybe! Not sure if there is any one venue that would make us feel like we accomplished everything, as the goal is always just to keep getting better at what we do.
MZ – Where is the one place you really want to tour (area of the world)?
SS – Currently, Europe is our big focus! Though we all like traveling to tour, and we haven't played outside the USA much with Seven Spires, so anywhere else looks very attractive to us at the moment.
MZ – Having worked with Jon Pyres and Roy Khan, who else is on the list of singers/musicians you want to collaborate with?
SS – We also had Casey Lee Williams on that latest album, for the song "Lightbringer"! There are so many people that it would be really cool to collaborate with, but it always has to be the right fit for a specific song or moment. We never want to have someone on a song just for their name, the artistic elements have to come before anything else.
Comment – My apologies to Casey and David Akesson. They both brought incredible talent to the project, I just got in too big a hurry and did not check myself on this question.
MZ – With touring at a standstill for almost two full years, how did the band survive financially? Did you have to "pause" it and just get through individually?
SS – Well with things like touring, of course there was no tour revenue coming in, but there were no tour expenses either. We did write, record, and release an album, so it definitely was not a pause for the band.
MZ – Is there anything else needed to get over that hardship? Is there anything the fans can do to help (like buy more Lightbringer coffee or extra shirts)?
SS – We were fortunate to not be affected too much as a band by the pandemic, other than just losing two years of time and growth potential. If anyone is specifically looking to help us out, come to a show the next time we're in your area, maybe bring a friend, and remember to stick around and say hi to all of us after the show at the merch area. We always come out to sign stuff, take photos, and hang out a little.
MZ – Who approached who for the Lightbringer coffee blend? Did you go to Blakhart or did they come to you? Is there a possibility of having more than one blend… say Lightbringer and Unmapped Darkness?
SS – We were approached by the owner of Blakhart Coffee via Adrienne's streams on Twitch actually! He had collaborated with Vicky Psarakis from The Agonist on a roast, and asked us if we'd like to do one as well, and of course we thought it was a great idea. More products from that partnership would be great, let's see how the first one does.
MZ – Is there a chance there will ever be a full orchestral show like a Epica, Within Temptation or Dimmu Borgir?
SS – That's always been something we're interested in doing. It'd be a lot of work and probably quite expensive, but very rewarding when we can pull it off!
MZ – With the advent of streaming, would you do it live and streaming simultaneously?
SS – That's possible as well. It's interesting to see how the live music world is adapting to this new technology and platform. We've started to talk internally about options for it, and though there's no concrete plan yet, the discussion is happening.
MZ – Will it be recorded and released as a DVD for those who cannot make it to Europe for something like that?
SS – Well, it might not be in Europe in the first place, we don't know. As of now there's no plan, so it's hard to answer a question about a hypothetical in any solid way.
Comment – I specified Europe only because they seem to have a larger appreciation for the larger, more theatrical productions.
MZ – In your tour diaries (Week 1 I think) you mentioned someone getting you a hotel room for a night. Is that something there needs to be more of for bands on tours, especially the smaller bands that are just starting out?
SS – This was something a close friend of ours did out of kindness, not something we'd ask of anyone we don't know. It was a nice treat, but that's something that really depends on the band, the person offering, and also the logistical situation at hand. It's always nice to sleep in a real bed, when possible, but it's not always possible or financially responsible.
MZ – What makes a bigger impact, a hotel with a real shower or gas money?
SS – That really depends on the situation, hard to say!
Comment – Most merchandise booths have a tip jar or gas fund. If you can, donate to those. Sometimes, that little act of kindness can really lift the spirits, especially with the freaking gas prices right now.
MZ – Do you have a favorite video reaction channel and why is it Windmill Full ov Corpses?
SS – Haha, those guys are great! Super funny and entertaining content. We've been featured on quite a few reaction channels, and they're all quite charming. Lots of fun for us to watch people react to hearing our music for the first time.
Comment – I seriously love those guys (Windmill Full Ov Corpses) and their reactions. They are not the only ones though, and some are quite good at the analysis of a song. If you want to hear what other people think of some of your favorite songs, check some of those channels out.
MZ – Having dug into all of your lives vicariously through social media and music reviews/listening, I have seen a lot of collaboration with each other on outside projects. As a fan, it is awesome to see you all working together in the band and outside of it. Some bands seem to be very "you're in or you're out", but all of you support each other across multiple endeavors. How did all of this come about? How did you bond so well that we get all this extra music, like Threads Of Fate, DOVAS, Masters Of Ceremony?
SS – Well, we're all good friends in addition to working together, and we have such a deep mutual respect for each other's musical abilities that it's only natural that we all call each other when we need something one of us can provide. It's a super nice thing to have, and we never take it for granted!
I am a huge fan of Seven Spires; in case you could not tell. I bought the Lightbringer coffee, own Gods Of Debauchery on vinyl, have the flag and a coffee cup, etc. This is a band that tells incredible tales and sets those tales to phenomenal music. They are so good at what they do, their individual talents are requested by numerous other bands. Seven Spires is truly a great band in every sense of the word.
With a combination of killer guitar work from Jack, stunning drumming from Chris, phenomenal bass work from Peter, the only thing left is the vocals. Adrienne is one of the best in the business, combining growls and grit with cleans and classical tones, she possesses a stage more than stands on it. She layers in the orchestration and creates the soundscape that is so impressive. This is a well-rounded, very learned, technically proficient group of musicians who make some of the most expressive and expansive music on the market today.
I'm also a fairly new fan of the band, having discovered them after seeing Adrienne on tour as a vocalist with Avantasia and being blown away by her voice. Some of the people at the New Years Eve release party for Gods Of Debauchery or the for the DragonForce tour stop in Worcester, MA have followed this band since its' inception and have seen them dozens of times. I have now seen them three and look forward to many more. I've watched the YouTube video for their ProgPower show where the inimitable Roy Khan joined them on stage for a divine rendition of "This God Is Dead," one of their most epic, ambitious, and stellar compositions.
This is a band that, if you have not heard them, you need to as soon as you can. They blend styles seamlessly and create a soundscape unlike anything you will hear. They wear their influences on their sleeves and honor the very best of all the genres they cross over and through as they weave an epic tale across multiple discs. They have skills and use them to entertain us with not just excellent music, but thought-provoking lyrics that challenge and enlighten the listener.
Simply put, Seven Spires are "Gods Amongst Men."