Iron Kingdom – The Blood Of Creation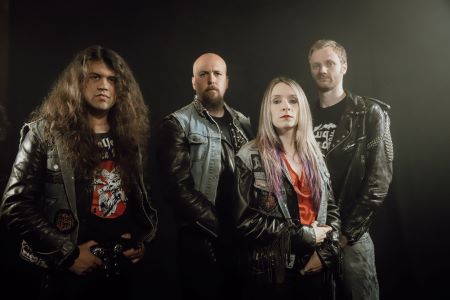 Formed in 2011, Iron Kingdom is a four-piece NWOTHM band from Surrey, British Columbia, Canada. They use a dual lead guitar style reminiscent of early to mid-80s Heavy Metal and Thrash Metal. They sometimes step over into Power Metal, giving them an expansive sound to work with. With vocals are clean, with some distortion thrown in for good measure. The backing vocals are used sparingly but are present, significantly beefing up the vocal presence. Dual guitars, thundering bass, and powerful drumming round the sound nicely.
Band Members:
Chris Osterman – Lead Vocals/Lead Guitar
Megan Merrick – Lead Guitars
Leighton Holmes – Bass
Max Friesen – Drums
November 4, 2022
Tracklist:

Tides Of Desolation
Sheathe The Sword
Queen Of The Crystal Throne
Hunter And Prey
Witching Hour
In The Grip Of Nightmares
Primordial
The Blood Of Creation
The album opens with the short instrumental "Tides Of Desolation." Some songs just have epic names; they don't even need lyrics. This is one of those songs! It acts as an intro to "Sheathe The Sword," and the transition is damn good. Whereas "Tides" is a melodic, subdued piece with an excellent build, "Sheathe" starts heavy and never lets off the gas. There is an epic, belted scream early on and heavenly Power Metal drumming. The guitars are synchronized and fast, and the bass is hardcore, racing full speed, forget galloping. This sounds like Iron Maiden and Helloween in a grudge match fighting for dominant influence. I love it!!
For "Queen Of The Crystal Throne," we get a classic NWOBHM riff. The vocals are over-the-top, belting and screaming, with a lot of warbles thrown in for good measure. The guitar solo is melodic, measured, and masterfully done. "Hunter And Prey" goes almost full Power Metal. The drums are part blast beat, part rapid-fire, and the bass is thunder personified. The guitars go from Power to Thrash and back, chugging along for the riff and racing off for leads and solos.
For a real taste of Power Metal, check out "Witching Hour." Those guitars are epic; the bass steps in for a few runs and fills, and even the drums get a quick fill-in just before the halfway point. This could be Helloween reincarnated, except that they aren't dead yet. This is not a copy of Helloween, but it has the skill and technicality they are so good at showing in their songs. Iron Kingdom knows how to craft deliciously complex melodies that cover multiple genres and really hook the listener.
For more of a Thrash Metal style song, we shift to "In The Grip Of Nightmares." The vocals go more Erik "AK" Knutson here, showing the heavier end of Chris Osterman's range. He has the skill to go with a hefty belting or get well into the head voice. This is one of the heavier tracks, with darker themes and a beefier riff. The leads are stunning. Then we get a quick transition song, "Primordial," that will lead to the epic climax of this disc. This is instrumental NWOTHM, showcasing melodic sensibility with heaviness. It also leads into the stunning final track.
"The Blood Of Creation" is a 13-plus-minute epic track that covers the entire spectrum of what Iron Kingdom is and can be. There is Power, Progressive, Thrash, NWOBHM, and NWOTHM. Soaring vocals, hefty guitars, riffs, rhythms, powerful drums, and bass are all on display for this one. The composition is impressive, complex, and very coherent. The transition makes sense, feels like they are timed perfectly, and flows from one element to the next.
Iron Kingdom has successfully merged many things into one. They are obviously influenced by various Metal styles, as are so many of the bands playing today. Even the older bands, who have influenced some of these newer ones, are shifting their sounds to incorporate new melodies and genres. Heavy Metal, and everything that has grown from the early days, is truly something to behold these days, and Iron Kingdom is a shining example of what can happen when a band dares to like more than just one rigid style.
MZ Ratings:
Musicianship

Guitars – 9
Rhythms – 9
Vocals – 9

Songwriting – 9
Production – 9
Overall – 9.00