Jupiter Zeus – Frequency Prison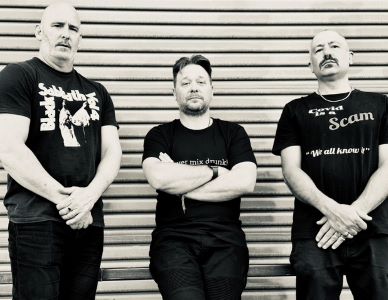 Jupiter Zeus is a three-piece Heavy/Stoner/Doom Metal band from Perth, Western Australia. They released their first EP in 2011 and have remained active ever since. The latest offering is Frequency Prison, a 14-song album that comes dangerously close to being a double album. There is no real way to define the genre they fit in as they blend more than what is already listed. Death Metal influences in the vocals and even some Desert Rock mixed in for good measure. Truly, they are something to behold.
https://jupiterzeus.bandcamp.com/

Band Members:
Simon Staltari – Vocals/Guitars
Jeremy Graham – Bass
Aaron Smith – Drums
January 31, 2023
Tracklist:

Silent Screams
Dystopia Nightmares
Stationary
Dangerous Freedom
No Where To Play
Plandemic
Falling Down
Mark Passio
It's Not Happening
Written Off
Scientism
Frequency Prison
Merciful Father
Chaos Rain Supreme
The album opens with forlorn pianos and haunted vocals. The intro is smashed by a heavy, distorted riff: part Sludge, Part Stoner/Doom. The main vocal line comes in dark and low but clean, though this will turn to growls later. The vocals come with some pretty impressive held notes, showing Simon has excellent control of both his guitar and voice instruments. "Silent Screams" is anything but quiet, and the growled screams are quite nice.
"Stationary" has a Desert Rock vibe to the opening rhythm. The guitar leads are melodic and faster than some other riff/lead work on the record. The tone is also lighter, hanging out significantly higher than some of the Stoner/Doom riffing in other songs. The drums and bass are remarkably present, even when hovering under the guitars. Even when quieter, they are a significant presence, still giving a lot of power to the track.
"Plandemic" opens with muted guitar tones before the track begins in earnest. Aaron spends more time on the crash cymbal for this song, and Jeremy has a little more drive to his bass line. The vocals run pretty clean, sticking to the lower register. If I'm getting the wording right, this is a bit of a protest song. It seems like they are speaking of people using the pandemic to advance their plans, which did happen in some parts of the world. I may be reading more into this than I should, but that is what I hear.
Next, "Falling Down" seems to hang between Desert Rock and Stoner Metal. The tones and tempo kind of straddle that line, giving the song a different feel and sound. There are a lot of different techniques and styles on this album, creating an almost larger-than-life area to wander through sonically.
The shortest track on the record, at just under three minutes, is "Scientism," a moderate-tempo song with some excellent lead work on guitar. The tone is again somewhere in the middle of many styles. The song's pace is too fast to be Stoner or Desert Rock, but the tones fit Desert Rock well. Again, Jupiter Zeus blends genres and styles with ease.
The "Frequency Prison" title track begins with harsh vocals, turning clean at a shift. The rhythm has a cool chugging phrase, giving a more Doom Metal vibe than some of the other tracks. The solid, rhythmic thunk of the snare through much of this track is beautifully offset in the bridge when it virtually disappears for a short bit, but the cymbal changes the song's timbre.
"Chaos Rain Supreme" has a melancholic opening with an acoustic tone to the guitar and a melancholy tone to the voice. The song never takes off, despite what you might expect. It is an interesting way to conclude the album. This song is similar to how the album opened, bringing the whole thing full circle, closing it off, and wrapping it neatly.
I will admit it took a few listens for this album to grow on me, but when it started catching my ear, it got in there good. The variety of tones and textures in the compositions is quite wide, and the depth of emotion heard throughout the album is impressive. The songs all work well together, blending nicely into a complete album. Nothing feels out of place, which is hard to pull off with a 14-track disc that ranges through multiple genres. This is some impressive songwriting!
MZ Ratings:
Musicianship

Guitars – 9
Rhythms – 8
Vocals – 8

Songwriting – 9
Production – 8
Overall – 8.60