Katatonia/The Ocean Collective/Cellar Darling – Katatonia at The Palladium, Worcester, MA November 10, 2022
Cellar Darling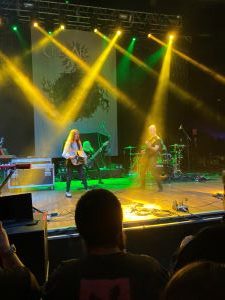 Set List

Freeze
Insomnia
Death
The Spell
Avalanche
Swiss Folk Metal is a thing, and Cellar Darling is one of the best choices. The tour is off to a bit of a rough start considering CD has no CDs for sale at their merch booth, and their first stop saw them play only three songs. Here, we walked into the sound of Cellar Darling doing their sound check, so we got a little treat; plus, they did five songs, all of which sounded really good from the floor. There is something about Anna and her warbles/runs that is incredibly captivating to hear. She has one of the more distinctive timbres and vocal styles, giving her standout status!
The fact she also plays flute, keys, and Hurdy Gurdy is mind-blowing. The guitars were beautifully on point. Ivo delivers excellent tonality and fits into the composition's texture like a seasoned professional. Martin hits the right drum tempo, driving the songs at the right speed. The bass was solid, hammering in time with the drums, keeping the time when Martin decided to give us a quick fill or go on a little run of his own.
The main takeaway of this show, at least for me, is that Cellar Darling has much to offer musically. I have no clue as to whether they are working on new music or not, but I really hope they are. Both of their current CDs are excellent, and I would love to hear more from them and see them perform a more extended set, whether as an opener or a headliner. Their music is stunning, and their performance was one of the better I've seen this year.
The Ocean Collective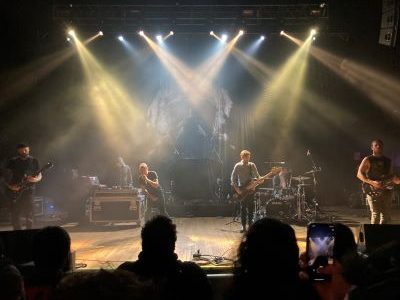 Band Members

Loïc Rossetti – Lead Vocals
Robin Staps – Guitars/Backing Vocals
David Ramis Åhfeldt – Guitars
Peter Voigtmann –Synths
Mattias Hägerstrand – Bass
Paul Seidel – Drums/Backing Vocals
The Ocean Collective
https://www.metalblade.com/theocean/
Facebook
Instagram
Set List

Triassic
Silurian: Age of Sea Scorpions
Pleistocene
Bathyalpelagic I: Impasses
Bathyalpelagic II: The Wish in Dreams
Jurassic | Cretaceous
I knew nothing of The Ocean Collective before seeing them live; however, when I posted the show on Facebook, I had a couple of friends tell me they are an excellent band, both on disc and live. I am happy to report they were absolutely correct, and the members are nice guys as well! Based on their performance on this night, I bought the two latest CDs. For all you vinyl lovers, they are carrying plenty of that as well! I chose CD because I can toss it into my car's player and rock out while driving.
What about the show? Well, they don't talk between songs. There is no banter, no crowd interaction. Instead, they play an incredibly tight, fast set that shows off every bit of their skill. They have everything from softer, almost muted guitar and drum segments punctured (not just punctuated) by punishing, heavy riffs and crashing drum/bass beats that wreck the silence with a beautiful sound. There is a lot of Progressive Metal in their heaviness, but theirs is more technical and less "showy" than a Rush or Dream Theater.
The vocals range from clean to growls from the lead, with additional voices adding backing tones here and there. The sound was crystal clear, and the power of the music was on full display. I immediately switched to one of their CDs when I got to the car, and I am in love with this band. Their music is complex, powerful, emotive, and moving. It would be interesting to see these guys do a two-hour show, playing their latest offerings from start to finish. No chatter, just six people doing something they do better than most bands out there today.
Katatonia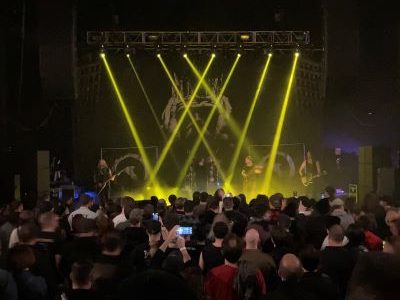 Set List

Heart Set to Divide
Liberation
Dead Letters
Old Heart Falls
Deliberation
Onward Into Battle
Teargas
Forsaker
Leaders
In the White
Serein
The Racing Heart
Atrium (new single)
My Twin
The Winter of Our Passing
Evidence
July
Untrodden
Behind the Blood
Lethean
Twenty songs! Katatonia decided to showcase a lot of their music history with a long set that contains music from their early days up to their newest single, Atrium. There were a few issues with one of the guitars, but they got fixed quickly and did not affect the show. What was easy to note was the happiness of the band and the crowd. After two years of worldwide lockdowns and travel restrictions, Katatonia finally made it again to the United States!
Despite the little delay with the guitar, these five guys kept up a steady pace of playing their version of Heavy Metal. Power, Melodic, Neo-Classical, and even some Thrash and Death were thrown in for good measure. At least, that's how it comes across live. The guitarists have this incredible tonality that accentuates the riff nicely, adding a lot of depth to the composition's texture. The bass and drums are a joy to witness. They hold the line perfectly, venturing off into their own leads here and there, filling spaces with quick runs that add depth and beauty to the song.
Katatonia is not the flashiest band touring. They don't need flashy, over-the-top production because the music speaks for itself. The lights were tasteful, and the sound was precise, not overly loud, which I appreciate because that often keeps the music clearer for the audience. These guys do not need to distract you with special effects and gimmicks; they just play killer tunes and put on a great show with material from all stages of their storied 30-year career. They proved to be true veteran rockers, delivering excellence despite a glitch or two.
Final Thoughts
The Ocean Collective was worth the price of admission all by themselves, but the cool thing is all three bands are excellent, so I could say this about all of them. The Ocean Collective stands out because I knew nothing about them going in, yet they left me knowing I'd found a killer band to add to my listening pleasure. I already knew the other two bands. Katatonia and Cellar Darling put on great shows, and I would gladly see either of them all over again, especially if Cellar Darling would do a complete headlining set.
This is one of the best shows I've seen this year, and I will end at close to 30 shows overall. The sound was incredibly clear, and even a few little hiccups couldn't dampen the crowd's spirits. Guitar problem? No worries, we will wait until it gets worked out. Doors were late opening? Fine, the show rocked, so all is forgiven. This is an excellent lineup; you should go see them if you get the chance.