Korrosive – Toxic Apokalypse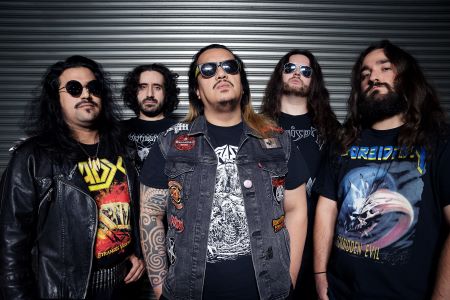 Korrosive is a Canadian Thrash Metal band formed in 2015. It took a few years and some lineup changes, but the current members have been solid since about 2020, releasing two full-length albums and a split. With a love of fantasy apokalypse scenarios, they've created their own world to destroy here. The destruction is wrought musically and lyrically with HEAVY riffs and furious rhythms that leave no room for happy words. There are occasional ventures into melodic arenas, but most of this is a wild ride to the edge with no hope of coming back. Buckle up; it will be a fun but very rough ride!
https://korrosivemetal.bandcamp.com/

Band Members:
Rad Zarei – Vocals
Jack Neila – Guitars
Derek Solomos – Guitars
Carlos Rodriguez – Bass
Kaveh Afshar – Drums
October 7, 2022 – Digital Release
November 18, 2022 – CD Release (vinyl and cassette TBD) CDN Records
Tracklist:

Into Nekropolis
Radioaktive Scourge
The Goddamned
Fatal Strike
Libertad Y Muerte
Infernal Onslaught
Hail The Hellfire
Karnage Incarnate
This album immediately smashes you right between the eyes. The first song, "Into Nekropolis," begins with a furious riff and frenetic rhythm. The guitar riff is a killer chugging phrase with a lot of speed and attitude. The vocals are not full harsh/growl, instead going for heavy distortion, with clean shouts backing at the chorus. The blast beats from the drums are fantastic! There is a lot of 80s thrash influence on this album, especially from bands like Kreator, Death, and Slayer.
There is one short song on the disc, and that is "Radioaktive Scourge." It may be the shortest song on the album, but it is also the heaviest and fastest. Again, the layered and backing vocals are solid, using cleans to offset the grit of the lead vocals. The guitars stick together for most of this song, staying away from leads as there really is no time for them. Carlos probably plays with a plectrum to save the skin on his fingers. That is some seriously thundering bass!
For a bit of a melodic interlude, we turn to "The Goddamned." The rhythm is not as heavy but retains the intensity. This time, you get a few leads and fills on the guitar, with Korrosive favoring active use of the whammy bar for those little pieces and heavy shredding for the solos. This track shows the heavy melodic chops of the band off well. Then, it's back to the pure heaviness for "Fatal Strike," another massively heavy thrash tune more in line with the German and Canadian predecessors than the US version.
The lead riff on "Libertad y Muerte" is very precise and quite tasty! There is a technicality to it that is quite pleasing, and I love that Korrosive lets it trail off before the lyrics disrupt it. The rapid-fire delivery in this track might distract from the guitar work, so allowing the lead work to filter out keeps the song balanced beautifully.
"Infernal Onslaught" is back to the chugging riff/rhythm combination that Korrosive does so well. It's the classic thrash pattern with all the proper weightiness to both the bass and drums, beefing up the guitar work perfectly. Then, "Hail The Hellfire" goes back for another melodic intro leading into a well-paced melodic track capable of evoking memories of the greats who have gone before. This modern homage to classic thrash is incredibly well done. Not that this is all about the past, they've got a killer new sound; it's just that you can hear where they got their inspiration.
The longest track is "Karnage Incarnate." At almost eight minutes, it has some of the wilder variability you often get with longer tracks. Here, you have bridges, extended solos, and tempo shifts, all of which show Korrosive is capable of shaking things up and pulling off something that is about as close to Prog Metal as you will ever get in a Thrash Metal song.
Korrosive really likes to rip through songs with all the attitude and fury of a band straddling the line between Thrash and Speed Metal that likes to jump back and forth just for fun. And this is pure thrash; there are no ballads or anything like that, just killer, heavy riffs and smashing rhythms. This is an apocalyptic shred-fest meant to leave your neck sore, and your voice wrecked. If you get to the end of this record and are not in at least a little pain, take another trip with the higher volume to ensure you get it right this time.
MZ Ratings:
Musicianship

Guitars – 9
Rhythms – 9
Vocals – 9

Songwriting – 9
Production – 9
Overall – 09.