Lawrence Wallace – Compilation Songs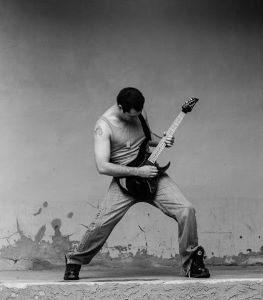 Lawrence Wallace is a Melodic Heavy Metal shredder with seriously Neo-Classical influences. It's even more impressive when you find out he has written over 150 songs and recorded every instrument on this album. Pittsburgh might be known for its' steel, but Philadelphia has a new Metal that is stronger, heavier, and hotter. Compilation Songs is a shredders delight, an air guitarist's nemesis, and a contender for the most complex song on Guitar Hero. Okay, he's not on the game, but he should be.
https://lawrencewallaceband.bandcamp.com/

Band Members:
Lawrence Wallace – All Instruments
March 1, 2023
Tracklist:

Limitless
War In Heaven
The Enchanted Mirror
The Awakening
Visions Of Another World
Impact Velocity
Journey Through Time
Ambush
Lost At Sea
Burst
"Limitless" opens the album with some melodic lead work over what we will come to find out is a fairly modest riff for Mr. Wallace. There are some shredding sections, but most of the song has a tempered heaviness, making the shredding areas stand out a little more. When this guy really starts ripping, I get jealous. I wish I could type like he plays. I cannot get my fingers to do the things he can.
Moving on down to "War In Heaven," we get a faster riff for the lead guitar work to wreak havoc over. I don't know if those drums are him playing or programmed, but either way, they are pretty amazing. The bass is solid as well, but the star is definitely the guitar work. The layers of sound he writes and records are just freaking brilliant. The fretwork of getting the fingers to move in those patterns blows my mind.
"The Enchanted Mirror" has a series of runs up and down the neck that almost defy logic. How he can get two hands working together in that kind of synchronicity at that speed is stunning. I have a hard time getting a good pattern down with one hand and maintaining a rhythm, and here he is going four times as fast with better accuracy truly impressive! "The Awakening" does the same thing with new phrases and patterns. I get tangled on the same pattern, but he can work magic on multiple patterns.
For some reason, "Visions Of Another World" has a different groove to it. The tones are different and fit more of an 80s shredding style to me. Some of his work sounds a bit like Malmsteen, while others hit more of a Satriani vibe. This track reminds me of an underrated Neo-Classical shredder, Wolf Hoffman (Accept). Please remember, I am listening to this with a fan's ear, not a music theory-educated ear. What I hear and what is intended may be different. In my mind, this makes sense and sounds incredibly cool.
The following two songs also use different tones and phrases to give new themes while maintaining the integrity of the album's overall theme. The darker "Impact Velocity" has a slightly slower tempo to the underlying riff, while "Journey Through Time" has a heavier riff as its' base. Both songs are full of the signature lead work and eloquent flows Lawrence has with his picking.
The final three songs come in at almost a perfect 10 minutes. They have different phrases and patterns for all facets of the song. There are no "standard" drum parts or bass lines. Each piece is new and unique in how it is written and presented. The riffs under the leads and the lead work for each song have their own unique timbre, evoking different emotions and thoughts as I listen.
Lawrence Wallace is definitely an extraordinary musician and an even better guitarist. Considering his bio says he picked up the guitar at 16, to be where he is now is truly amazing. I'm unsure of his age (and would not dare ask!), but I don't think he's my age (DON'T ASK!!), so he progressed quickly and kept going. I love that his songs have such a wildly chaotic feel to them yet don't feel pretentious like some guitar gods do. The work is solid, the skill evident, and the sound impeccable.
MZ Ratings:
Musicianship

Guitars – 10
Rhythms – 10
Vocals – 10

Songwriting – 10
Production – 10
Overall – 10.00