Leatherwolf – Kill The Hunted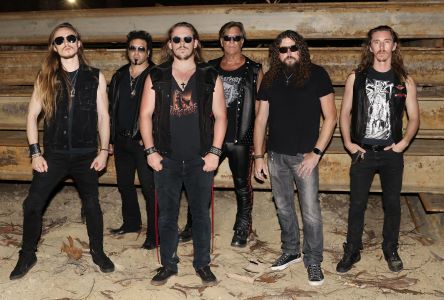 Leatherwolf is a six-piece Heavy/Power Metal band known for having a Triple Axe Attack, even using that as part of their social media account names. Formed in 1981, they've been rocking stages internationally for decades. They had a brief hiatus in the mid-late 90s, returning to full strength in 1999 and remaining active until now. With over four decades of experience, Leatherwolf knows how to craft an album with epic guitars and stunning rhythms. Vocally, they run primarily clean but have a lot of grit and distortion added in to give the songs a rough, heavier edge. This is Heavy Metal in its' purest form.
Band Members:
Keith Adamiak – Vocals
Luke Man – Guitars
Rob Math – Guitars
Wayne Findlay – Guitars/Keyboards
Brice Snyder – Bass
Dean "Drum Machine" Roberts – Drums
November 11, 2022, via Rock Of Angels Records https://roar.gr/
Tracklist:

Hit The Dirt
Nobody
Kill The Hunted
Wicked
Madhouse
Medusa
The Henchman
(Evil) Empires Fall
Road Rage
Lights Out Again
Enslaved
Leatherwolf loves a nice, chugging riff. "Hit The Dirt" fades in with the riff and some killer lead work, only to go full force less than 30 seconds in. The rhythm has a cool, galloping pattern to support that heavy riff, and the vocals have plenty of grit to give a harsher feel to the track. The clean backing vocals have a good contrast to the gritty lead vocals. The solos trade-off well and shift from melodic to shreddy on a dime. Regardless of the length of time in the band, there is no doubt that these guys are all very skilled musicians and have come together for a love of guitar-driven metal.
"Nobody" is more melodic at the beginning, going more for tone over speed. The veiled reference to David Bowie is not lost on me, especially as the song continues, shifting finally to the man who saved the world. The drum phrases in the chorus are absolutely awesome. I love the tempo and the pattern. It has a killer, complex phrasing that makes me want to grab my air drumsticks and try to follow along. I don't have a favorite instrument, but I do have some songs that make me respect a certain one more than others. This is a drum song, much like "The Black Horsemen" in Abigail from King Diamond or almost everything by Rush.
The opening to the title track is beastly! Those guitars coming in one at a time, sharing the riff, but playing it differently, really hit well. The bass comes through a lot more on this track, and the layered keyboards add a lot of texture to the song. Going back to more melodic, "Only the Wicked" has a heavy riff for the musical interludes but gets seriously melodic for the verses and chorus. One of the best features of this song is Keith's climbing notes and deliciously slow warbles. This is his song to shine, and he does so well, simultaneously showing off his breath and vocal control.
"Madhouse" and "Medusa" both have killer riffs. This band's guitar harmonies are seriously good, especially when you add a lead, sometimes two, over those heavy riffs. Meanwhile, you have Bruce and Dean piloting the songs like a fighter jet during evasive maneuvers. The "Medusa" riff has a similar pattern to "Walk With Me In Hell" from Lamb Of God. The song itself is nothing like that, but the riff has a passing similarity, which is more than okay because I think both pieces are freaking awesome!
"The Henchman" gives me more of a Power Metal vibe. It also has a bit of a Power Ballad feel to the intro, especially with the vocal delivery. This is the longest song, running well over six minutes and shifting from the opening ballad feel to a massively heavy riff for the song's main body. It's also more fantasy themed, stepping farther into the Power Metal realm with that. The tempo and pattern shifts have a distinct Progressive Metal feel. The bass and drum leads are additional nods to Power Metal in this track. It is a well-done song with a lot to love!
"(Evil) Empires Fall" has an excellent, bluesy feel. The riff and rhythm have a really cool phrasing, going deep into the bluesy tones but maintaining all the heaviness of having three guitars building a wall of sound. There are some nice harmonized backing vocals on this track, showing even more depth to the Leatherwolf's overall sound. Not to worry, though, "Road Rage" gets right back to the heavy rhythms. The last song lets you catch your breath; now it is time to rock again!
For more complex compositional badassery, check out "Lights Out Again." The muted riff with the variable leads is pretty wild and a joy to hear. The solos are fast and use both harmonized and individual phrases for the ears to hear. It's another song that makes you realize three guitarists can be heavy yet fun. The way they play off each other is actually fun to listen to. It's not all power and domination; some of it is almost delicate, balanced precisely at specific points of the song.
The album concludes with "Enslaved," another of their heavier songs, though they do mix in some nice melodic phrases in places. The vocals, like the lyrics, are meant to be harsh and rough on the ears. The rhythm is excellent, hammering out a beautiful tempo for the dark lyrics, the heavy riff, and the intricate lead work throughout the song. The solos fit well in the overall song, adding some extra tension with plenty of stress built into the music and lyrics.
Leatherwolf has been around the clock and the world a time or two. They've written some excellent new songs and put them on this record, showing they have not been sitting idly around, waiting for things to get back to normal. One of the singles, "The Henchman," shows it was released in 2019, not long before the world decided to stand still for almost two years. They took that time to regroup and hammer out an excellent album. Kill the Hunted is 11 well-written songs that show there is a lot left this band wants to say. I hope their voice continues for at least another ten years!
MZ Ratings:
Musicianship

Guitars – 10
Rhythms – 10
Vocals – 9

Songwriting – 9
Production – 9
Overall – 9.40