Lillian Axe – Psalms For Eternity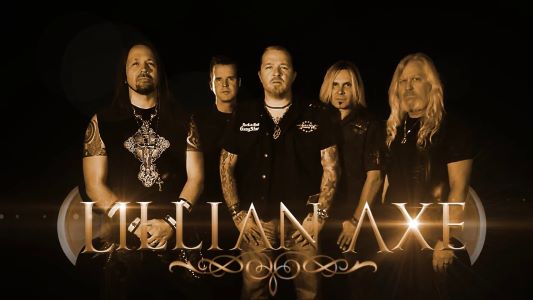 Lillian Axe is a hard rock band from Louisiana, formed in 1983. With a career spanning just short of four decades, having released nine studio albums, and just about to emerge from the pandemic with a vengeance, they are offering us a teaser. Psalms For Eternity is a 3-disc compilation of some of their best work. This is also a reminder of exactly how good they are and how good they have always been. They have big plans with a new disc likely coming this year and an extensive tour that will extend into 2023. I plan to be a part of as much as I can.
Global Rock Records https://www.globalrockrecords.com

Band Members:
Steve Blaze – Lead Guitar/Backing Vocals/Keyboards
Brent Graham – Lead Vocals
Sam Poitevent – Guitars/Vocals
Michael "Maxx" Darby – Bass Guitar
Wayne Stokely – Drums
Lillian Axe selected songs from each of their major releases and created an excellent anthology. Released on May 6, 2022, via Global Rock Records, this is a massive greatest hits album, but still not big enough. Missing are songs like "Those Who Prey," "Mercy," "Letters In The Rain," "The World Stopped Turning," and "Hard Luck." Granted, those are my choices. I could have easily added an entire disc to this collection without straining myself. The good thing about this anthology is that it is meant to herald a new era of Lillian Axe. A new album and tour are to follow this, and I, for one, am here for it!
Tracklist CD One – Earth:

Death Comes Tomorrow
47 Ways to Die
Jesus Wept
Waters Rising
Death Valley Daze
Crucified
True Believer
Show a Little Love
Misery Loves Company
Angel Among Us – Bonus Track
Tracklist CD Two – Sky:

The Great Divide
Under The Same Moon
Nocturnal Symphony
I have to Die, Goodbye
Twilight In Hell
Stop the Hate
Living In The Grey
All's Fair In Love And War
Waiting in the Dark
Perfect Blue – Bonus Track
Tracklist CD Three – Sea:

Bow Your Head
Deep Red Shadows
Sad Day on Planet Earth
Fields Of Yesterday
When it Rains
The Needle of Your Pain
See you Someday
Ghost of Winter
Nobody Knows
The Weeping Moon- Bonus Track
I think Lillian Axe took the right approach to this compilation. I have a bad habit of going back to my favorites and listening to those repeatedly. By putting songs from each of their studio releases on the individual discs, I was "forced" to hear some newer songs. Unfortunately, I lost track of Lillian Axe after Psychoschitzophrenia. I heard Fields Of Yesterday but did not really dig into it too much. That said, I'm so glad they set the tracklist like they did because I got to hear songs off later albums.
Those newer releases are apparently just as good as their earlier work. "Deep Red Shadows" and "Death Comes Tomorrow" are just two examples of their latest being as good as their past music. They still have some of the tastiest guitar riffs in the business. Steve Blaze is, and always has been, a tremendous guitarist and songwriter. It is no surprise he's been inducted into the Louisiana Music Hall Of Fame as a member of the band and as a guitarist/songwriter.
I've been a fan of Lillian Axe since I heard that first song way back in 1988. That song was "Misery Loves Company." That quick intro, followed by that killer riff, immediately made me grab a pair of air drumsticks. Then I would quickly transition to air guitar. I'd go back and forth for the entire song. I caught them live a long time ago in Dallas, Texas, as part of the "Cold Steel Weekend" at a club called On The Rocks in Deep Ellum. They tore that place a new one that night. Unfortunately, that was the only time I saw them live. Hopefully, I can correct that if they come to the New England area on this upcoming tour.
The thing I like best about this anthology is that it covers the entire range of the band. Heavy, ballad, glam, new, and old. There is something for every era of fan. The combination of the three discs renewed my love of this band and reminded me that southern rock does not have to be Lynyrd Skynyrd and Molly Hatchet. Don't get me wrong, I love me some Southern Fried Rock, but sometimes I like it heavier. Lillian Axe gives me that and more.
From the incredibly moving "The Needle And Your Pain" to the hard-rocking "Jesus Wept," this band has something to hook you. They have a wide range of talents and can play anything. The individual musicians all come together to create something bigger and better than each of them on their own. There's magic in what they play. The riffs are catchy, and the rhythms are full of killer hooks. The vocals range from gritty and coarse to belted and melodic. There is genuine emotion in the music and the lyrics.
For those who have never heard of, or heard, Lillian Axe, do yourself a favor and check out a few songs. Mix it up. Their YouTube is above. They have this entire set on the page, and you can pick and choose what you want to listen to with the greatest of ease. To get a good cross-section, I would listen to tracks 1, 3, 9, 14, 18, 22, 26, and 28. That will expose you to the heavy and the ballad, the new and the old. Personally, I'd recommend you just toss it on and let it rip, but we're all busy these days. Put it on in the background and clean the house, write a paper, surf social media, whatever you want to do. You will not regret it.
MZ Ratings:
Musicianship

Guitars – 10
Rhythms – 9
Vocals – 10

Songwriting – 10
Production – 9
Overall – 9.60