Lynch Mob/Gavin Evick – Tally Ho Theater, Leesburg, VA – June 24, 2023
Gavin Evick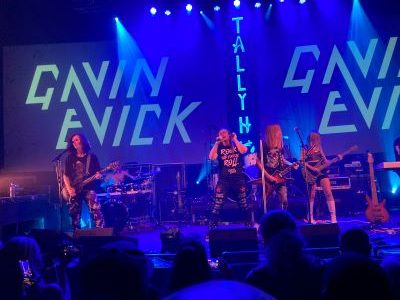 Set List

Look What The Cat Dragged In
For Whom The Bell Tolls
Cum On Feel The Noize
Favorite Songs
Shout At The Devil
Drum Solo
Guitar Solo
Guitar/Drum Battle
Youth Gone Wild
So this is a little different. I usually give the bands social media links so you can look them up, but this band is different. I found Facebook profiles of all the members, even Ivorie, who only played bass on one song while Jacob shifted to keyboards for the one original track, "Favorite Songs." I didn't find a BandCamp, so I just listed the musician's FB independently. This is pretty much a local show for them, and you could tell because there were t-shirts and parents in attendance.
If you're wondering who this band is, just look no further than the singer's father, Pete, who is a renowned musician behind the boards and on the stage, playing guitar in Bret Michaels' band. Gavin Hades is a 16-year-old wunderkind on guitar with a massive social media presence of his own. Steven Hudgins is a TikTok drummer with his handle on FB. Ivorie is a multi-instrumentalist with her own gig. As you can see, this is a band that is made up of a variety of talents. Give them a follow and show them some love!
As a cover band, they do a great job of using well-known songs to get the crowd fired up. The band had a ton of fun on stage, getting the audience primed and ready for the main act. Speaking with some of them after the show, there were a few issues, but only the musicians noticed. The crowd just wanted to dance and sing along with songs they knew well, many from their youth, as this was a slightly older crowd, but rest assured, there were kids present, so the future of rock and roll is on capable hands!
The best thing about this show was how well the original song, a power ballad in the 80s style, fit into the rest of the set. Sounding like it belonged in a group of songs by Hair and Glam Metal icons. Anyone who showed up late did themselves a great disservice by missing this band. I felt a little bad for them. It's hard to get a bunch of old people to throw their horns in the air, but they braved the age difference and rocked their hearts out!
Lynch Mob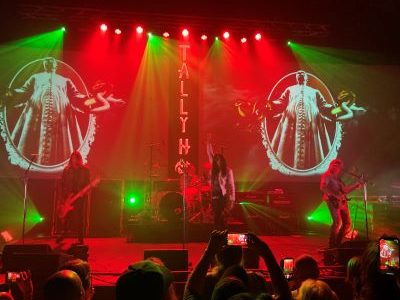 Band Members

Gabriel Colon – Vocals
George Lynch – Bass
Jaron Gulino – Bass
Jimmy D'Anda – Drums
Set List

She's Evil But She's Mine
River Of Love
For A Million Years
When Heaven Comes Down
Time After Time
Let The Music Be Your Master
Mr. Scary
Synner
The Hunter
21st Century Man
It's Not Love
Street Fightin' Man
Honky Tonk Women
Wicked Sensation
This was a weird show. First, Lynch Mob has not released new music in almost six years, and there are two new members in the band since that last release. That begged the question of what they were going to play. Was it going to be heavy on the old Lynch Mob? They checked that box with five songs from the first album. They also played four from the Dokken era and covered a Rolling Stones song, ending up with a great mix of songs. One of the best parts is that they've picked up a vocalist who could handle the new and all the old, including the Dokken material.
One of the wildest things about the show was all the talking. At first, I thought they might be covering for an equipment malfunction or something like that, but I later learned that to be false. They had an issue with George's setup and did not try to cover it, just chatted until it got fixed, which it did. That's when they ripped through "Mr. Scary," and I went into total fanboy mode. Yeah, I'm an old-school Dokken fan, but I also love many of the projects and solo things George Lynch has taken part in, so I was equally excited to hear "Wicked Sensation" and a couple of new tracks.
As for new tracks, "Time After Time" and "Synner" went over very well, hitting the crowd with some signature Lynch shredding and some undeniably grooves in the rhythms. Meanwhile, there was chatter and talk between a lot of the songs. Funny stories were told, jokes were cracked, and merriment ensued. They sometimes responded to the crowd, giving ad-lib responses to shouted things. It was weird because not many bands interact with the audience that way. I've been to hundreds of shows, and this was pretty unique, making this a different kind of experience.
Having mixed eras of George's experience throughout the show, the final song was one everyone waited to hear. "Wicked Sensation" took about 15 minutes because they fused in other songs, creating a fantastic medley and had some extended guitar soloing. Come on, it's George Lynch, and much as everyone loves the vocal melodies, they also wanted a few minutes alone with the man and his magic fingers, and we got a last fix for that addiction here.
To a person everyone I heard talking about the show walking out was blown away. At 68 years old, George Lynch is still on top of his game and has surrounded himself with musicians capable of keeping pace. I'm really looking forward to Babylon, the new Lynch Mob CD, coming out on October 20.