Max Enix – Far From Home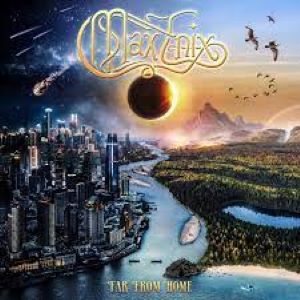 One of the challenges in life is to create something that is everything you want; you need to establish who and what you are. Max Enix has done this with a multi-faceted, multi-national double album with a 2CD main version and a 3CD alternate version that accompanies the original. He uses world-class musicians for the instruments and a cast of vocalists that is a veritable who's who of the Rock and Metal world. Over 30 voices and guest performances range from keyboards to guitars to classical instrumentation. With a run time of just short of 2 hours and 40 minutes, this is an epic journey the likes of which you have never embarked upon, but once taken, you will be forever grateful you went along.
Band Members:
Max Enix – Vocals/Composer/Songwriting/Creative Director
Xavier Boscher – Guitars
Vikram Shankar – Piano/Keyboards
Jean-Jacques Moreac – Bass
Leo Margarit – Drums
Elise Wachbar – Vocals/Choirs
June 9, 2023
Tracklist:

CD1:

The End Of An Era
Tears Of Earth
City Of Mortals
Prayer Of The Gods
In This Forgotten Paradise
An Illusional Kiss
The Dark And Bright Tunnel
The Forsaken Ocean
CD2:

Childhood Emotions
The Broken Face
Beyond My Blood
Mirrors Of Time
Angels Of The Apocalyptic Storm
Far From Home
There is so much to cover on this album. Two CDs running for 2 hours and 40 minutes with only 14 tracks. Nine are over 10 minutes, and one is a whopping 26 minutes long! The album covers multiple genres of music, some of which are outside the Heavy Metal realm. There are the standards; Epic, Progressive, Power, and Symphonic Metal, but then there are also elements of Jazz, Hip Hop, Rap, Tribal, and World music as well.
There are opposing emotions and theories, and styles wrapped around each other like yin and yang are fighting for dominance instead of striving for harmony. "Tears Of The Earth" has Rap vocals nestled between Operatic baritone lines and Power Metal stylings. There are delicate strings immersed in heavy guitar work. The concept and the composition are complex, requiring a careful ear to ensure you catch everything.
There are layers and layers to the voices, the instrumentation, and the lyrical content. There are horn arrangements wedged between heavier phrases on the guitar. Then, you get something like the opening to "City Of Mortals," a calm, peaceful melody with a gentle voice from a feminine character that shifts to a male voice and leads into a heavier section of the song. Here you get some of the Progressive Metal elements; drops and tempo changes fused with vocal shifts, subdued piano replacing the bombastic rhythms.
Stunning vocalizations, like in the early section of "Prayer For The Gods," lead into a heavier choir that builds to a crescendo, then drops to a mid-tempo rocker. "In This Forgotten Paradise" opens with calm piano and a voice that feels like it's being restrained but about to break loose. It takes time, but the voice does grow, and the music swells with it before there is another drop to serenity and peacefulness.
The music is as chaotic and beautiful as the vocals throughout the album. The Progressive Metal, created using the entire range of instrumentation, is equal parts unexpected drama and anticipated glory. When you have an orchestra backing the modern instruments and a range of vocalists that go from heavy and gritty to operatic beauty to belting power, it takes intense music and vision to create something that will pair together and not overpower or get drowned out. That delicate balance is all over this record.
This album is part soundtrack, part musical score. The whole thing paints a series of scenes in the mind, allowing the listener to direct the movie within their own mind. Each will be different, but they will all be somewhat similar. Everyone will interpret the lyrics within their own personal experiences and cast the movie with their own characters, and create background scenery that fits their wishes.
In "Childhood Wishes," the building to the heavy bridge creates an image in my mind, something making me wildly happy for a moment, then the rush ends, and I just enjoy the afterglow. The wish came true, and the happiness was natural for that moment in time. And here, like in so many other songs, the drums keep varying the pace, going from non-existent to modulated to blast beats, fitting in here and there. All the instruments do that at times, but as a fan of drummers, I appreciate how they come and go and always seem to be right where they need to be at any given time.
Another piece that works so well on this album is how a theme will span more than one song, trying segments together. "Beyond My Blood" ends, and "Mirror Of Time" picks up where the former left off, tying the songs together and keeping the story moving properly.
The title track concludes the album. "Far From Home" is 26 minutes of passion, despair, hope, and loss. It is the end of the journey and the story, neatly wrapping everything up, giving us the ending we need to feel like we have completed the trek successfully. The song is long enough that it builds, drops, ebbs, rises, flows to and fro, then finally fades into the ether as the credits roll in your mind.
Rather than dive into the lyrics and try to tell you what I think the album is telling you, I recommend you read the lyrics and form your own opinion. This is a story. You need to feel your own way and interpret how you need it to be. There is so much room for free thinking here that the more you listen, the more you will hear, both musically and lyrically. Put your experiences here and let the album help you learn what you need from it. This is one of those records you will feel as much as you hear.
Great music lets you internalize it, perceive it with your own knowledge and base it on what you've done and what you know. The most incredible gift music can give you is something that lets you find the peace and acceptance you need to make you feel good about yourself to improve your self-worth. This is one of those albums.
MZ Ratings:
Musicianship

Guitars – 10
Rhythms – 10
Vocals – 10

Songwriting – 10
Production – 10
Overall – 10.00