Mordkaul – Feeding The Machine – Part 1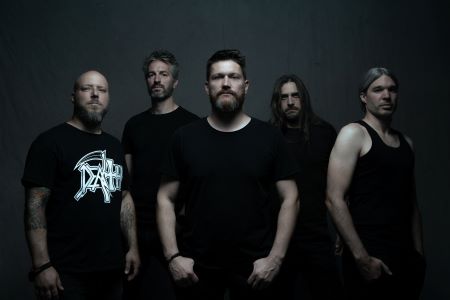 Mordkaul is a Belgian five-piece Melodic Death Metal band formed in 2018. Feeding the Machine is their second release, a follow-up to 2020's Dress Code: Blood. It took them three years to release this. Between a pandemic and really taking the time to make sure the sound was exactly what they wanted, this is no great surprise and was definitely worth the wait.
Band Members:
Tommy Goffin – Vocals
Tim Bekaert – Guitars
Vincent Noben – Solo Guitar
Jan Rammeloo – Bass
Tony Van den Eynde – Drums
February 16, 2023
Tracklist:

Crown Of Worms
In Dead Eyes
Welcome To The Sixth Stage Of Grief
For I Am Machine
Beast Of Dread
Clocking in at just over 23 minutes, Feeding the Machine is a quick listen full of brutality and fury. The disc opens with "Crown Of Worms," a fast-paced, heavy track with a massive guitar riff and blast beats everywhere. The bass is quite spectacular just for being able to keep pace with the song's speed. The vocals are harsh and sound even more powerful when layered for effect. The guitar riff in the bridge, leading to the solo, is really nice. I love that phrasing, and the solo spins off aggressively, shredding through to the next phase.
"Two Eyes" has a chugging riff that has a sway to it, moving back and forth between two chords. This has a weirdly calming effect on me, feeling like the riff is actually rocking me back and forth, lulling me. It's weird because the tones are heavy as hell and should not be relaxing in any way. Maybe I'm crazy, but that's what I felt.
"Welcome To The Sixth Stage Of Grief" is a killer track with a hint of Sludge in the opening section, almost like an underlying tonal piece, not a tempo or tuning. By the time you hit the halfway point, nothing is left of the Sludge undertone. There is pure brutality in its place as the music goes completely over the top with speed and power. The vocals are again harsh, the lyrics dark. Most people want nothing to do with the first five stages of grief, much less have to deal with a sixth.
Both "For I Am Machine" and "The Beast Of Dread" carry on the trend and tone of this record. Heavy riffing, bombastic bass, and blast beat drumming are woven together in a tapestry of sound meant to assault the senses. Rage, anger, and fury are all palpable in these songs. Mordkaul is not interested in painting a rosy picture of the world to help you sleep better at night; rather, they want you to view the seedy underbelly and realize there is a dark side to life. Be prepared; your happy ending might come with some hidden darkness you didn't see coming.
MZ Ratings:
Musicianship

Guitars – 9
Rhythms – 9
Vocals – 8

Songwriting – 8
Production – 8
Overall – 8.60