Mortalus – We Are Human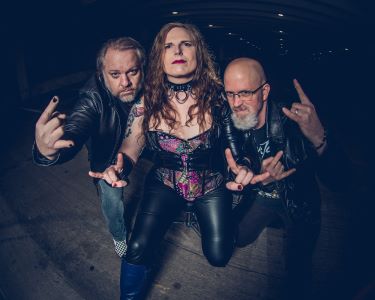 Mortalus is a three-piece Power Trio from Little Rock, Arkansas. This female-fronted Heavy Metal band brings in elements of Power, Progressive, Sludge, NWOBHM, and Thrash Metal to build something new and expansive. They've been described as "Modern Old School," which fits. Mortalus have blended a wide array of styles to forge a new alloy that is both fresh and familiar, aiming for something that defies categorization. One of the best things about Heavy Metal in the last 20 years is the great crossover genre shifts that have given us entirely new styles that are beautiful to behold.
Band Members:
Michelle Gann – Vocals/Guitars
Bryan Bedgood – Bass/Vocals
Patrick Mahoney – Drums/Percussion
February 24, 2023
Tracklist:

Battle Born
The FIXX
Fearless
Intended Victims
Dearest friEND
Blood Red Sunset
We Are Human
Danger Zone
This album begins with a track that establishes a theme for the disc and the band alike, "Battle Born." The music and the lyrics both are anthemic, setting the members up for the fight that is life. The riff has a bit of a Nu-Metal feel at the start, but it also shifts through more traditional Heavy Metal. This song gives off a few Nonpoint vibes, which is cool since I just saw them in concert last Friday. Part of the reason is the cadence of the vocal delivery, but also the guitar work.
Heading into "The FIXX," the guitars are more straightforward Metal, and the vocals have a different delivery. The tempo drop just past the halfway point is very well done, also dropping and then adding the instruments back in to move back to the original theme. There is a nice complexity to the song's composition that is quite enjoyable. "Fearless" continues the trend of change. There is a bit of Thrash underlying the riff, and the rhythm/tone is a bit Doom-laden, though the drum phrases are more intricate and more technical.
"Intended Victim" opens with a nice bass line, accented by the drums before the riff crashes in. The rhythm has a nice chugging pattern, powering through a few minor tone shifts but staying relatively consistent in tempo. Great vocalizations in this one make the track chantable for the fans. It's a great shot at getting crowd interaction playing this song live. This is followed by a minute long instrumental that lets you relax and catch your breath. "Dearest FriEND" is a mellow, melodic song meant to give you a brief respite because you know the Mortalus brand of Metal is about to return to shake everything up.
Enter "Blood Red Sunset," a Classic Metal influenced song. There is just something familiar and comforting about this track. The riff is kind of NWOBHM, kind of Heavy Metal, all badass. You get a quick drum fill to lead the song, a chugging riff, and a thundering bass line, all within the first 20 seconds. The vocal trade-offs and harmonies in this song show the ability of the two voices to combine and contrast as they weave around each other.
The final original song is a faster, heavier track, reaching closer to Thrash Metal with some of the guitar work and the almost abusive rhythm. "We Are Human" is an excellent track with great guitar leads and fills. Michelle really shows her chops on this one. Wrapping the album up is a cover of Kenny Loggins' "Danger Zone," the omnipresent song from the original Top Gun movie, which just saw its' sequel kill it at the box office. This version is well done, going heavier than the original, but not so far as to make it hard to recognize. There is no question that this is the Mortalus rendition.
Mortalus brings killer energy to their craft. The album is fun but not frivolous, rocking hard but not trying to shatter your mind. Their ability to trek through many different sounds and styles while always staying true to their core is cool as hell. They have a wild mix of tones and techniques that make them quite different, not fitting in any actual genre, blazing their own path. This is very admirable.
MZ Ratings:
Musicianship

Guitars – 8
Rhythms – 8
Vocals – 9

Songwriting – 8
Production – 8
Overall – 8.20