Mustan Kuun Lapset – Suruaika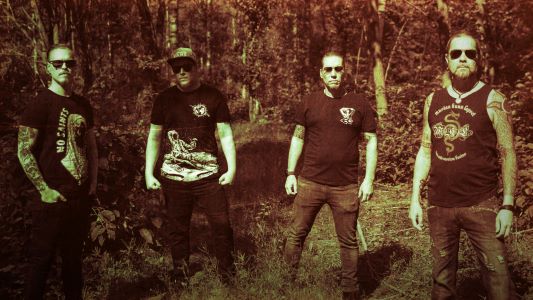 Mustan Kuun Lapset is a Finnish Extreme Metal band formed in 1993, and this is the celebration they've decided to share with us! They've released seven full albums, and this is their second EP. On this disc, they bring together heavy riffs, delicate strings, ethereal and harsh voices, and some ambient tunes that show an impressive range of musical and songwriting skills that belies the tag "Extreme." Suruaika 1993 – 2023 Anniversary EP contains three new songs, as well as a multinational version of one of MKL's most famous works, Morfiinisiivet, originally released in 2007.
https://mustankuunlapset.bandcamp.com/

Band Members:
Pete Lehtinen – Vocals/Guitars/Keyboards
Heikki Piipari – Lead Guitars
Pasi Löfgrén – Bass
Kalle Takalo – Drums
Tero Kalliomäki – Bowed Lyre (Guest)
Paavo Laapotti – Vocals (Guest)
Caroline Salmona – Violin/Piano (Guest)
Axel Salmona – Cello (Guest)
Karen Lammermoor – Vocals (Guest)
Kåre André Sletteberg – Electric Guitar/Bass (Guest)
Max Buell – Drums (Guest)
March 24, 2023 – Inverse Records
Tracklist:

Kirstunkantaja
Muistoa Kunnioittaen
On Suruaika Täytetty
Morfiinisiivet (Alas De Morfina)
First and foremost, this is not what I expected when reading the initial information package. When I think Extreme Metal, I think down-tuned, heavy guitar riffs, high-speed rhythms, and deep-throated growls. This has those things, but it also has so much more. "Kirstunkantaja" is under two minutes and opens with ambient strings plucked and squealed. There are no lyrics, guitars, drums, or bass; there is only this calm, ethereal music that sounds vaguely tribal.
Once you get past that, you get the guitars, but they are not tuned to what I thought I would hear. "Muistoa Kunnioittaen" has harsh vocals and a breakneck rhythm at times, but there are also many melodic influences that slow everything down and have a few killer shifts. The backing vocals add a lot of texture to an already colorful song. This is not Black Metal or anything like that; instead, a lot of colorful tonality is a pleasant surprise.
"On Suruaika Täytetty" opens with more strings and acoustic guitars. The vocals are clean, clear, and serene. The song never shifts to anything like what I would call extreme, metal, or otherwise. This is Folk Rock at best and very well-done folk at that. I do not understand a word of what is being sung, but I find it so relaxing that I do not care. I enjoyed the tempo and the tone as it gently lulled me into serenity.
The final track on the EP is "Morfiinisiivet (Alas De Morfina)." This is the only song that was previously released, adapted for this album. Again, comforting strings and gentle voices put me in a very chill mood, letting the stress of the week at work vanish as I fall into the luxurious melody. This track does get heavier and brings in the electric instruments, but it maintains the overall tone, keeping it mellow and melodic.
This album allowed me to let go of all the chaos I went through this week. I found myself getting lost in the music, drifting into a peaceful place where I could just be okay with the universe. Mustun Kuun Lapset took me from tightly wound to calm and relaxed in the span of 20 minutes. I listened on a loop for about an hour, enjoying the calm. Even the heavier sections took me to happy places in my head. I needed this in ways I did not know, and I am grateful for that.
MZ Ratings:
Musicianship

Guitars – 9
Rhythms – 9
Vocals – 9

Songwriting – 9
Production – 9
Overall – 9.0