Nevermourn/Sepsiss/SINN/Trouble With Parachutes – Sepsiss at Charlee Bravos, Putnam, CT August 6, 2022
Trouble With Parachutes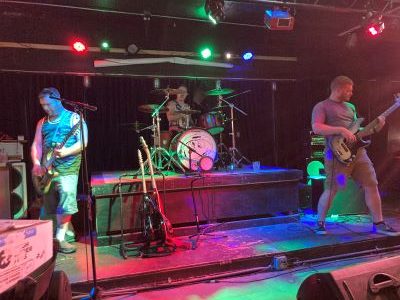 Set List

More Than A Million
Skin Deep Monster
You, The Bats, The Sky
Must Be A Torch
Seroquel
Hemingway And Mark Twain
Vacant Savior
Talking Left-Handed
Last Summer's Star
Lota Ballads
Sink
Arsons Dilemma
If you look at the promo poster, this was supposed to be Karen's Worst Nightmare. Not sure what happened, but Trouble With Parachutes stepped in to fill the void. This was three guys, playing a mixture of grunge, rock, and alt-metal on short notice. They did an admirable job, going through 12 songs in about an hour. They have a cool groove and a pretty chill vibe, not getting too worked up about trying to be the fastest band in the world. Instead, they just jammed through their set, interacting with the crowd, and making sure everyone had a pretty good time.
Playing first, and doing so unexpectedly, can be tough, but the three of them rolled with it and had a good night. Their tunes are fun, sometimes a bit quirky, but always catchy. It's easy to see why these guys are popular with modern rock type crowds. They can play tunes that are easy to pick up on, not some crazy time signature that only prog nerds can decipher. They play together well, they have fun with it, giving each other a little good-natured teasing, and just generally going with the flow. Definitely the correct choice for a last minute fill in!
SINN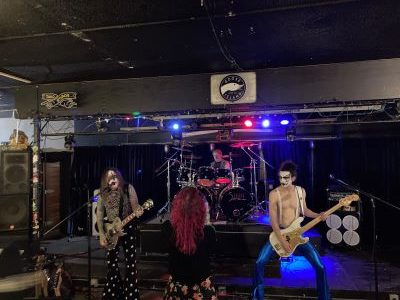 Band Members

Nikki Sinn – Vocals/Guitars
Awall – Bass
Jim Mulvaney – Drums
SINN
SINN website
Facebook
Set List

Get It Back
See It Now
I Believe In A Thing Called Love (The Darkness cover)
Kick It
Time Immortal
Set Your Sights
Times Like These (Foo Fighters cover)
Dreams
Sex
Down
SINN is a wild ride of a band to see live. Two of the three were in face paint and glam/shock rock clothing. The drummer reminded me of Clive Burr (former Iron Maiden drummer) for some reason, not entirely sure why. Either way, they are supposed to be a quartet, so the second guitarist was on bass for this show. It was also Jim's last show as he is retiring from live shows, so it was a bit bittersweet for all of them. The show was also cut short by two songs thanks to a blown amp.
Even with all that going on, they played a killer show. Nikki Sinn has a serious set of pipes, proven on their version of The Darkness' song, "I Believe In A Thing Called Love." They owned that track, doing it justice. The story told is that Nikki won a chance to sing that on stage with The Darkness. I cannot imagine how awesome that must have been. They also honored Taylor Hawkins by covering Foo Fighters "Times Like These." Again, solid work on a beloved song.
These guys are really good musicians. The drums were spectacular, a major driving force on this show. The bass, considering it's actually the guitarist covering down for this show, was on point. I'd love to see Awall play his preferred instrument! Nikki is a showman. 30 plus years of playing are evident in how he handles himself as the singer, and in this case, bandleader. I wish them best of luck in rebuilding the band and hope to catch their new lineup sometime in the future.
Sepsiss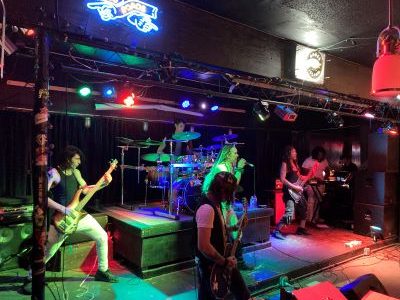 Band Members

Melissa Wolfe – Vocals
William Savant – Guitars/Vocals
Cam Loud – Guitars
Mr. Goodbarz – Keyboards
Johnny Impact – Bass
Joe Mercy – Drums
Set List

More Than B4
Push
Force You To Lay Dwon
Bleedlines
To Write Hate On His Arm
The Swarm
Fair To Say
Blacklight Invasion
Sepsiss was listed as the headliners of this show, but played third instead of last. I was not in on the decision making, so I am just assuming the reasoning was solid and everyone was happy. Sepsiss is six musicians that look like they accidently ended up on stage together. They look like a mixture of rap, emo, nu-metal, and hardcore. You can hear that in the music, too. The keyboards are not a perfect fit for a rock band, sometimes feeling a bit pop/rock while the lead guitars go wild and the rhythm flourishes.
The wild thing is how well this works together. The vocals are mostly clean. Melissa never goes harsh, but William does, though he has his own clean style. They rarely harmonize, instead performing more counterpart vocals. The rhythm guitar and the lead guitar are not always on the same page. The keys sound like a different genre of music, but it all fits together. Oh, and Mr. Goodbarz is also a killer hype man from behind the keys, getting the crowd jumping! There is a bit of sonic dissonance built in to the compositions, but they do this with care, not just slapping something together haphazardly.
Sepsiss does something not many bands do well, they fuse different musical styles together to create a new style. They aren't any one genre of music, instead opting to take their own path and push boundaries like few acts have done in the past. Don't go see this band expecting to hear cookie-cutter music. Melissa's dancing is more interpreting than choreographed, going with the flow of the emotion, not just the beat of the song. The show was entertaining in more ways than one. Sepsiss is not a standard band. Take them just as they are, because that is exactly what they are going to give, every time.
Nevermourn
Set List

Opening The Circle
Sunringer
Hanging By A Thread
Plastic Veins
Trail Of Bloodshed
Release The Demons
Closing The Circle
For some reason, Nevermourn headlined this show, and they made the absolute most of that opportunity. This is a theatrical band, built around a backstory and folklore. They are hard at work on their debut EP and it cannot come out soon enough. Front to back, this is a band of excellent musicians. Jordie, the drummer, is a machine. Whether she's going melodic or 220 BPM double bass, she propels the show with a dominance reserved for master-class performers. Lucas matches her on the bass, providing a thundering undercurrent for the songs.
Bili sets a tone with both keys/synths and percussion. He is part of the act, masked up and moving around the stage like a caged animal. Roxy is a shredder when she needs to be, a subtle, gentle undertone when needed. She fits herself into the composition in the most beautiful of ways. Rach Karma is not a frontwoman. She is a performer. She does both the clean and harsh vocals, shifting within a single phrase, which shows her mastery of her instrument. She is also the narrator and storyteller, transitioning from one song to the next.
Nevermourn are a performance band. They are symphonic, cinematic and progressive in their metal. They do not conform to one simple style, genre, or even visual medium. There is a pageantry to their show, one that will only be expanded and upgraded as they keep going forward. Their music tells a story. They use that story to create a stage show. This is more than just a collection of songs, it's a tale that needs to be told. It's a show that needs to be seen. It's poetry, pageantry, and theater all wrapped into one killer concert.