New Horizon – Gate Of The Gods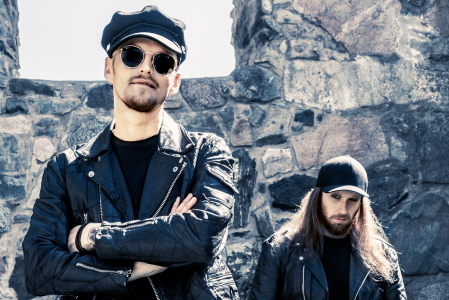 New Horizon is a new project from vocalist Erik Grönwall and songwriter/producer/multi-instrumentalist Jona Tee, former bandmates in H.E.A.T. Their debut album, Gate Of The Gods, is a first step to establishing themselves in the world of power metal. The vocals are epic, the rhythms pounding, and the lead work of the guitars and keyboards is blazing fast. Consider the gauntlet thrown down and the banner raised!
Frontiers Music SRL https://newhorizon.se/

Band Members:
Erik "Power" Grönwall – Lead Vocals
Jona Tee – Bass/Guitars/Keyboards/Backing Vocals
Release Date: March 11, 2022
Tracklist:

A New Horizon (Intro)
We Unite
Stronger Than Steel
Cry For Freedom
Call Of The Underground
Stardust
Event Horizon
The End Of All
Fearless
Gate Of The Gods
The album opens with "A New Horizon," a short intro built around a futuristic vibe. This feels like a soundtrack to a space-based movie. It takes us into "We Unite," a rapid-fire track that is pure power metal. Layered vocals and choirs over a massive guitar riff and a bombastic rhythm. Those vocals go from lower register to an excellent falsetto. Eric really knows how to belt, and hold, an epic note. The guitar leads are really nice. They're precise and frenetic at the same time. New Horizon does a great job of using contrasting voices to expand the song.
"Stronger Than Steel" is a heavier song, going lower on the guitar neck for the riff. The vocals are immediately set to full power, though they drop lower later. There is some excellent grit thrown into the voice on this one that was not as evident on the previous track. The drums come a little farther forward on this one. The rhythm is more prominent during those spots; the guitars go for a more chugging riff, leaving space for the rhythm to barrel through like a charging rhino.
Getting back to a more keyboard-driven song, we arrive at "Stardust," another journey into the futuristic end of the New Horizon repertoire. Here the bass takes a turn, really shining through. Acting like a third guitar rather than a rhythm instrument, the track has a bigger sound. I'm not trying to minimize the other songs, just state that this one goes even bigger than some of the others. The vocals really accentuate this phenomenon by spending a reasonable amount of time in the falsetto range, powering the song ahead. The piano interlude in the middle is also a very nice touch.
For a true bass lead, head over to "Event Horizon." Right at the front, we get some nice bass fills, a proper power metal standard for any album in this genre. Here, we get another space-themed song that has a pretty cool video to go along with it. The vocals are layered really well on this song. The subdued vocalizations between the lyrics are an excellent addition. All of this adds to the song's overall effect, making it fuller and more bombastic.
The album finishes with the epic title track. "Gate Of The Gods" is a seven-and-a-half-minute song with a massive Arabian-influenced rhythm. The guitars are stunning on this track. The vocals are somehow even more vivacious and epic than before. The shifts from clean to gritty are on point for this one. After venturing into the future earlier, this is the track that takes us back in time, feeling like an homage to the Egyptian gods of old. They definitely saved the best for last. This song is their most ambitious, and it really works for them. This is the "signature sound" the band can build their future works around.
New Horizon has already hit a stride with this release, which is pretty impressive for a debut album. It helps that Eric and Jona have worked together previously. They have put together an album full of really good songs. They have pushed a few boundaries, tested a couple of limits, and passed all tests easily. They use guitars and keyboards both for leads, shaping the tone for each track independently. Each track is unique and holds something to hear that you didn't get before. They have a great mix of rhythms that highlight their ability to write anything they want and be able to pull it off handily.
MZ Ratings:
Musicianship

Guitars – 9
Rhythms – 9
Vocals – 9

Songwriting – 8
Production – 8
Overall – 8.60