No Honor Among Thieves – Death Is Only The Beginning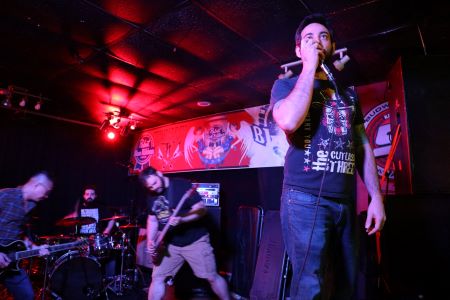 No Honor Among Thieves is a Connecticut-based Hardcore Metal band with some heavy Punk influences. The vocals are harsh, the rhythms are fast, and the riffs are heavy, so don't come here looking for a radio hit. This is a band you listen to vent your angst and exorcise your personal demons. Live, it will be a rite, a ceremony, a connection between stage and pit. Welcome to anthemic music with over the top attitude.
https://nhatct.bandcamp.com/album/death-is-only-the-beginning

Band Members:
Steve– Vocals
Vin– Guitars
Vito– Bass
James– Drums
March 11, 2022
Tracklist:

In Motion
Hivemind
When All Is Said And Done
Warship
Veins
Confirm-Conform
Fragments
Playing With Fire
Apparitions
Armor
Inevitable
Death Is Only The Beginning
Endemic
The album starts with "In Motion," a 57-second track that brings the heavy immediately. Spoken words and echoing shouts punctuate the opening riff. It is heavy and has a touch of sludge in it at times. The drums are measured and precise, while the bass hits hard. This leads to "Hivemind," a song with some drops and pauses that really help establish this band as one who can write engaging and creative tunes that don't conform to the "industry standard."
"When All Is Said And Done" is a track that uses some of the punk influences, though appreciably faster than many typical punk songs. Lyrically, this song seems to be about how we're all just trying to do the best we can with what we've got and not hurt anyone who doesn't deserve it. Life gets busy, and sometimes it is all we can do just to hang on for dear life. The drums are the featured instrument here, often taking the lead with the vocals, holding down the fort until the rest of the instruments are ready to come crashing in again.
Both "Warship" and "Veins" bring the heavy. "Warship" has a killer groove; the riff and rhythm are both fun little chugging patterns with a couple of nice twists and turns added by guitar fills. "Veins" is a violent brand of heavy with the riff getting brutal. The backing growls layered under the main voice add some depth to the tone, making it feel even angrier than some other tracks.
The next two songs combined are only three and a half minutes. The short songs allow for more topics to be packed into this rebellious angst fest, so "Confirm-Conform," coming in at just over a minute, fits the bill. "Terror Forming" continues the short song rage, going heavy from start to finish, never relenting, constantly pushing the envelope a bit farther.
Death Is Only The Beginning continues along this vein for seven more songs. "Fragments" has some killer riff shifts and a well-placed melodic passage that allows for a killer transition to some different phrasing, and "Playing With Fire" takes less than two minutes to warn you not to get yourself burned, though many will not heed that call.
The following two tracks, "Apparitions" and "Armor," are contrasting pieces. "Armor" is more melodic yet retains all the heaviness you want from these guys. This tempered Hardcore/Punk attitude really grabs the ears. Everything has a muted anger; the drums slowly build the tempo, giving the bass and guitars something to dance over. Granted, this dance is not a delicate ballet, as anyone who has been to a hardcore show can attest, but it is rhythmic moving nonetheless.
"Inevitable" has gunfire sounding start from the drums. The sound of the drum strikes just has that sharp report that is reminiscent of automatic weaponry. The shifts to chugging riffs, coupled with the rapid-fire double bass drumming, hammers the vocal delivery home.
Next comes the title track. There is no melodic in this intro, just heavy riffing and a bombastic rhythm that hits a major Hardcore stride near the middle, coming in almost like a breakdown. The bridge, after that, is more melodic with some outstanding bass work. The guitar leads are well-placed and very well done.
The record wraps with the 44-second "Endemic." In less than a minute, NHAT demonstrates the range of their musical influences, going from heavy to melodic to sludgy and back. They make their points concisely, which is how they manage to write songs this short that still have themes and a purpose. There are tone and tempo shifts, but not of the Progressive Metal style, instead just changing the musical passages to show the change in emotion you need to feel to understand the song. It takes great skill to do that in only 44 seconds.
No Honor Among Thieves do not mince words; they do not beat around the bush. They bash you over the skull with their wisdom with speed and fury. Even when they take their foot off the gas and go melodic, they retain the heaviness.
The Hardcore fusion into the Punk aesthetic is a beautiful mixture of genres that often have a broader appeal because it grabs the disenfranchised from more than one group. It holds those who feel lost in a warm embrace of chaos and warmth. If you don't know how that feels, you've led a pretty stable life. I feel sad for you; you may never know how it feels to find something like this to cling to for dear life.
MZ Ratings:
Musicianship

Guitars – 9
Rhythms – 9
Vocals – 9

Songwriting – 9
Production – 8
Overall – 8.80