Nightwish – Tsongas Arena, Lowell, MA, May 7, 2022
Beast In Black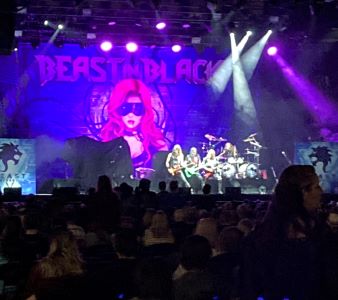 Band Members

Yannis Papadopoulos – Vocals
Kasperi Heikkinen – Guitars
Anton Kabanen – Guitars/Backing Vocals
Mate Molnar – Bass
Atte Palokangas – Drums
Beast In Black
https://beastinblack.com
Facebook
Instagram
Set List

Blade Runner
From Hell With Love
Beast in Black
Born Again
Die by the Blade
Moonlight Rendezvous
One Night in Tokyo
Blind and Frozen
End of the World
Beast In Black is a Finnish power metal band that leans heavily into the pop/arena rock end of that spectrum. Even live, that pop influence is quite apparent. This is due primarily to the keyboard stylings that are layered into the recordings. Some bands opt to lessen the keys live, making themselves sound heavier, but Beast In Black stayed true to their brand and let the keys fly free. They also had a lot of fun playing live.
Additional influences that were easy to spot are 80 twin guitar attacks and live antics. All three guitars were lined up for some Judas Priest style synchronized jamming more than once. That was fun to see, and I was not the only one to notice. One fan, Vanessa, was on her feet, headbanging and playing air guitar the entire time. Asked after the show what was her favorite part of the concert, she responded with, "The singing, that guy can hit some epic notes!" She also loves the energy of the band, which was definitely on display the entire set!
And speaking of vocals, as good as the lead singer is, his backing vocalist is equally good, though he plays a different role. Going grittier and even heading towards some fierce growls, he carried the bottom end of the vocals with finesse and expertise. The two of them combined made some killer songs sound really good live. Another fan, Bit, agreed. Her favorite part of the show was being able to scream the lyrics out with everyone else. Her favorite thing about the band is their epic lyrics and the manga/fantasy themes they use to create dramatic tales of heroism.
For those who love the 80s and the bombastic attitude and sounds, Beast In Black will make you smile. They bring back the warm, fuzzy memories of the past without getting too cheesy. If you miss the opening act on this tour, you need to see them the next time they come through because you really missed a good show. They rocked hard and kept the crowd actively engaged better than most openers and even better than some headliners I've seen in the past.
Nightwish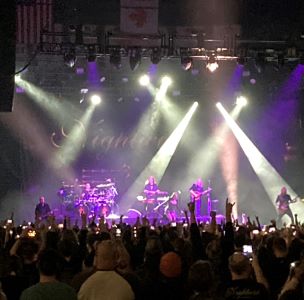 Band Members

Floor Jansen – Vocals
Tuomas Holopainen – Keyboards
Emppu Vuorinen – Guitars
Troy Donockley – Uilleann Pipes, Tin Whistle, Low Whistle, Guitars, Bouzouki, Bodhrán, Male Vocals
Kai Hahto – Drums, Percussion
Jukka Koskinen – Bass
Nightwish
https://www.nightwish.com
Facebook
Instagram
Set List

Music (Intro, drums kick in as part of this)
Noise
Planet Hell
Tribal
Élan
Storytime
She Is My Sin
Harvest
7 Days to the Wolves
Dark Chest of Wonders
I Want My Tears Back
Ever Dream
Nemo
How's the Heart? (Troy & Floor)
Shoemaker
Last Ride of the Day
Ghost Love Score
The Greatest Show on Earth
All the Works of Nature Which Adorn the World: Ⅷ. Ad Astra (Outro with Floor singing)
How do you accurately describe a Nightwish show? Amazing, epic, outstanding, and lots of other superlatives that barely scratch the surface. The show opens with a recording of "Music" playing over the sound system. Partway through this, Kai comes out and starts pounding his kit with a fury that almost made me feel sorry for the poor heads. Once that was done, the rest of the band emerged, and they began to make a joyful "Noise."
Bad puns aside, this is one talented band. Nightwish spent about two hours on stage, giving the fans everything they wanted and more. They played songs from every era of Nightwish, and Floor owned every bit of it. She is fantastic live. She hits and holds notes that many singers only dream about. She can also take it down about 10 notches and gently warble out delicate tunes. When she and Troy did the acoustic version of "How's The Heart?" the entire crowd hung on every nuance they offered. However, she made sure everyone remembers how much power she has by crushing the finale of "Ghost Love Score" much like the one from Wacken Open Air in 2013.
One of the interesting things is that Floor took on some of Marco's parts in songs like "Planet Hell," singing both the male and female roles. Troy was support on those songs where they kept the male vocals intact. Either way, the voices were beautiful and crystal clear, thanks to a good soundboard mix.
Jukka and Emppu seemed to have a lot of fun crossing over each other. They switched sides of the stage frequently and made sure to interact with as many fans as they could during the entire show. Tuomas hung back, level with Kai on drums as far as stage position. Never one to try to take too much spotlight, though he deserves all he can get, he stays in the background a bit and handles the keyboard duties like few musicians can. This guy is an absolute professional. Maestro seems like an understated term for someone with his talents. Combined, they all make up something extraordinary, and this show proved they can do this on record and live.
Both bands were obviously grateful to be back on the road. They said this more than once. Music is something special. It needs to be heard, not just at home or in the car, but in concert halls and clubs as well. For two years, performers have not really been allowed to perform. The gratitude of both the bands for getting the privilege of playing again is evident. This is the sixth concert for me this year, and every band has mentioned being thankful for getting on the road again. Believe me, the fans are just as happy this is finally a thing again.
The crowd was utterly enrapt. They watched, they sang, they headbanged, and they danced. Behind me was a family from Ukraine. They made this a group outing, and the youngest member of the crew was only seven years old. She danced and helped her dad hold their native flag in the air. People wore rainbow gear in support of LGBTQ equality. Others wore band t-shirts from a wide variety of metal genres. The best part of all of this is that everyone seemed to get along. There were no arguments about politics or anything like that. We were all there for the music, which transcends hatred better than anything else on Earth.
Concerts allow people who may not ever meet any other way to come together and spend an evening in communion with each other and the bands. I never go to a show and stay silent. Metal fans are chatty, especially when talking about the music and bands they love so much. This was no different. Beast In Black and Nightwish both brought the masses together for an evening of sonic blissfulness that is beyond compare.