Nonpoint/Blacktop Mojo/Sumo Cyco/Overdriven – Emerald Cities Tour at Fredericksburg, VA March 3, 2023
Overdriven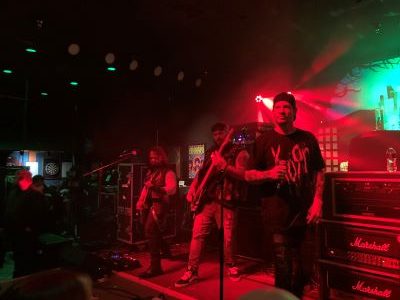 Set List

Sky Is Falling
River
15 For $80
Rock And Roll
Voodoo Child (Jimi Hendrix cover)
Overdriven was the local talent brought up to play a national touring stage for a night. These guys decided to take full advantage of that and show the hell out! They played five songs that had solid style. They had a lot of Doom Metal mixed into a nice, heavy sound. They also had a bit of a throwback vibe, showing some Classic Rock and Heavy Metal influences. Come on, they did "Voodoo Child" from the inimitable Jimi Hendrix, that right there tells you how far back their love of rock and metal goes.
They had a few Black Sabbath style riffs and their rhythms were low and heavy, moving in perfect time with the tone of the composition. They put on a good show and stuck around afterwards to talk to fans and support the rest of the bands. I believe the business world calls this networking, and they did what they needed to.
On a different note, these guys are really trying to promote a local scene, hoping to build a base that will draw more new talent to the area. Check out their socials 9handily provided for you) to give them a boost. Like, follow, click, tap, watch, comment, whatever, just SUPPORT LOCAL MUSIC!!!!! Check out the dates they have listed for shows, and if you live in the area, get to one of them. I'll get to as many as I can, rest assured of that!
Sumo Cyco
Set List

Undefeated
Love You Wrong
The Ugly
Vertigo
No Surrender
Run With The Giants
Move Mountains
Bystander
Sumo Cyco is one of those bands that has to be seen to be believed. They are a Rock/Reggae/Metal/Folk mix that defies logic, but works on so many levels. Skye can described as part Tatiana (Jinjer) and part Gwen Stefani (No Doubt/solo), or you can just realize she is 100% badass Skye "Sever" Sweetnam. She belts, wails, screams, growls, and croons, holding one of the better ranges in music today. She also gets out in the crowd and interacts there and at the merch table. She is the ultimate frontwoman.
And the band is badass, too! Matt and Oscar prowl the stage, singing back up when necessary and working together to provide a massive wave of sound for Skye to ride. Joey sits on his throne keeping everything in time and in line, often windmilling his hair while drumming. They are funky, fun, and definitely a must-see band. Part way through their set, just for fun, they ripped out a quick cover piece of a System Of A Down song to get the crowd motivated to bounce. It worked just like it should have.
Sumo Cyco is one of those bands that needs to be higher up the food chain. They work hard, tour hard, and deserve all the love they can get. They put on an energetic show that is raw, heavy, and pure fun. This was my third time to see them live. Catch them when they come to a town near you!
Blacktop Mojo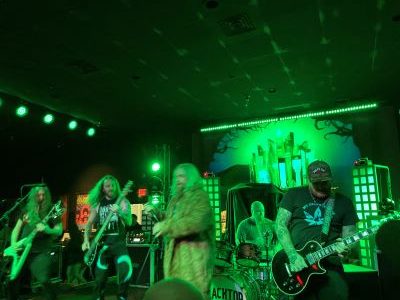 Band Members

Matt James – Vocals
Malcolm Booher – Lead Guitars/Backing Vocals
Chuck Wepfer – Rhythm Guitars
Matt Curtis – Bass/Backing Vocals
Nathan Gillis – Drums
Blacktop Mojo
https://blacktopmojo.com
Facebook
Instagram
Set List

CDB
Wicked Woman
End of Days
Burn the Ships
Strike Me
Can't Sleep
All Mine
Where the Wind Blows
Dream On (Aerosmith cover)
Blacktop Mojo is equal parts Rock, Doom, Heavy, and Southern Fried metals. They roam wherever they want musically, only taking breaks to help get rid of the drunk guy who was having a hard time being one with the crowd. They played their hearts out, rocking the house with mostly original material. The cover they did? Hell yeah, they crushed Aerosmith's "Dream On" like true professionals. They didn't overpower the song, nor did they "play it safe" and do an exact copy. Instead, they put their own signature flair on it.
What is Blacktop Mojo's signature flair? Come on, Matt James walked out on stage in a fur coat (I have no idea if it is real or not, don't ask) in a venue that was already heated up from two earlier bands. Dude must have been running at about 103 degrees in that thing. The cool thing about this band is they have a groove to them. Whether they're in the Doom or the Heavy end, they always have a chill vibe going on, just tearing up the stage like it was nothing.
The crowd was definitely into these guys. Lots of people yelling along with the lyrics, one lady dancing her heart out towards the back, singing along, talking between songs about how much she likes the music. That's how you know you've connected with the fans. They sell your music just as hard as you play it. This is the first time I've seen these guys and I hope it is not the last!
Nonpoint
Band Members

Elias Soriano – Vocals
Jaysin Zeilstra – Guitars
Rasheed Thomas – Guitars
Adam Woloszyn – Bass
Robb Rivera – Drums
Set List

Mindtrip
What a Day
Paper Tigers
Dodge Your Destiny
Circles
Chaos and Earthquakes
March of War
The Truth
Heartless
Alive And Kicking
Ruthless
Buscandome
That Day (with Skye Sweetnam)
In the Air Tonight (Phil Collins cover (with Matt James)
Bullet With A Name
Holy smokes, Nonpoint is just as good now as they've ever been. I've seen these guys a number of times in many different states, Arkansas, Rhode island, New Hampshire, and now Virginia. I almost missed the show, but a guy gave me a ticket because he had an extra. Good thing, because it was SOLD OUT!! It was his 94th time to see these guys live. How do you know people love you? They see you 94 times in 20 years. Yeah, that is loyalty.
Nonpoint did some deep cuts on this tour. They took out a few of my mainstream favorites and added in some really cool songs that don't get the love they deserve. I missed "Rabia" and "Generation Idiot," but loved hearing "March Of War."
Nonpoint is as active on stage now as they were 20 years ago. Moving around, engaging the fans, locking eyes with them, giving them a thumbs up or a fist bump, creating that bond the fans love. Having recently formed their own management company and taking control of their own destiny, they are doing their own thing and making sure they are representing their own best interests, rather than losing chances because someone who doesn't know them, know how they operate, doesn't see a profit in it.
What those people in suits don't know is that there are people out there who have seen this band 94 times. That is part of that "X Factor" you hear people talking about. They've got "It." Now, he guys who have "It" are in control of their own destiny and the fans will ultimately benefit from that. I am so glad these guys are still "Alive And Kicking," both on stage and on record.