Oryad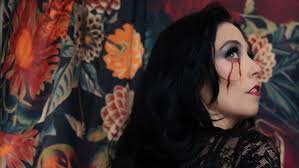 Oryad is a stunning mix of Doom, Symphonic, Epic, Cinematic, and Power Metal with elements of Jazz and so much more added in to create a unique blend of music that is bold and beautiful. You will read that Moira finds this to be a fairly straight-forward record. That may be true for a musician with her training and background, but to someone who is not as well versed in music theory and cannot write music to save his life, it is something truly special.

Two things I feel I need to point out:

First, the fact Vikram Shankar engineered this album speaks volumes. That man is a musical genius. Don't know who he is? Do yourself a favor and deep dive into his music as a writer, player, and behind the scenes. Oryad made the perfect choice to handle this with the delicacy and finesse it needed.

Second, her choices of bands to dream tour with are AMAZING! Cellar Darling is excellent live. I've not seen Vintersea live, but they are one of my favorite bands right now. Look at all those bands and just imagine how well they would all go together. This need to be a festival!

Thank you so much, Moira, for taking the time to answer these questions!
Oryad are:

Moira Murphy – Vocals/Piano/Synthesizers/Orchestration
Matt Gotlin-Sheehan – Drums
Metal Zenith(MZ) – How did Colorado and Tennessee meet to form this "odd couple" duo? How did Oryad come to be?
Moira – I lived in Colorado for 7 years and the band was formed at that time. We were a traditional, 4-band local band then, working on songs and playing them live. I wanted to do something beyond the confines of the opera career I was working on building, and met the members through mutual friends who had their hands in multiple genres. I met our first guitarist, Luca Grieman, through the partner of an opera friend. They had gone to music school together. Matt Gotlin-Sheehan and I met playing in the band of a singer-songwriter where I was doing backing vocals. Our original bassist and collaborator Adam Sanders, went to school with both Luca and Matt, and we met when I was singing a corporate party gig.
MZ – What are each of your influences? Not just bands, but genres and styles?
Moira – We all have quite a variety of musical experience across genres, and we've carried that with us as we began working on original material. For me, I've been influenced by everything from the orchestral works of Richard Strauss and Mahler to the piano works of Debussy and jazz great Bill Evans, to the pop hits of the 1960s and 1970s, the classical crossover in Therion and Nightwish, the gloomy atmosphere of Chelsea Wolfe and the folky power in Cellar Darling and Eluveitie, etc. I listen to a lot of prog metal, contemporary classical, 70s rock, and jazz. Matt studied jazz and American music with Luca and Adam in school and brings a real metalcore-meets-djent-meets-prog sensibility to things and is always sending me cool new stuff to listen to.
MZ – Who is the main creator of the album concept or was there equal input?
Moira – In terms of marketing and development, overall style, etc. that's me. I've had a thematic vision for a long time that draws upon both personal and metaphysical elements and the guys have always been super supportive of that. However, the actual music composition is a team effort. Many of the album's songs were co-written and/or recorded by our original quartet.
MZ – Where did you come up with the very bold ideas to weave so many different styles of music together? And not just across the whole album, but within single songs?
Moira – It's funny, but I've never considered it to be very bold! We let the poetry or the melody guide the way and built upon that. Our interests are too diverse to stay put.
MZ – Some of the constructs are not just bold, they're brazen, almost daring the listener to keep up. What inspired you to experiment that broadly with sonic textures?
Moira – When we got together to sketch ideas that would eventually become sections of songs, we tossed what didn't work and kept what really jived with us, made us smile, made sense with the poetry. I never considered it to be a conscious effort to experiment, just an effort to try and capture a theme, an emotion.
MZ – Combining Symphonic Metal with Jazz and World music seems risky. What gave you the confidence to pursue that?
Moira – I'm not sure confidence really comes into the mix. It's just what made sense to me!
MZ – There are a lot of different pattern shifts and odd phrasings within the music. The vocals weave and bob through all of that, sometimes dipping below the music, only to come soaring out over the soundscape. How did that vision form in your mind?
Moira – I think my classical background has a lot to do with this, and especially after taking my composition and arranging lessons from Francesco Ferrini. We both have classical backgrounds and got to work on these concepts in the orchestration stage which was such an enriching process. Matt once called our songs "Metal Tone Poems," and I think that is the perfect description. I'm a big fan of Richard Strauss, so it makes sense to try, in my own humble way, to carry on his concept of these symphonic tone poems.

In a listener's musical experience, the cadence of the phrase or rhythmic shift creates an emotional response. The job of all the players (from instrumentalists to vocalists) is to fit their piece of the aural puzzle into the whole, which means different voices speak their lines, ebb and flow. The vocals aren't always the focal point. Neither are the drums, or the guitar. They all have things to say. Sometimes together and sometimes separately.

For example, the instrumental breakdown and heavy riffage in 'Slice of Time' was a representation of the anxiety and insomnia plaguing the speaker. Dealing with severe insomnia due to anxiety can make you feel fragmented, disjointed. Then once you're there, it's hard to climb out of that hole. The second riff falls downward, chromatically. You start craving your little hole even though you may feel worse and worse. In 'Eve,' the use of 6/8 instead of a square 4/4 time signature gives the entire thing a dance-like feel, as well as a circular, falling motif in the music. The sensuousness of dance is a universal human experience, and in this song Eve fights against being painted as fallen, the root of sin and eventually lust (for bodies, power, etc) vis a vis being the mother of sinful man. She receives a dancelike, sensuous melody. She gets to sing powerfully over a black-metal-tinged guitar chorus. She subverts expectations.


MZ – How does that come to be? Did the idea form that way, or did it evolve over the course of writing and recording?
Moira – To write in the manner of a tone poem was always intentional, as it's the way I think and write. The styles and rhythms that came out of that were guided by the poetry or the theme or the melody.


MZ – What is the main thing you want the listener to take away from this album?
Moira – I want listeners to have a personal, ritualistic experience. Whether that leads them to a meditation on personal growth, or grief, or self-discovery…. that's up to them.


MZ – The album shifts from heavy to melodic to doom-laden, then veers into power and over to gothic. How did you manage to come up with such a wild array of styles, yet manage to stay so coherent in overall theme?
Moira – The array of styles comes from all our voracious listening habits, to be honest. As for cohesion, that can be a challenge. I think we tend to have some "signatures" to the way we write, which keeps a thread through the album (in terms of verse phrasing, guitar tone, use of piano).


MZ – Path I and Path II tied the whole record together, but there was a massive variety of tones and textures. How long and how many takes did it take to create that continuity across the record?
Moira – This was actually a wonderfully fortuitous occurrence. The Path I and II were actually written after everything else. The melody had bounced around my head and an old sketchbook for about 3 years, but it wasn't until I was on a very rainy hike in the mountains that this poem came to me and when I got back home, discovered it fit with this little melodic snippet. Reading it, I felt like the poem had two parts: morning and night. So I decided to split it and use it as bookends for the album. The thematic material encapsulated everything else so nicely. Once that idea settled for me, it took no time to finish writing it and scoring it for string quartet. It just…. kind of fell out of my head. The different elements of horn call vs. electronic beats were Vik's (Vikram Shankar) idea after me trying to explain this concept of journeys, ancient journeys. And I think that's what really put the icing on the cake.


MZ – This album is an amazing feat of recording and engineering. How did you get the mix right on this?
Moira – This was all Vikram Shankar; he's such a talented (multi)instrumentalist and engineer. We knew each other from an opera festival many years ago and I found we were both in the same worlds once again. I'd send him all our stems, my poetry, the mood, any inspiration and he went with it, got the mix honed in and added those horn calls, made suggestions on The Path.


MZ – The way the vocals and music maneuver around each other is quite incredible and fairly novel. What inspired this mixture?
Moira – Thank you! I've never thought of it being so novel, really. It's an approach that comes up a lot in both classical and jazz music.


MZ – Is there a song you think sums up the theme of the album lyrically? Musically?
Moira – Lyrically, that's a hard choice to make. Musically, I would say 'Eve' or 'Slice of Time.'


MZ – What message would you give a songwriter who dares to push the boundaries in this fashion?
Moira – I would say, do what you want to do! I spent a few decades chasing the "correct" form and method of doing things in an attempt to build a career and it hurt my chances more than helped them. It wasn't until I started doing my own music that people could see the authenticity and really react to it. Now all my old colleagues say, "Yes, this is on brand for you and OF COURSE you're doing this. It is just…. you."


MZ – You use silence to fill space in places. Do you think silence is an under-utilized tool in a musician's toolkit?
Moira – Yes, without a doubt. As much as negative space is crucial in visual art.


MZ – Is this a one-off album or could there be a sequel?
Moira – Thematically there is not a sequel, but we are working on a new album. The overarching theme made itself evident to me a few weeks ago, but I'll keep that as a surprise.


MZ – Do you have hopes to take this on tour? Where do you want to tour?
Moira – We would love the opportunity to tour extensively. Being separated by distance and being a small unknown band carries with it some logistical and economic difficulties. However, we are working hard at the moment to do the work. We have a small 4-city tour planned for the Mountain West in September of 2023 and are trying to lay the groundwork for more shows in 2024. My ultimate dream is to perform in the GSA countries and the British Isles, but I'd also love to play all along the Appalachian range of the United States and the west coast of the US.


MZ – Are there any bands you want to share the stage with (local, regional, or international)?
Moira – Oh yes, I have my dream, pie-in-the-sky wishlist of international touring bands. That would be: Oceans of Slumber, Leprous, Cellar Darling, Eivor, Sleep Token, Blackbriar. I've also been quite taken with Dreadnought in Denver and Vintersea from Oregon and would love to play with them as well.


MZ – What does the immediate future hold for Oryad (Tour, more writing, both)?
Moira – We're working on new material and gearing up for a small tour this fall, which will be here before we know it.


MZ – Is this likely to remain a two-person project or are you looking to make this a complete recording and touring band with a long-term lineup?
Moira – We currently work with a steady group of collaborators who are either past permanent members or folks we've worked with quite a bit. They are the songwriters on the album, dear friends, and happy to jump into a show. We are in the process of scouting and talking with people to bring on a permanent guitarist to complete the basic line-up and do songwriting with the two of us. Bass and rhythm guitar may or may not become permanent roles.