Peter De Reyna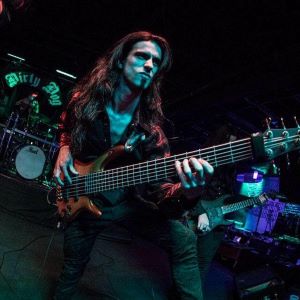 Peter Albert De Reyna is a Berklee educated musician of the highest caliber. He plays electric and upright bass, sings, and manages multiple bands through his own company, De Reyna Artist Management. Together with his partners in the management company, he has a growing number of bands on the roster. At this point, most of those bands are firmly in the progressive, power, and/or symphonic metal genres.
De Reyna Artist Management – Session Bass for numerous projects https://peteralbertdereyna.com
Mr. De Reyna recently took time out of his incredibly busy schedule to answer a few questions, giving us an insight into an outrageously talented mind.
His love of music started early. In his own words, "I think that when I was very young, my parents and other family members exposed me to a lot of different music and gave me records to listen to. On car trips I would listen to everything they gave me and over time I learned how to listen very deeply and actively. While I was in elementary school I took classical guitar lessons but I hated it! Then in middle school, a lot of my friends ended up being the rock/metal types and I was exposed to even more music. Since I wasn't very well trained at the time I couldn't join the school jazz band or any other ensemble really, but I could play with my metal buddies. They happened to need a bass player one day and I looked at the tabs and took right to it! I've been taking lessons and practicing ever since."
To hear this now, I wonder how any band could have ever decided he wasn't "very well trained," but every musician has to start somewhere. Now, there are bands actively requesting his session work. The list below is not all inclusive. Some of the recordings have yet to be released, so they cannot be discussed in full. The big thing to note on this is that there is more spectacular bass coming!
To hear Peter play on any of the metal albums, regardless of the specific genre, you would think he is metal through and through. That is not the case, though. While metal rules, there are other significant movements that led to metal. It was not created out of a vacuum. When asked about his influences, he stated, "This has changed so many times for me – I think that sources of inspiration are very fluid. These days I'm usually inspired by a lot of jazz artists, both acclaimed and unknown. Manouche music and gypsy jazz as a whole have been a huge part of my musical self for about as long as metal has. I'm also inspired by a lot of orchestral material. There is so much art that I've found that sticks with me, I could go on for a long time!"
Since I follow him on social media, I've seen him post a number of videos of him doing playthroughs of some songs and covers of others, but there is more to him than just showing off his skills within his primary genre. After seeing some videos of him playing at various jazz nights in Boston, I asked if he was planning on playing on something other than a metal album. His response, "I've actually played on a few jazz albums – some are not yet released but some are. You can find my whole discography at peteralbertdereyna.com."
Then I had to ask, how has playing jazz helped or influenced how and what you play with Seven Spires? "It has expanded my ears so that I'm able to hear more of the possibilities within a chord, melody, section, or song. Jazz has been a part of my life for as long as metal has and the skills go hand in hand with the right mindset applied."
To hear his most bass guitar work in the progressive melodic death power metal realm, check out the three albums by Seven Spires:
Solveig
Emerald Seas
Gods Of Debauchery
To hear what he sounds like playing in tons of other musical styles, check out this limited selection of goodies:
A Feast for Lampreys – Graveyard Abyss (2022)
DOVAS – Preacher of Lies (2022)
FireWing – Resurrection (2021)
DOVAS – Everlasting Lake of Fire (2020)
Unflesh – Savior (2018)
A Squandered Potential – A Squandered Potential (2022)
TimeGhost – Reading to Cigar Makers (2021)
Ok Goodnight – Awake (Single, 2020)
Meresha – Red Headed Lover (Single, 2020)
Christian Vegh – Love on the Airwaves (Single, 2020)
Christian Vegh – Delaney (Single, 2020)
Kyle Morrison & Dirk Verbeuren – Lucid Dream (Single, 2018)
And to see how he does all this amazing work, check out his personal YouTube channel: https://www.youtube.com/channel/UCgG8Okf-tHrLbY6zOqdkhug
Questions had to turn to the management aspect of his world. After all, he manages the band he plays in. Having spoken to all the members of the band at one time or another, I've learned they all work together well, but are also friends. Each brings something unique to the project. Peter brought the business mind. The most perfect example I have of this was the difference in answers to questions about the Lightbringer coffee developed in conjunction with BlakHart Coffee Roasters. I asked both Peter and Jack Kosto (guitars for Seven Spires) about whether there was a chance there might be a second roast produced for dark roast fans that would be called "Unmapped Darkness" after the song of the same name. Jack's answer was that light roast has more flavor and more caffeine, while Peter said it could happen if the fans want it. Here, we have the perfect difference between a coffee lover and the business thinker. This is just a minor example of why Seven Spires is a well-rounded band.
I asked Peter what got him into the management end of the music business, and his answer was not surprising, "From my first semester at Berklee, Seven Spires was looking into record label partnerships. I was inclined to learn as much as I could about this aspect of the industry so that I could look out for myself and the band. I was lucky to have these fantastic resources available while navigating the industry at the same time."
While his company manages the band, there is no "ultimate control" of what is and is not done by the company. When it comes to what is sold at the merch table, "The merchandise is designed and selected by the band as a whole – usually someone presents the idea and we all discuss & refine. It's a great process!" De Reyna Management acts more like a partner to protect the band than as a company designed to run every aspect of the bands business.
De Reyna Management has a few bands that play in the same genre. Both AfterTime and Empress have tons of power and symphonic metal elements, so I asked if there was ever going to be a De Reyna Management tour. Instead of telling me what I wanted to hear, he just said "we'll see what the future holds." I almost wrote back to tell him what answer I wanted him to give, but I doubt that would have done me any good, so I will just continue to hope there will be a show with multiple bands from his roster playing on the same bill.
Knowing he can play multiple styles of music and that he is a fan of more than just metal, I had to ask if he was going to stick to the prog/symphonic/power metal bands or do you hope to expand into other genres? "As far as both my musicianship and the management aspects of my career, I always hope to expand my base of knowledge." I think this is probably the best answer that can be given, both as a musician and a business partner. I know that I wish him all the success he needs in all his future endeavors.
Next, we went more into his playing style and technique, and even dipped into his shift into singing.

MZ – Do you ever play a four-string bass?
PDR – All the time! Whenever it suits the song or gig.

MZ – Do you ever use a plectrum?
PDR – Yes, also whenever it suits the song or gig.

MZ – How many projects did you work on during the pandemic (just a number, not the names since you probably can't divulge that information)?
PDR – Probably around 20 albums/projects.

MZ – How long does it typically take for you to get to "muscle memory" with your hand positions for the complex songs you play, like Lightbringer?
PDR – Between writing the part and actually being able to record it, I'd say a month or two. I think we often outdo ourselves with each album and this really pushes us as musicians.

MZ – I have now heard you do harsh and clean vocals on stage and on record. Are you possibly becoming a singer? Could we hear you on a Seven Spires release?
PDR – I have started to sing more! It's been a really great experience getting to learn the ropes of singing live on this year's tour with Dragonforce. You can actually hear me as part of the gang/choir vocals on a few songs on Solveig, as well as Gods of Debauchery. I'd love to do more singing on future records.
I also asked if there were any plans for solo material. Chris Dovas released two solo records during the pandemic, and Peter played bass on both and provided clean vocals for one. I had to know if there was any interest in going that same route. His response was, "It's something that I constantly have in the back of my mind, so I'd say it's definitely coming but I don't know when. I save all of my ideas and sometimes revisit them – I've always loved arranging SATB stuff for the 6 string. However, for now I'll be contributing most of my time and energy towards carrying others' music forward." So, there is a chance, but we will just have to wait for the time to be right.
As for getting through the pandemic, he claimed "Music, nature, my band mates, the writing, recording, and release process for Gods of Debauchery, and especially all the love we received during that time" is what made it possible to come out the other side as mentally and physically intact. All I can say is that I'm extremely grateful everything worked out as well as it did.
Peter Albert De Reyna is one of those musicians who love all music. He knows it's all intertwined and related in some way. It sounds like he figured out early on that even the business aspect is important to know. I hope that takes some of the pressure and stress off the band so they can focus that energy on the music and not worry about the day-to-day things that could distract from the beauty that is Seven Spires. May the future hold nothing but the best for Peter, De Reyna Management, and Seven Spires!