Sarpa – Mauta Tala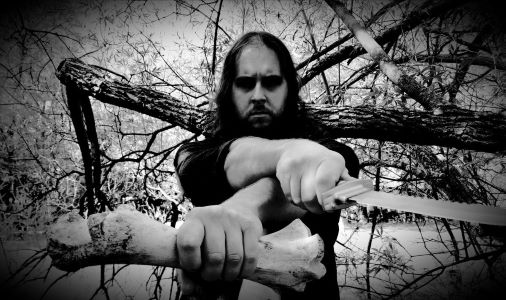 Back in 2018, David Baxter decided to work on solo material. That decision spawned Sarpa, a Black/Death Metal entity with influences from Desert Rock/Metal, Thrash Metal, and even Prog Rock and Industrial. On Mauta Tala, we get three songs, two over 10 minutes, and an instrumental that is under three minutes. The wild, chaotic mixture of genres takes the listener on a wild ride of sonic disparity that is hard to grasp yet inexplicably appealing simultaneously.
Band Member:
David Baxter – All Instruments/Voices
February 17, 2023
Tracklist:

Arcane Rites – Tohu Wa Bohu
Necropoleis Of The Nebulous Deserts
It Looms
The album opens with the sound of horse running and winds sweeping across a pasture or field. Then the guitars kick in with some odd, muted chants. Once the body of the song enters, you hear blast beats, thundering bass, rapid-fire guitars, and harsh vocals. There are surges and drops as the instruments weave around, over, and through each other. The phrasing shifts and tonal changes give the song a weird Progressive Metal feel. It's not structured like an actual Prog song; it just has a lot of twists and turns that create a Prog dynamic. The song hits a lot of different tempos, sometimes changing drastically, always staying in perfect time.
Track two, "Necropoleis Of The Nebulous Deserts," is a quick instrumental that repeats some of the earlier sound effects, tying the two songs together tonally. Whispered voices and odd vocalizations give this song an eerie, creepy feel. It is an experiment in sound that helps bridge the gap between the two long songs.
"It Looms" runs just over 12 minutes and begins where the last song left off. The tones and emotional feelings shift as the song advances. There is a lot of melancholy, angst, and dread throughout the song. I get some seriously eerie vibes running through the voice, making me almost want to shield myself, but I don't even know what I'm trying to escape.
Sarpa evokes a lot of feelings on this record. The instruments are blended beautifully and mixed very well, creating emotional responses to the sounds. The blending of genres and styles is really quite outrageous, but it works. I don't want to even try to "categorize" this music because it doesn't fit anywhere, yet somehow seems to fit a bit everywhere. The layered keys and guitars intertwine, forming waves of sound that wash over you, making you wonder what will come next.
I really like how the three songs tie together without having anything in common other than the phrases that lead from one track to the next. There is a lot of complicated technique in the compositions. I like how it all fits together, somehow linked inextricably by a two-minute instrumental. This is a 25-minute experiment that succeeds in daring to be different and unique.
MZ Ratings:
Musicianship

Guitars – 9
Rhythms – 9
Vocals – 9

Songwriting – 9
Production – 9
Overall – 9.00