Savatage – Streets: A Rock Opera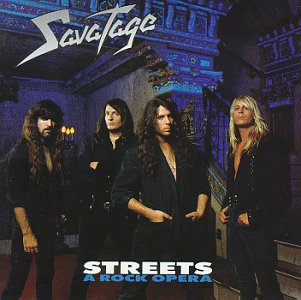 Savatage formed in 1979 when the Oliva brothers decided they needed to do what they do best, make killer music. This is the band that moved the needle of metal, shifting the direction of what was acceptable, even expected, from metal musicians. They are not the only ones doing this, but they are essential to the story. By 1991, they were using different compositional techniques and had really strayed away from the "norm." Thank God they did because what they created is, to this day, some of the best music ever written.
Atlantic Records
https://savatage.com/
Band Members:
Jon Oliva – Lead Vocals, Piano, Keyboards
Criss Oliva – Electric and Acoustic Guitars
Johnny Lee Middleton – Bass, Backing Vocals
Streets: A Rock Opera was an ambitious project from start to finish. Covering lots of ground and telling a massive story, Savatage played everything from power ballads to Irish jigs to progressive metal. They shifted genres and gears like a racecar driver taking a hairpin turn at the top possible speed. From the chaos of the rise to fame to begging God for a fireside chat, the lyrics, and the story cover a lot of territory. They take the listener on an epic journey of sound and thought. Streets were released on October 4, 1991, via Atlantic Records.
Tracklist:

Streets
Jesus Saves
Tonight He Grins Again
Strange Reality
A Little Too Far
You're Alive
Sammy And Tex
St. Patrick's
Can You Hear Me Now
New York City Don't Mean Nothing
Ghost In The Ruins
If I Go Away
Agony And Ecstasy
Heal My Soul
Somewhere In Time
Believe
Opening with a children's choir and some seriously eerie music, the tone is immediately set for this record. When Jon comes in with his haunting vocals to finish off the intro, the listener will still likely be caught off guard as to what is coming. That bass/guitar riff is sublime, a bit understated, yet amazingly present. Doc is killing it on the kit. The guitar leads are perfectly placed and paced. Even Jon's screams that lead to the maniacal laughter are timed beautifully. "Streets" is just the tip of the proverbial iceberg. Thus begins the story of D.T. Jesus, a drug dealer turned rock star.
"Jesus Saves" starts with the telling of the story. One poor commuter is caught by a beggar who wants nothing more than to tell a story. The one about the guy who made it out succeeded in getting off the streets. Here, D.T. Jesus quits selling dope on the corner and buys a guitar. This leads to a record deal, tours and fame. Unfortunately, it also leads him to consume what he used to sell. Nothing good can possibly come from this. As for the music, it is nothing but the best. The rhythm under Criss' solo is metal excellence. Criss really was one of the best to ever pick up a guitar.
Next is a song so good it almost defies logic. "Tonight He Grins Again" is just stunning. The simple piano, gentle picking on the guitar, and some added synth tones, bolstered by an intermittent riff, set up a fantastic lead into the song. This song is about addiction and the "monkey on your back," as it was known for a long time. Having struggled with addiction at times, I know EXACTLY how it feels to know you are about to feed that demon and not be able to resist, no matter how much you know you will hate yourself in the end. Here. D.T.'s life is going to change, and not for the better. Addiction does not care how famous or rich you are; it will do its' best to kill you regardless of your "station" in life.
The next three songs cover the continuing saga of how life changes after you reach a bottom and begin the recovery process. "Strange Reality" is facing yourself in the mirror and deciding something has to change, or you will lose yourself completely. "A Little Too Far" is the story of taking it to the edge and not knowing it's time to quit. "You're Alive" is the excitement of surviving and starting to rebuild a life that has a bit of promise. In this story, it is represented by D.T.'s meteoric rise. The bad thing is that the past is about to come back to haunt him.
Life has challenges. D.T. gets his biggest one watching the fight between his dealer and his friend. "Sammy And Tex" is when it all falls apart. D.T.'s friend is killed due to his past sins. Sammy comes to collect, a fight happens, his friend intervenes, and a tragedy occurs. Jon's voice on this song is different enough that you can tell it's a different character. D.T. cannot get a hold of Sammy, so he escapes. This in itself is a tragedy as well.
"St. Patrick's" is one of the most soul-wrenching songs Savatage ever recorded. It almost hurts to listen to this, even now, 30 years later. The lyrics are poignant and state what most people feel at some point in their lives, the need for answers. Starting with just Jon's voice and a piano, the song builds and shifts. I feel the pain, the loss, the desperation of this one. The use of "cry" in the vocals is incredibly impactful. The questions asked and the statements made all resonate deep within me. Everything about this song is indelibly stamped on my psyche. Even the keyboards that just hang under the guitars for a bit.
The lulls, the builds, everything about this song is epic. Criss' guitar work is phenomenal and fits into the context of the song perfectly. The rhythm is beautiful. The drums never go crazy; the bass stays slow and steady. The composition of this song is everything I needed at the time, even though I had no idea I needed it. I have no clue how Savatage got that deep into my mind and said precisely what I needed to hear, but they did it. And one of the most interesting sections is when Jon and Criss trade-off leads between the vocals and guitars. Such a creative use of counterparts.
Shifting again, "Can You Hear Me Now" goes for a massively distressed sound on the vocals. With Tex gone, nothing is the same. No one knows this, so it's only in D.T.'s mind. His struggles are internal and personal. This leads to him becoming disillusioned and finding out "New York City Don't Mean Nothing." The problem is that there is still no real escape at this point. You still have to move forward, whether you want to or not. When you feel like you've lost everything, it's hard to find the will to go on.
This is when you become a "Ghost In The Ruins." The fame is there, the money is there, but what cost? What's the point? This is the burnout heading for the crash. The soul is lost, and there is nothing but the desire to be something that matters, but how do you get to that? The key point in this song is the bass lead transitioning from the main riff to the guitar solo. Those trade-offs are so smooth and work really well. They flow into each other and showcase a different style of songwriting that puts everything on display, not just the leads.
"If I Go Away" appears to be the song that wonders if the world would be a better place, or if anyone would even really notice if D.T. left, would he be remembered?h Starting again with a piano and Jon's voice, there is a lot of longing in the early section. When the riff kicks in, the longing remains, but the next serious build brings in some desperation.
An echoed guitar riff brings in one of the heavier songs on the record. "Agony And Ecstasy" is the pain of drug use. It gives you the escape you desire, but you know the consequences are going to be devastating. Even if there are no legal problems, there will be mental and emotional issues. The anger that turns into self-loathing, the hatred of self that gets turned outward, becomes the rage you inflict on others and the physical pain of withdrawals. That first hit provides relief, but a severe price will be paid.
"Heal My Soul" and "Somewhere In Time" is on the lighter end of the Savatage spectrum. Both are part of the recovery process, but it's still early, and those are the hopes for the future. This is where the most challenging work must be done to get to the "easier" part of sobriety. They are also set up for one of the songs Savatage is most known for. "Believe" is the song of hope and redemption in many ways.
Reworking some of the lyrics from "When The Crowds Are Gone," this song sees D.T. asking for a second chance and trying to rebuild what he had. "All I ask of you is Believe" is the cry of many a sober person trying to regain the trust and faith of their fellows. I've been sober for over 25 years now and still sometimes struggle with forgiving myself for the things I did to friends and loved ones. This is the perfect song to describe that longing for forgiveness and acceptance back into the good graces of those we love. "Believe" is one of the most powerfully emotional songs ever written.
This album was released in 1991, and I sobered up in 1996. I was still fighting to get sober and stay sober. I already knew I had a problem. This record is one I clung to because it helped me understand the feelings I had that were foreign to me. I had been numb for years and was trying to clear the fog from the brain. I would play this record over and over in early sobriety just to help me remember that I was not alone. This record said what I thought but could not accurately express. There are very few bands I feel like I need to thank for saving me. Savatage is one of them.
I "Believe" anyone who truly listens to Savatage will feel much the same way. I cannot comprehend how someone can be a casual Savatage fan. Most people I meet who know the band either barely know anything or love them dearly. I wish I could go back in and tell Criss and Paul how much their writings mean to me. If Jon were to ever read this, my only real hope is that he realizes exactly how much everything he created means to his fans. If he never writes another note or lyric, he has given me things that dramatically improved my life. There is no way I will ever be able to thank him enough for all he has done.
MZ Ratings:
Musicianship

Guitars – 10
Rhythms – 10
Vocals – 10

Songwriting – 10
Production – 10
Overall – 10.0