Scissorfist/Ice Giant/Intimidation Display/Born Of Plagues – The Crown, Baltimore, MD – May 26, 2023
Born Of Plagues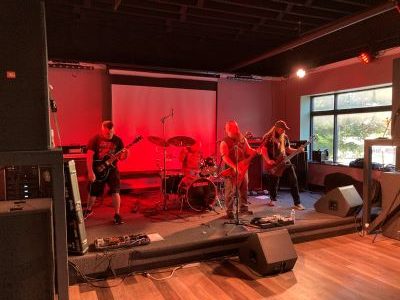 Set List

Calling To The Void
What Dreadful Music
Unheard
Mountain Of Souls
Stoner Doom with a side of Sludge Metal was served up first. The tempos were slow and sonorous with deep, foreboding tunings. There were also the occasional flashes of Thrash as the guitars decided every once in a while to just let loose and shred your ears. There were not many people here, but that was their loss. This was treated as an Unofficial kickoff to the weekend's festivities, Hell On the Harbor, and what a start!
There were slow, deliberate riffs, growled vocals, an ever-present bass line, and drums that ranged from the Stoner Doom end to the Thrash area. The band does not just hang around the genre's 60 beats per-minute end. Those flairs of the heavier stuff ramped up the power and showed some serious Metal chops. You will never hear me say, "What Dreadful Music" about this band. They absolutely showed out and kicked things off with a proper display of heaviness.
Intimidation Display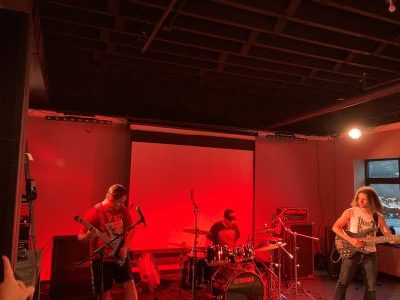 Set List

Signum Daemonium
Crushing Blow
Black Earth
Blood Vertex
Ghosts
Necrolepsy
Massacre
Evil
Come To Die
Pulverizing Inferiority
If the last band had you mellowed out and ready to chomp down on a few gummies to level yourself off, Intimidation Display immediately ruined that by crushing your brain between a set of amps set to 11. Fast, heavy, and full of NSFW imagery, they blasted their version of Black Metal into the air with fiery gusto and more than a few funny statements between songs. These guys were there to have fun and blow your mind out the back of your skull with a killer sonic blast.
The guitars were wild, fast, and heavy, beating and berating your delicate ears with a joyful noise. The bass was every bit the equal, as were the drums. The speed with which they issued their offerings to the Black Metal gods was impressive, often hitting dizzying speeds and stirring the crowd up for what was to come. They had nothing in common with the first band. The music styles are vastly different, but that was half the fun, especially knowing the next band would be yet another style.
Ice Giant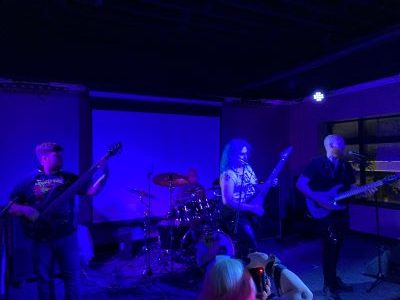 Set List

Heritage (Intro Track)
Grandeval's Machine
Emergence
Home For Eternity
Venthos Prime
Ghost Of Humanity
At Tyranny's End
Serenity of Darkness
By this time, the crowd was about the largest it would get. Friends, family, and strangers alike were here to see some random band from Boston. Baltimore was in for a treat tonight, as they were soon to find out. When this band walks on stage, magic happens. Tonight's show was a new set, showing off their shift from more of a straight-forward Death Metal band to one that goes more Melodic Death Metal with Progressive and Power Metal elements woven into the tapestry of sonic beauty they create.
Livvy Gallop and Eddie Shifflet trade off vocals and guitars, growling, belting, shredding, and riffing. Danny Saillant is a six-string bass kind of guy, plowing through songs like a bull on the rampage, thundering through the songs with finesse and fury. Alex Paiva is nothing short of spectacular, hammering through tempo changes and drawing attention away from the leads with a stunning display of prowess.
Ice Giant played songs off their forthcoming album, Ghost Of Humanity. September 8 is the release date; MARK YOUR CALENDARS!!! As much as I loved hearing the new single "Serenity Of Darkness," the thing that caught my ear the most was a crushing intro riff for the title track of the new record. I cannot wait to hear that one! More than anything, it was good to see my friends slaying a stage in a new place and watching the reaction from the bands they played with. A lot of mutual respect was earned this night, and it was a beautiful sight.
Scissorfist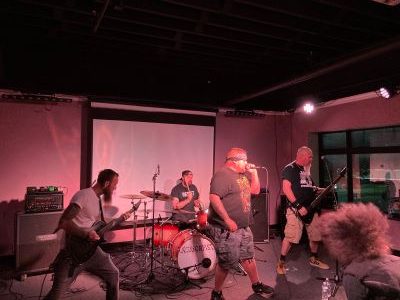 Scissorfist brought the show to an end and did everything they could to tear the house down. These guys are a fusion of Hardcore and other music. Not just one thing either. I heard Punk, Thrash, Death, and Classic Metal combine to create a beautiful noise. Perfect show? Nah. Hell of a lot of fun? You bet your ass!
I spent some serious time watching Kevin and Ira battle it with their instruments, which alone was worth the price of admission. Both are damn good at what they do. Kris was impressive as hell, and Matt was a typical lead singer, getting the crowd into the show, thanking everyone for showing up, praising the other acts, and doing what a leader does. These guys are tight as a band. They are not rookies, that's for damn sure.
Overall, it was a killer night of live music. The Crown is a pretty awesome venue, and everyone there seemed to get something from each band. Family showed up to support, friends were there to sing and raise fists, and even the venue staff got caught rocking out a few times. Baltimore has a Metal Scene, and that makes me happy!