SEAX – Speed Inferno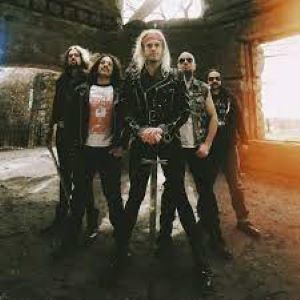 SEAX is a five-piece Speed Metal band from Worcester, MA (pronounced Woo-stah for those outside New England). The music is, of course, very fast, and the vocals are everything from gritty lows to killer falsetto highs. Speed Inferno is their fifth release in a decade. I ran into Carmine Blades at a show in Worcester earlier this year, and I immediately fell in love with his Lizzy Border t-shirt. Sometimes, that's all it takes to start a connection. To keep it, SEAX needed to blow my mind with the promised musical goods… and they do.
September 30, 2022, via Iron Shield Records

Band Members:
Carmine Blades – Vocals
Helvecio Carvalho – Guitars
Fife Samson – Guitars
Cristiano Lobo – Bass
Derek Jay – Drums
Tracklist:

Speed Inferno
Radiation Overload
New World Crucifixion
Barbarians Of Doom
Keepers Of The Blade
Return To The Steel
Shock Combat
Rising Evil
Heading For A Road Rash
This album does not just begin; it explodes into frenzied action. The title track comes first, with a lead line that sounds a bit like Megadeth's "502," only faster. No, the songs aren't the same, not even close; there's a bit of similarity that ends with the guitar tones. Dave Mustaine does not have the vocal quality of Carmine Blades. There is no comparison vocally. Carmine has one of those voices that can only be compared to some of the metal elites, like Rob Halford, Lizzy Borden, and Midnight. He has a soaring falsetto that is simply incredible, especially delivered at this tempo.
"Radiation Overload" is, as you'd expect, really fast. Like the last song, this one has high-speed guitar work, making me wonder how Fife and Helvecio can stay that close at those speeds. Then you have to wonder how they can flair out and do leads and fills without losing track of where they were. This is a skill, pure and simple. The dueling solos, traded off without missing a beat, are impressive. The precision and skill shown here are astounding.
So, for "New World Crucifixion," let's check out the bass and drums. Cristiano and Derek are machines on the low end. Blast beats, thundering bass, and rapid-fire coordination are the flavor of this disc. The fills they throw in at various spots to accentuate the rhythm are killer. How the Hell do these guys play this fast and not miss a single note? I tried air drumming but got winded halfway through, which was okay because it kept me from trying to hit some of those glorious high notes. I do not have the pipes to pull off these songs.
After a quick guitar intro and drum fill, Carmine screams in "Barbarians Of Doom." The vocal delivery reminds me of Mike Muir from Suicidal Tendencies as far as speed goes. I get serious "Institutionalized" vibes from this lyrical onslaught, though Mike never even tried to hit notes like Carmine. "Keepers Of The Blade" then cuts through, slicing so fast you don't even notice until you look down and see blood dripping. Okay, I just wanted to throw a bunch of puns out for this track, but seriously, it rocks hard and fast. That bass lead through the bridge is epic.
"Return To The Steel" feels slow compared to many of the earlier songs on this record until the intro concludes and the real tempo kicks in. You get more astonishing speed from Cristiano and Derek. The guitars are just what you've grown to expect from SEAX, fast, frenetic, and perfectly in time with each other. These guys are excellent. "Shock Combat" comes next, blazing in at full speed from the start. Killer screams, fast everything, and total precision are what these guys deliver on every song.
"Rising Evil" and "Heading For A Road Rash" both have many of the same musical elements, though the lyrics keep the songs fresh and unique. "Heading For A Road Rash" has an excellent melodic section, showing that SEAX is Speed Metal, but they do have a softer side they can expose to their audience. Granted, their "softer side" is only about 10bmp slower than usual.
MZ Ratings – SEAX lives life on the edge, pushing the boundaries of what Speed Metal can be, aiming to be one of the fastest bands in the land. They accomplish their goal and do so with incredible accuracy. Carmine has an elite vocal range, and the Ryan/Ron duo is spectacular in how they work together, racing each other through riffs and leads, trying to outdo the other. Cristiano and Derek are one of the best bass/drum combos running right now. Not many bands can play this fast and still manage to sound organized and clear. This is impressive on ma
MZ Ratings:
Musicianship

Guitars – 10
Rhythms – 10
Vocals – 10

Songwriting – 9
Production – 9
Overall – 9.60